One of my absolute favorite traditions around Christmas is to get in the kitchen and bake Christmas treats with my kids. It's a fun time to listen to Christmas music, laugh, and make yummy treats for our family to enjoy. Since my kids are helping, I like to keep the recipes simple so they can all have a job. This year, we decided to make peanut butter blossoms, M&M cookies, and pretzel M&M hugs. We had so much fun making them, and today, I'll be sharing the recipes for all three. Whether you are making treats for your family, a holiday party, or for Santa, these 3 easy Christmas treat recipes will be a huge hit!
Peanut Butter Blossoms
Ingredients:
1 can of Eagle Brand sweetened condensed milk
1 egg
1 tsp. vanilla
1 c. peanut butter
2 c. of Bisquick
1 bag of Hershey's Kisses
Directions: Mix together sweetened condensed milk, egg, and vanilla until smooth. Then add peanut butter. Gradually stir in Bisquick. Chill the dough for 1 hour. Roll dough into 1-inch balls. Bake at 350 degrees for 8-9 minutes. Remove from oven and immediately press Hershey's Kisses into cookie. Makes approximately 50-60 cookies.
M&M Cookies
Ingredients:
2 1/4 cups of flour
1 tsp. salt
1 tsp. Baking Soda
1 stick of Crisco Butter shortening
3/4 cup of sugar
3/4 cup of brown sugar
2 eggs
1 tsp. vanilla
1 bag of M&M's
Directions: Mix together flour, salt, and Baking Soda. Next, mix Crisco Butter, sugar, brown sugar, eggs, and vanilla in a separate bowl. Then, combine the two bowls stirring until smooth. Add red and green M&M's and stir into the dough. Scoop 1 inch balls onto cookie sheet. Bake at 375 degrees for 7-9 minutes.
Pretzel M&M Hugs
Ingredients:
square salted pretzels (I could not find square, but I prefer them)
M&M's
Hershey's Hugs Chocolates
Directions: Preheat oven at 200 degrees. Line a cookie sheet with parchment paper. Align pretzels on cookie sheet in a single layer. Then, top each pretzel with one Hershey's Hug chocolate. Bake in preheated oven for 5 minutes or until the chocolate is shiny and soft, not totally melted. Remove from oven and immediately and carefully press M&M in the center to spread the chocolate. Place in refrigerator for 5-15 minutes to cool.
NOTE: When making the candy cane Hershey's Hugs, bake in the oven for 4 minutes. These melt faster than the chocolate Hershey's Hugs.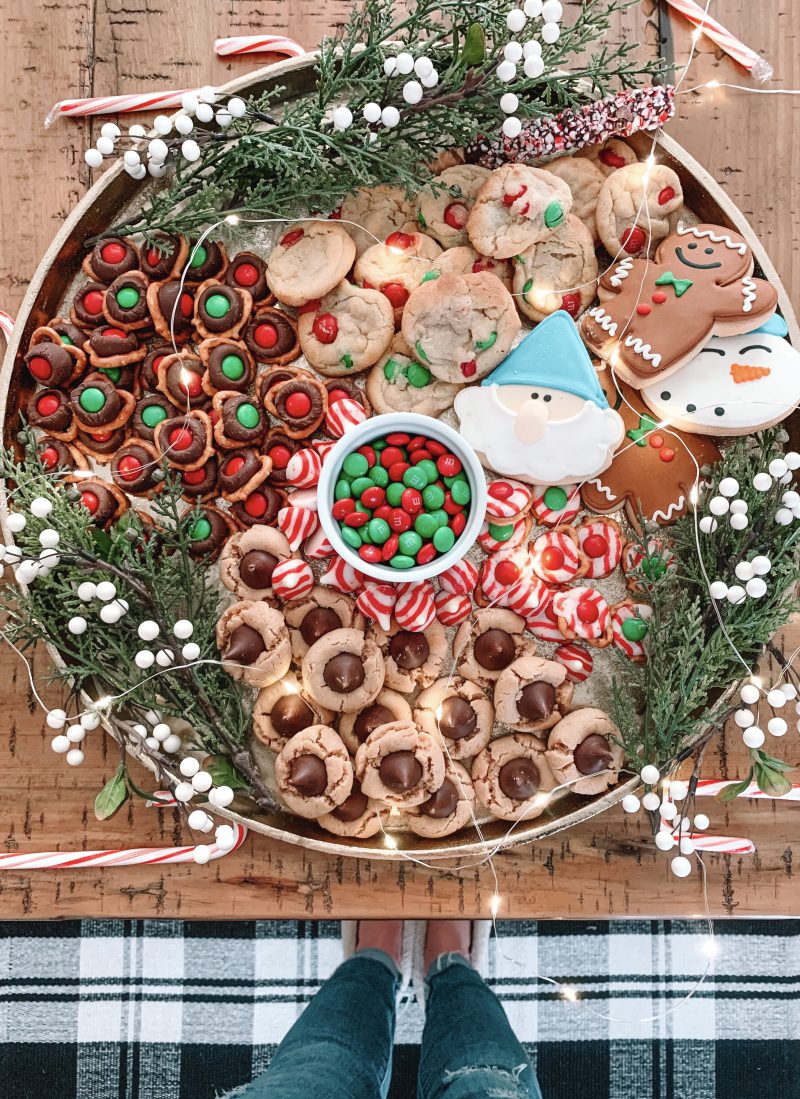 Now that your yummy treats are made, you can add them to a board and make a beautiful Christmas treat tray. I layered them on this round gold tray, added some faux greenery and it's all done!
I hope you enjoyed these 3 easy Christmas treat recipes! No matter how you will be spending your holidays, getting in the kitchen and baking will be fun way to add to the Christmas experience. Thanks so much for stopping by and happy baking!!
Shop This Post

Pin For Later
Shop This Post