Last year, I decided to go bold in my bedroom and paint my headboard a moody color. I also changed out my sconces, and I just loved how the new look turned out. The next step was to add some wall decor to tie in my neutral and moody tones. Just around the time that I painted my headboard, Studio McGee came out with a beautiful line at Target. I quickly fell in love with their abstract art pieces and how they all looked as if they were made specifically for my new headboard. Since then, every new line has a piece of abstract art that I just have to have. I love these pieces because they are affordable, beautiful, elegant, and an easy way to make a big statement. Now, I have a total of 5 Studio McGee Threshold art pieces, and today I am going to share with you how they look in my bedroom. I hope you love each piece as much as I do!
1. Dreary Abstract Landscape Wall Art
I am starting with the newest look of my bedroom. I first added this gorgeous new neutral rug to this space and loved how the small pops of dark matched my headboard so perfectly. This rug is called the Maulawin Area Rug, and I got it in a 9'2″ x 12′ in order to cover up my carpet as much as possible. Of course, if you get a new rug then you need new art. I was wanting one with not a lot of color and spotted the Dreary Landscape Art piece that was exactly what I was looking for. Loved the dark wood trim mixed with the darker colors. This piece of art was the perfect mix of dark and neutral which is exactly what I was looking for.
2. Treeline Abstract Wall Art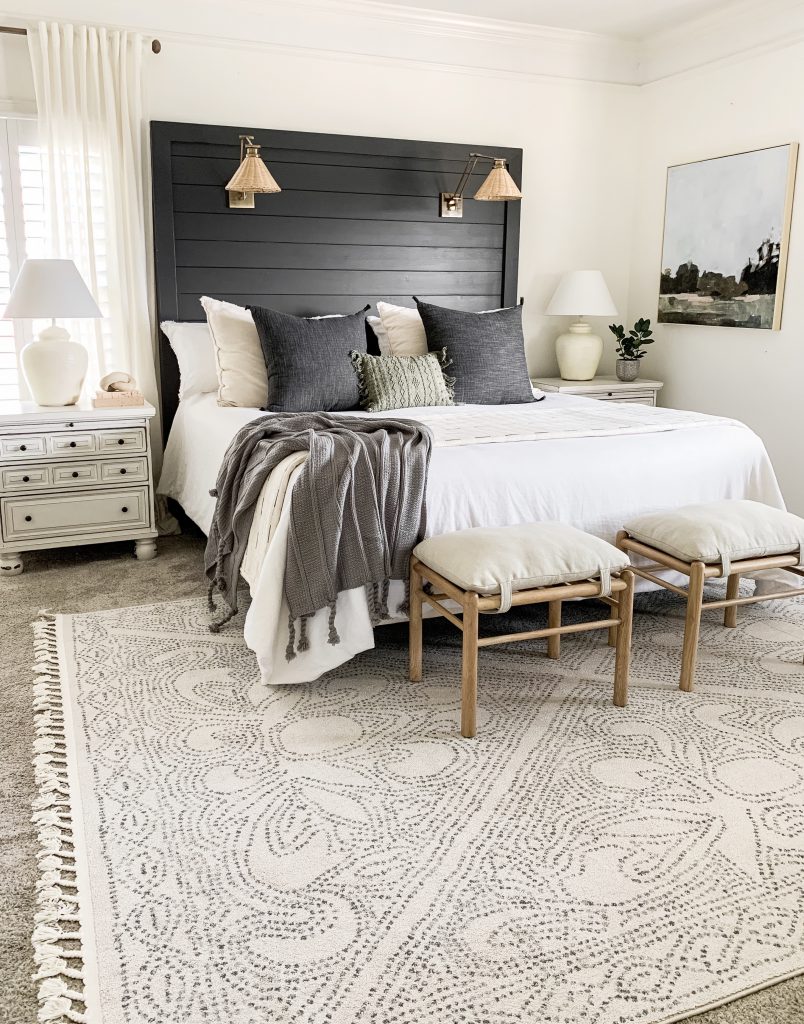 The next piece of Studio McGee wall art that I absolutely love is the Treeline Abstract Art which is the very first piece that started my obsession. This piece is so happy and colorful. It reminds me of spring or summer because of the green trees and fun colors. I paired it with this neutral rug called the Birdwood Area Rug. I love this rug and art combination so much!!
3. Moody Landscape Abstract Wall Art
For the next look, I went all moody!! I added this moody toned rug called the Ganyangan Area Rug and loved the subtle greys, purples, and pink tones in this rug. The problem then was to find wall art that would go with this rug. Of course, Studio McGee had the perfect one for me. Just look at this Moody Landscape Abstract Wall Art. It had exactly the colors that I was looking for. This art piece is absolutely gorgeous and for sure one of my favorites!
4. Snowy Abstract Wall Art
For the next piece, I decided to mix a colorful rug with neutral wall art. This was also my holiday look. I love the Snowy Abstract Art that Studio McGee added to their winter line. It is perfect for Christmas and the winter months. It's simple but says so much with small pops of colors. I paired it with this colorful rug called Holi Hol and love how they both look together.
5. Sky Sea Abstract Wall Art
The last piece in my collection is the Sky Sea Abstract Art. This piece is perfect for summer months. I fell in love with the blues and greens in this piece. If you are looking for a gorgeous piece for your beach or lake house, this one would be perfect. One last detail about the Studio McGee Threshold wall art is that each piece has a different stained wood around the edge to make them all feel different. I hope you enjoyed seeing how I displayed 5 different art pieces in my bedroom. Below, you can see more Studio McGee Threshold art pieces that I love! Thanks so much for stopping by today!
Shop This Post

Pin For Later
Shop This Post