I did something fun this week on my Instagram Stories, and asked for help choosing a new Boutique Rugs bonus room rug. It has been a couple of years since I gave this room a refresh, so I thought I would start with adding a new rug to this space. The big question was…to add color or stay neutral? I picked out 3 different rugs from Boutique Rugs and thought these would give me some beautiful options to choose from. My choices included the Foulridge, Wyoming, and Arncliffe area rugs. Today, I'm so excited to share with you my Boutique Rugs bonus room picks and which rug I chose. Before I share the reveal, below are my 3 options. All are so beautiful, but one got an overwhelming majority of votes. Which one do you think it was??
Boutique Rugs Picks
Boutique Rugs Bonus Room Reveal
And the winner is….the Arncliffe area rug!! I actually loved all 3 in their own way, but I totally agree that the Arncliffe is the best choice. This rug did a beautiful job blending my furniture together while adding color without adding too much if that makes sense. Although it's not a neutral rug, the muted colors and faded pattern give it the perfect balance between colored and neutral.
Arncliffe Rug Colors and Pattern
So, let's talk about the colors in the Arncliffe Rug. Like I said, I love that the colors are muted. I also love that this rug has a wide variety of colors that work so well together. The colors include camel/wheat/ivory/dark brown/saffron/burnt orange/medium gray/sky blue. See what I mean, so many beautiful colors! The pattern, along with the colors, also has a distressed finish which gives it a vintage look.
Arncliffe Area Rug Size
I went with a 7'10" x 10'2″ size rug. When choosing a rug size, be sure to choose a rug that will go under all of your furniture. The goal is to have the front legs of your furniture all touching the rug.
Arncliffe Rug Pile and Price Details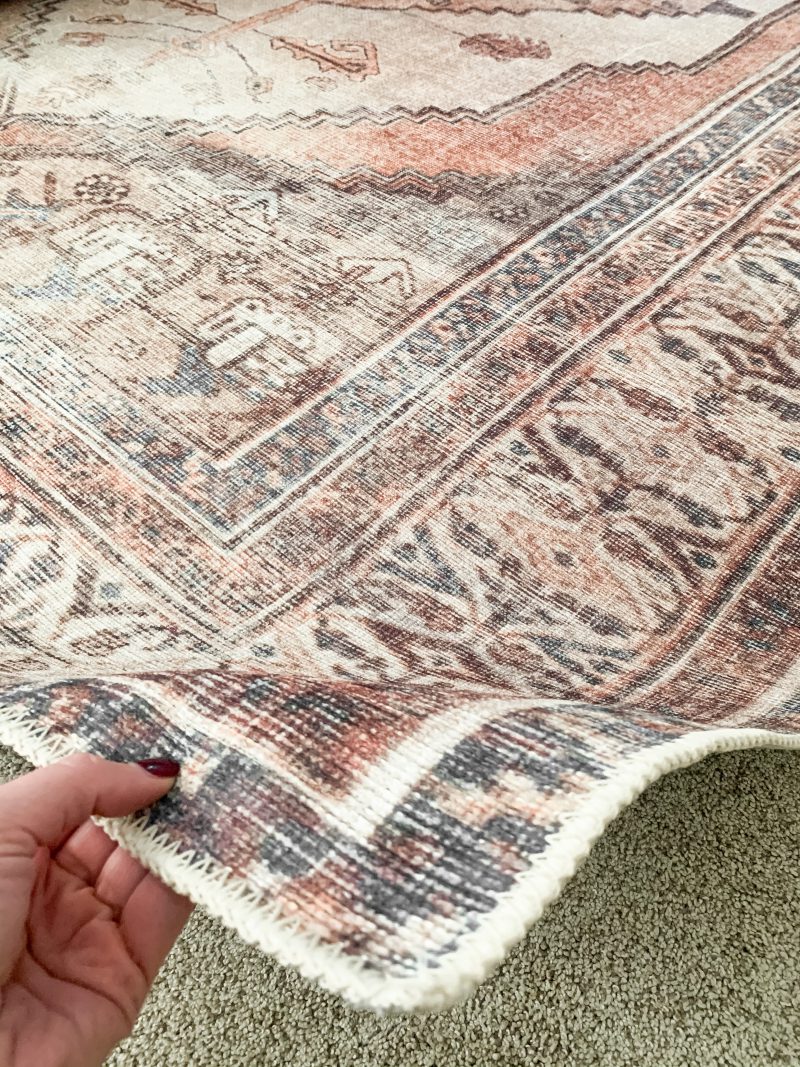 The Arncliffe area rug is a printed rug which means that it is a flat pile area rug. Printed rugs provide designs that have the textured effect of a high-end rug at an affordable price point. This rug when using the code NEST60 (60% off anytime) is only $230. The amazing price point is just another reason why I love this rug!
Besides adding a new rug to this space, I also added these large and small weathered brown jugs from the Studio McGee Threshold line. The color of the jugs blended so nicely with the rug. I also added this pretty terracotta bowl with beads to my coffee table to finish off this simple refresh.
I had so much fun with this refresh, and thank you so much if you helped vote. By simply adding a new rug, it completely changed the look of this space. If you are thinking of giving a room in your home a quick refresh, start with a new rug, and don't forget to shop Boutique Rugs for a great and affordable selection. Thanks so much for stopping by! Although I already made my choice, I would love to hear which rug you liked best!
Shop This Post

Pin For Later
Shop This Post