Hi friends! I took a few weeks off to regroup, but guess what?? I'm back today with a super simple fall DIY. Today, I'm making a pumpkin vase using fall foliage. I love this DIY because it displays your real or faux fall stems is a fun way. I'm going to show you everything you need to get started along with the step-by-step directions so you can make one for yourself. You can also see me explain the whole process on my Instagram Stories. So, let's get started!
Pumpkin Vase Materials
To get this project started, you will need a crafting pumpkin, real or faux fall foliage, box cutter, pencil, jar (optional), and something to trace a circle. I used eucalyptus, cream Heather bush, and long eucalptus bush for my foliage, but you could use any stems that you want.
Step 1- Trace a Circle
Now it's time to cut the top out of the pumpkin. You can really use any circular item you have laying around the house. I went with a small pot and traced the circle using a pencil. Note: I decided to use a craft pumpkin, but you can also use a real pumpkin.
Step 2- Cut Out the Circle
Next, use a box cutter or knife to cut out the circle. Remember to go slow and be careful cutting out the top of your pumpkin.
Step 3- Place a Jar In The Pumpkin
Now, place a Mason Jar or cup into the pumpkin. This step is optional, but I do recommend it to hold your foliage together and keep it in place.
Step 4- Arrange Stems
The last step is placing your fall foliage in the pumpkin. Have fun with this step, and play around with it until it's just right. First, I put in the cream Heather bush. Next, I cut up my long eucalyptus stems and placed three sections on the left, middle, and right sides. Last, I placed my dried eucalyptus around and started fluffing and separating the stems until I was happy with how it looked. It really was so simple!
I love how it turned out! I decided to add it to my coffee table in my bonus room and paired with with a couple other faux pumpkins.
This fall DIY pumpkin vase created the prettiest little vignette, and made a huge statement in my bonus room! This would also look so good as a table centerpiece or focal point on an entryway table. The possibilities really are endless. Well guys, I hope you enjoyed seeing how I made this as much as I enjoyed making it. It was so much fun and like I said earlier, SO SO EASY! Happy fall, and thanks for stopping by!
Shop This Post

Pin For Later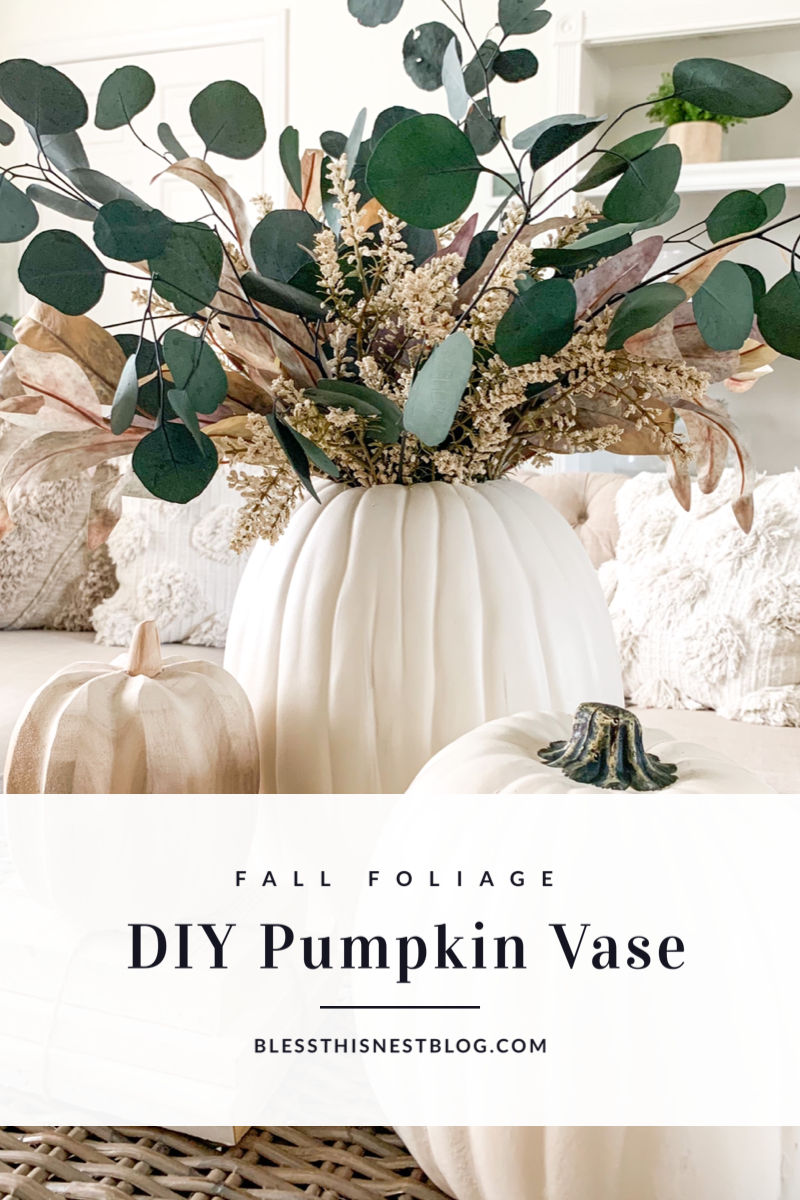 Shop This Post