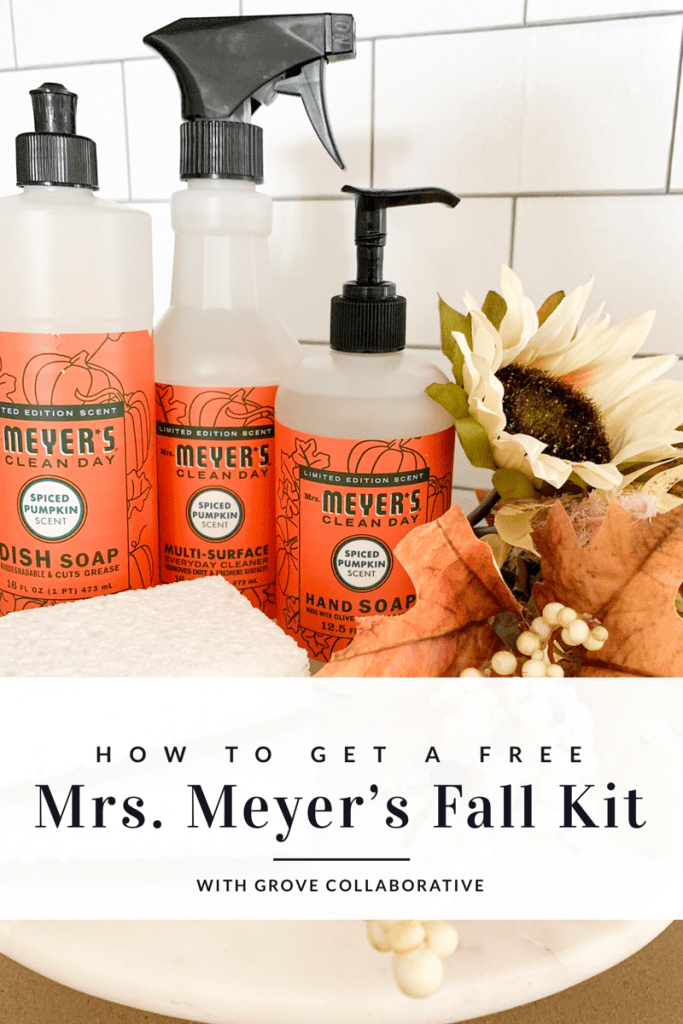 We are SO close guys! Are you getting excited for fall as much as I am? I love this time of year for so many reasons. The cooler weather, the football, the pumpkins, and my favorite….the SCENTS. I am so excited to share with you one of my favorite fall scents, Spiced Pumpkin. This Mrs. Meyer's scent is sold exclusively at Grove Collaborative, and today, I'm going to show you how to get a Mrs. Meyer's fall kit for FREE. They have a special offer going that you do not want to miss! Here are some details on how to get your very own natural line of products delivered straight to your door just in time for fall!
Grove Collaborative has a special offer to help you start the fall season with a clean home that also smells amazing! When you place your first order of $20 or more, using my link HERE, you will get:
Mrs. Meyer's Fall hand soap
Mrs. Meyer's Fall dish soap
Mrs. Meyer's Fall multi-surface spray
Grove Caddy
Grove Walnut Scrubber Sponges
60 day VIP trial
If you are already a Grove customer, you will receive a free set of Grove Walnut Scrubber Sponges with your purchase.
Walnut Scrubber Sponges
These Grove walnut scrubber sponges are extremely versatile and bonus, they are pretty too! The scouring side is made from REAL crushed walnuts and is perfect for scrubbing pots, pans, or tile. The soft side is made from all-natural vegetable cellulose and is great for wiping down countertops and appliances. Since you get two, you can stash one in your cleaning caddy and one next to the sink like I did.
Mrs. Myer's Soap and Multi-Surface Spray
I love how these products look in my kitchen! Along with my walnut scrubber sponge, I always keep a bottle of Mrs. Meyer's hand soap and dish soap next to my kitchen sink. I also keep Mrs. Meyer's multi-surface spray close by too because I literally use it all over my kitchen. It works great on countertops, backsplashes, faucets, cabinet knobs, painted walls, and even my tile floors. I can literally clean my home top to bottom with just one product!
Grove Cleaning Caddy
I might just be most excited about this cleaning caddy. It's white and chic, and goes great with my modern farmhouse style. It is such a fun way to keep my most-used cleaning supplies at my fingertips.
Are you excited yet? I get it, you totally should be! This fall kit has already been the best addition to my home. Grove Collaborative products not only smell amazing, but they are healthy which is so important to my family!! You can't beat that amazingness!!!
Don't forget to click on my link HERE to get your order started today! Happy shopping, and let me know if you have any questions!
Pin For Later
Shop The Post