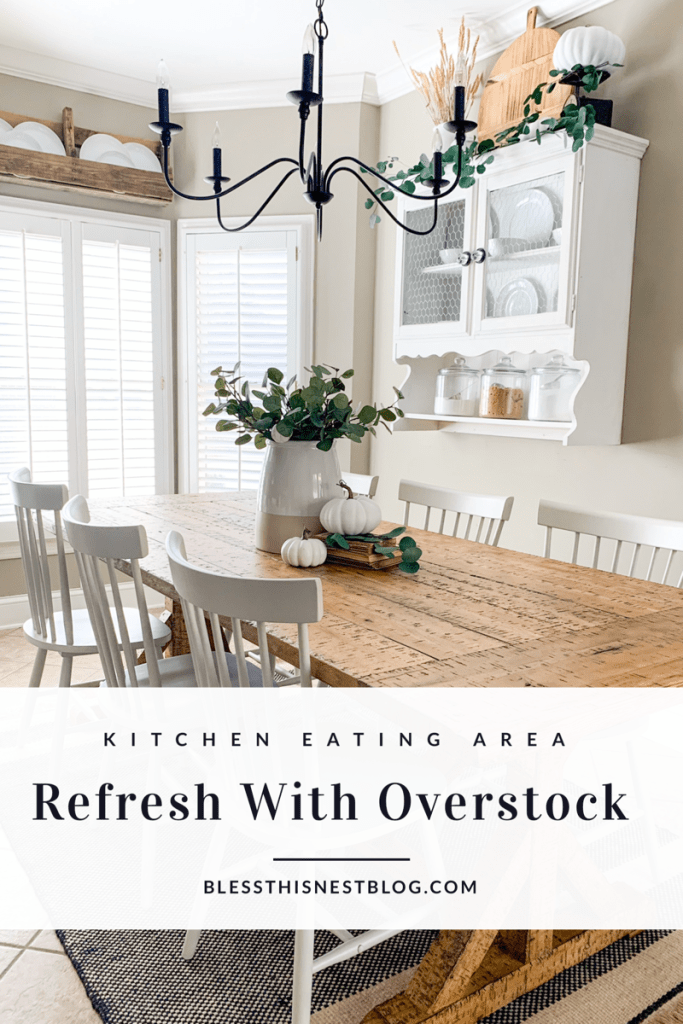 Happy Thursday friends!! I'm so excited about today's post I can barely contain myself. My kitchen eating area got a refresh!! Well, it's phase 1 of the refresh, but I'm off to a great start. This has been a long time coming. I've been on the hunt for the perfect farmhouse table and chairs for a few years now (yes I said years), and I finally found them thanks to Overstock. The best part is that it's their big 20th anniversary sale which means it's the deepest discounts in 20 years!!! Amazing, right?? So, let me show you why I love the table and chairs so much, and hopefully you will find that special piece you have been searching for too!
Kitchen Eating Area Reveal
I love this Rustic Reclaimed Trestle Farm Table for so many reasons, but I think I'll start with the legs. They are beauties! I usually put chairs on each ends, but these are just too pretty to cover. The shape of them are exactly what I was looking for. They give it the perfect farmhouse look that I was going for.
The legs are reclaimed wood and features nicks and grooves that showcase the beautiful age and character of the wood. The finish truly is a showstopper.
The beautiful distressed look is also on the table top. The reclaimed pine planks give it an authentic farm table look. It honestly looks like it could have been plucked from an old farm house. The coolest part though is that no two table are alike. They all have their own unique finish and look which is amazing.
Since my table is wood with warm tones, my goal was to lighten up my eating area with white chairs. I found these off white Spindle Dining Chairs from Safavieh and knew they would compliment the table perfectly. I had black chairs in my last space and loved them, but it was time for a change. Spindle chairs are classic and go with so many different styles. You can see all the color options and details HERE.
This was actually only phase 1 of this refresh, but it is off to a great start. My next step is to shiplap the wall, take down the plate rack above the window, and add some open shelves that I am so excited about. Stay tuned for that very soon.
So, there you have it guys, I hope you love this set as much as I do. I assure you, if you are looking for that special piece or pieces for your space, don't miss out on this Anniversary Sale. It runs through October 21, so you still have so much time to save!
Pin For Later
Shop The Post