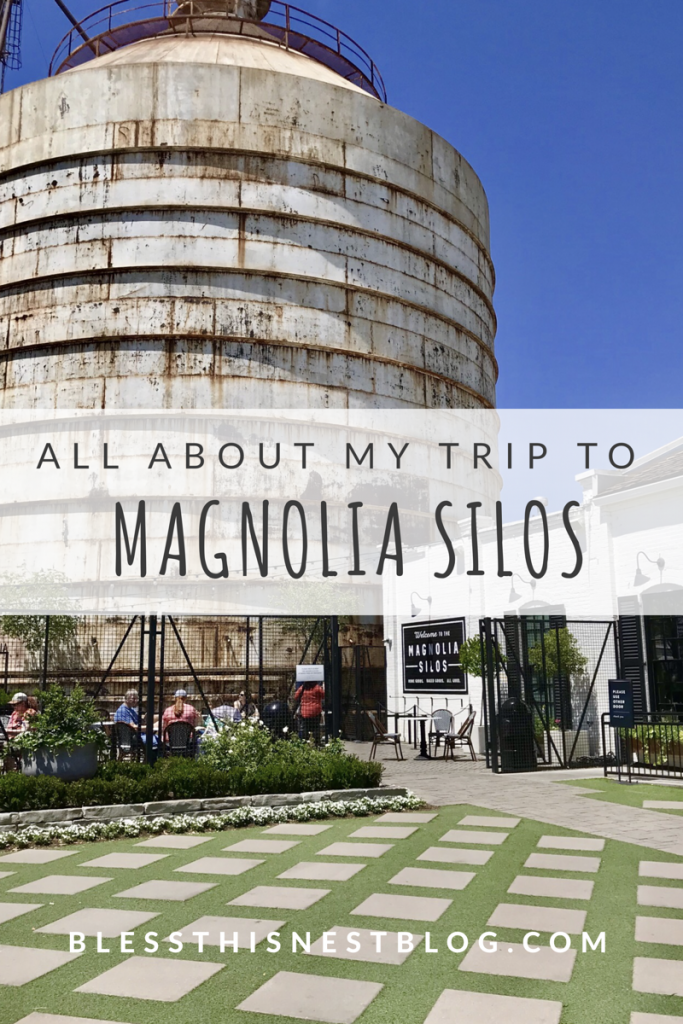 Guys, I finally made it to Magnolia in Waco, TX, and I couldn't wait to get back home to blog about it. It has been a dream of mine to visit this magical place. For me, It wasn't just all about the shopping or the cupcakes. It also had a much deeper meaning. When I was still teaching I happened upon Fixer Upper one night about four years ago. I was watching the very first episodes, and it was one of those moments that I will never forget. I instantly connected with Joanna's story and her design style.  She was honestly one of my biggest inspirations to quit my teaching job and pursue decorating as a full time career. So, I couldn't wait to visit the Magnolia Silos in person, and the trip was even better than I imagined.
I tagged along with my husband on a business trip to Austin and ventured out to Waco to visit the Magnolia Silos on a little day trip. I left Austin, TX around 8:30 am and arrived around 10:15am. It was almost a two hour drive to get to Waco. The longest 2 hours OF. MY. LIFE.
Magnolia Table
Since I was only there for one day, I had to make the most of my time. I had a plan of the places I wanted to visit. The first stop of the day was their new restaurant Magnolia Table. The outside was even more beautiful in person than it was on the show. There were lots of places to wait and even a coffee bar in the courtyard to help pass the time. I was inspired before I even walked through the doors.
Tip #1 – Plan Ahead for Magnolia Table
Magnolia Table is about 5 minutes from Magnolia Market, and it's only open for breakfast and lunch so plan ahead. They close at 3:00 and will stop taking guests before then depending on the wait time. Also, they do not take reservations, and they closed on Sundays. Parking is limited. Here is a map to help you with parking.
I had very low expectations that I was actually going to be able to eat there. The wait is usually super long and they were right….kinda. I was a party of 1 (plus a baby) and was quoted an hour and a half. NOOOOO! I was there on a Tuesday morning, so I really can't imagine how long it is on the weekends. I wanted to cry, but I was determined to wait. My mouth was watering just thinking about those biscuits and strawberry butter. Luckily, a sweet lady decided to sit me down after I had only waited for about 5 minutes. Talk about excited! Maybe she felt sorry for me because I was a loner (lol) or maybe she thought Drake was cute, but either way, I was THRILLED!! DAY MADE!!
The inside was just as beautiful as the outside. Everything was beautiful. Even the napkins were pretty. Details are important and Chip and Joanna didn't leave any detail unturned. The staff was super friendly, and I honestly felt like I was sitting down with friends. I just feel like everyone felt blessed to be there.
I wanted to try everything, but I went with The Farm Breakfast. It was DELICIOUS!! Just look at those hash browns!
(The prices were super affordable and the selection was great)
Don't forget to ask for strawberry butter!
Whether you wait 5 minutes or 2 hours, the food is worth the wait!
Tip #2 – Magnolia Table Take Out Area
Around the back of the restaurant is the Take Away area. This is a great option if you are not willing to wait on the long lines at the restaurant. You can pick up drinks and sandwiches to eat outside or to take home. It also offers souvenirs from the restaurant in this space.
Magnolia Market
Magnolia Market was next on the list. Finding a parking spot was easy because I chose to pay $10 to park in a lot directly across from the bakery. I would highly recommend doing this. They even had workers guiding customers and answering questions. Again, the staff was so friendly and helpful. I went on a Tuesday, so it wasn't very crowded. I would for sure recommend going during the week, but I realize that is hard to do since it's way easier to travel and visit on the weekends.
Don't forget to get a picture in front of #MILESTOMAGNOLIA.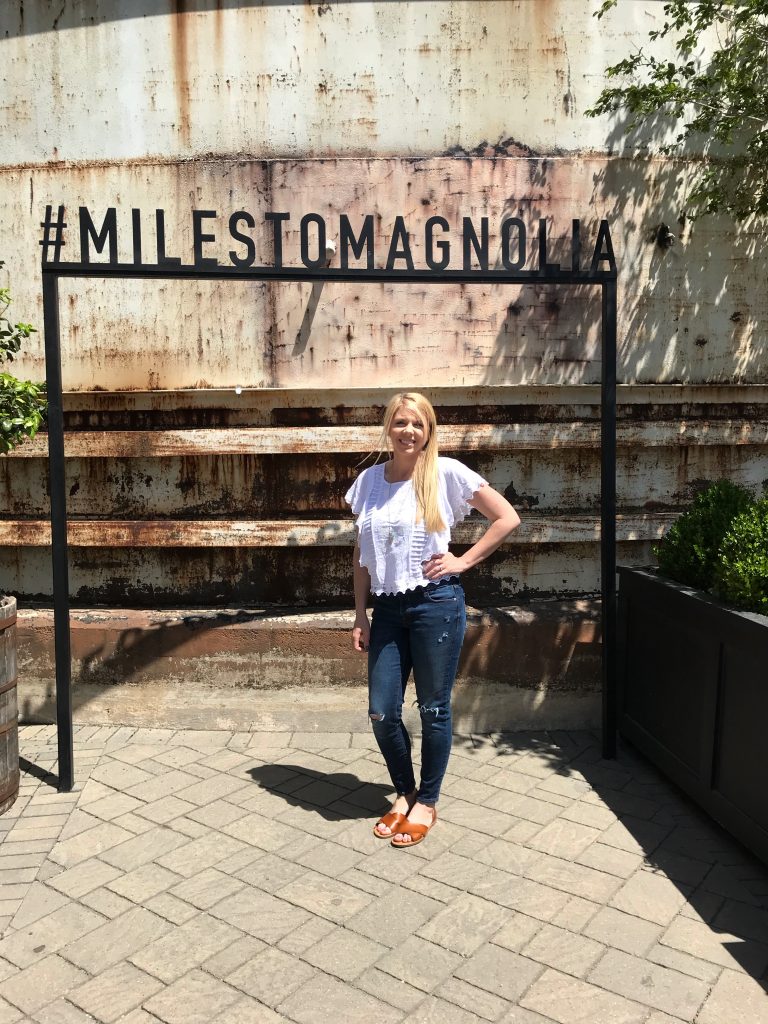 Inside the store was pretty crowded. Since I had a stroller, it was pretty hard to get around. The store is 2 levels, but they do have an elevator which made it super easy to get to the bottom level. The upstairs is full of Joanna's beautiful displays and products. My favorite part was the displays for sure! So inspiring!
Downstairs was full of Chip's products, souvenirs (t-shirts, hats, and coffee mugs), and lots of beautiful signs. I may or may not have spent way too much money on t-shirts, hats, and mugs. Just an FYI, the shirts and hats were around $26 and mugs $24.
Tip #3 – Avoid Peak Hours at Magnolia Market
The store hours are 9:00-6:00. I would suggest shopping either early or late in the day. I was there around noon, and it was super busy and hard to get around.
After lots of shopping, it was time to relax and eat. There was a huge area to play games and eat lunch. Food trucks surround the outer part of this area. They had lots of places to eat in the shade with the most beautiful surroundings. I just sat and admired this beautiful place.
Tip #4 – Eat at Magnolia Silos
I would suggest eating at the Magnolia Silos. They have lots of great options, and it is easier to stay and eat rather than try to leave and come back.
The Stay and Play section has plenty of balls, bean bags, and cornhole to play. It's the perfect place to let your kiddos run off some energy. The outdoor area also had music playing for your entertainment. Hopefully, next time I will be able to catch a concert out here.
Tip #5 – Bring Sunscreen 
Don't forget your sunscreen on your Magnolia Silos trip…duh I know.  But this place is in Texas and it's hot and bright. This area also has nice and clean restrooms.
Don't forget to get a tall glass of sweet tea to cool off!!
Magnolia Seed and Supply
On the other side of the Silos was Magnolia Seed and Supply. I instantly smelled the herbs and flowers right when I walked through the gate. The inside of the store is super small but oh so cute. There is something really special about sitting in the middle of the garden. It was so quiet and peaceful. This was one of my favorite places to hang out.
Tip #6 – Magnolia Seed & Supply 
The inside of the store is super small and not very stroller accessible. Plan to leave strollers outside.
Silos Bakery Co.
My last stop was the Silos Bakery Co…that's a no brainer. I couldn't wait to get my hands on those cupcakes. I was so pleased to see that the line was fairly short. Since it was later in the day (around 3:00), the line was a lot shorter than it had been earlier in the day.
Tip #7 – Avoid Peak Hours at the Silos Bakery Co.
I would suggest getting to the bakery early in the morning or later in the day. Their hours are from 7:30 am-6:00 pm.
A sweet worker handed out cards so you could be choosing your dessert in line. I literally wanted one of everything! The prices were also very affordable.
I waited for only about 10 minutes. All I can remember is the smell. I'm fairly sure that is what Heaven is going to smell like!
The bakery has the most beautiful little courtyard right outside. It's the perfect place to sit and enjoy a cupcake or two.
Harp Design Co.
Whew, I was super tired, but I could not leave Waco without visiting Harp Design Co.  Clint's store and workshop is NOT in walking distance of the Silos, so you will have to drive there. It is about a 5 minute drive and is located just on the outskirts of downtown Waco.
Tip #8 – Plan Ahead for Parking at Harp Design Co.
The store is pretty small and parking is limited. I would suggest riding together or even taking a shuttle. This would probably only be an issue on the weekends.
This store was so cute and full of beautiful handmade pieces. I even picked up a few things for Drake's nursery that I will be sharing with you all very soon!
The Harp House
The Harp House is directly beside the store and is available for rent through Airbnb only. This was Clint and Kelly's former home and was featured on Fixer Upper.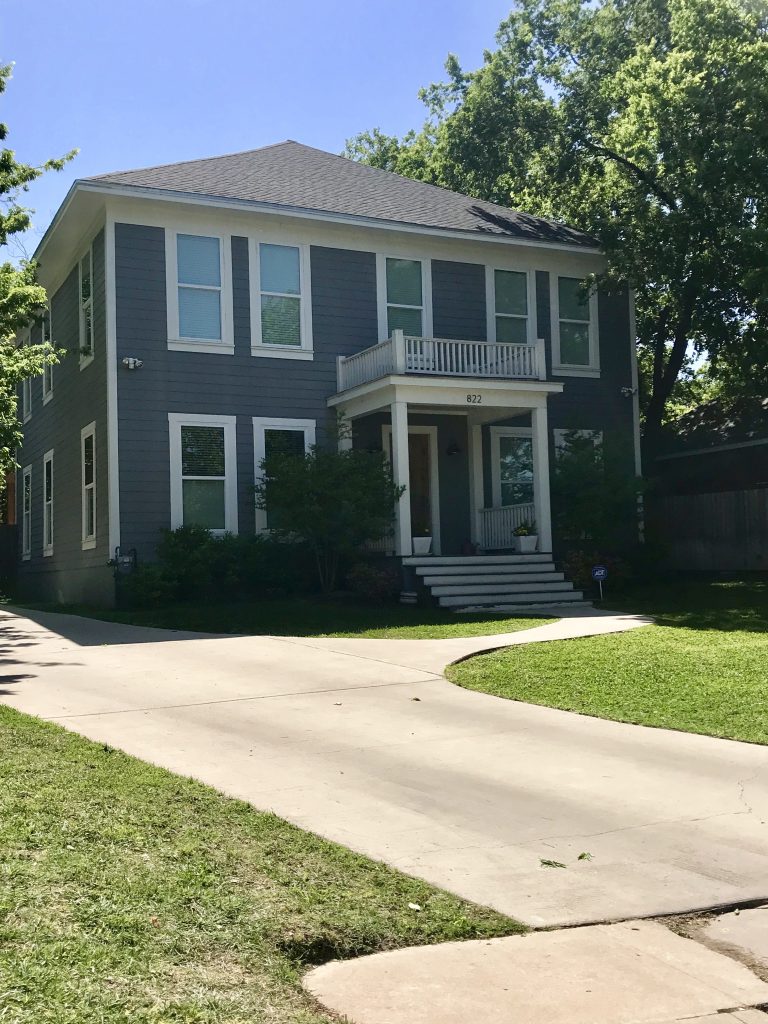 I really hope you enjoyed tagging along with me on my day trip to Waco. It honestly was even better than I had expected it to be. Next time, I'll hopefully be able to stay longer and venture to a few more places around Waco. I really hope that you were able to get a few helpful tips from this post. I'm also happy to chat and answer any questions you may have.  I would love to hear about your trip or if you are planning on visiting Waco. Be sure to tell me all about it in the comments below!!
Pin For Later