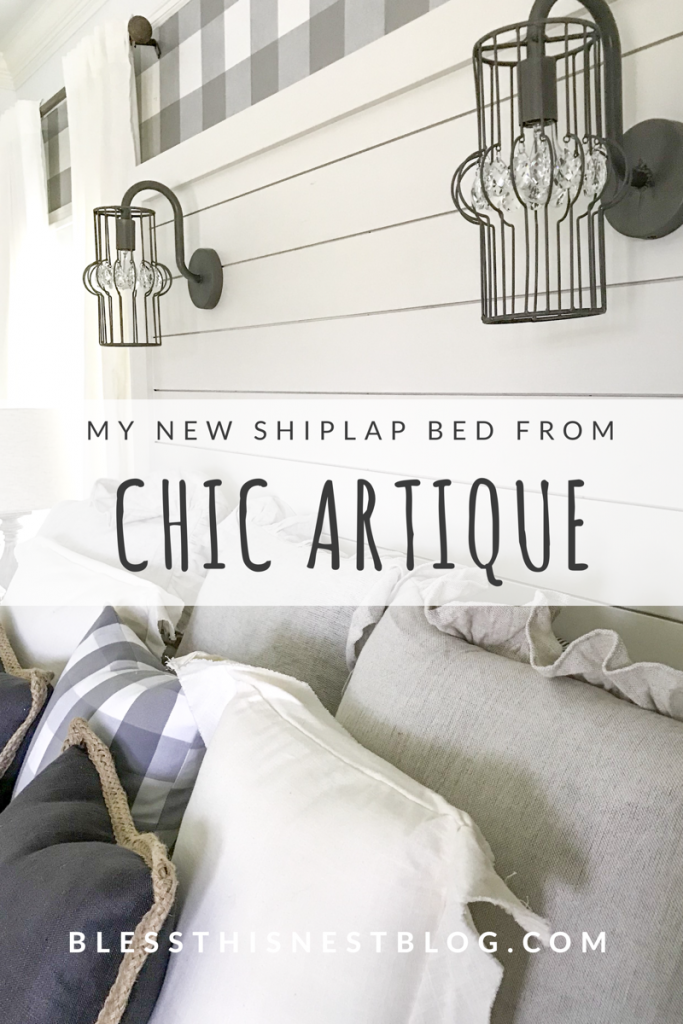 Good morning and happy Monday!! I am so excited today because I finally get to share with you my master bedroom refresh. I've been working so hard on this room turning it into a place that I love. I mean, you should love your bedroom. It should be your sanctuary. A place to escape and just relax, but that was NOT the case for me. My room lacked style and that cozy cottage feeling that I wanted it to have, so I decided it was time for a refresh and it started with my new bed with a shiplap headboard.
The entire room inspiration started with this SHIPLAP HEADBOARD. I think it's safe to say that it's my dream headboard, and I honestly feel like I'm waking up in a luxury hotel with all that this gorgeous bed has to offer. I had been dreaming of having a bed from the most inspirational store called Chic Artique here in my hometown. This store has the best selection of headboards, farmhouse tables, coffee tables, lamps, rugs, bedding, florals…..you get the idea. It's literally a one stop shop for beautiful home decor. I decided my headboard HAD to come from there, and the Uppity Shiplap Headboard was my choice!!
Why I love this bed…
Besides the obvious gorgeousness of the white shiplap headboard, I also fell in love with the idea of having lights built into the bed. The lighting choice was also a hard one because they have so many beautiful lights to choose from. I loved the Cage Chandelier Sconce because it has the cottage chic farmhouse look that I was going for in this room. Oh, and I couldn't resist that extra sparkle. You should see how pretty these are all lit up at night!!
The box is hidden behind the pillows, and it's located on both sides of the headboard which I love. You can control the lights with this dimmer so it's perfect for reading at night without disturbing the other person. This bed also has a place to hook in your phone or other electronics which is a huge bonus for me since a huge part of my job is spent on my phone. This feature is so useful and might just be my favorite part.
Bedding
I also decided that this gorgeous bed needed some gorgeous bedding from Chic Artique to go with it. I fell in love with the Water Fall Natural Bedspread . It's so simple yet so elegant. I just love how it drapes down so you don't even need to add a bedskirt.
I also love the natural color and how it basically goes with anything. The neutral colors were the perfect fit for me. The fabric is linen so its light and airy for the summer and so simple to add a down comforter underneath for extra warmth in the winter.
Well guys, I finally love my room! I find myself hanging out in here all the time because it's now my happy place. I'll be sharing the entire bedroom refresh soon, along with before and after pics, but in the meantime, head over to Chic Artique's website and check out all of the headboard and bedding options. Want to know the best part? They ship so you don't have to live in the Nashville area to get one for yourself.
As always, let me know what you think of my room refresh, and please let me know if you have any questions. Thanks so much for stopping by the blog. It really does mean the world to me. XOXO
Shop This Room
Pin For Later