Hellllo friends!! It's been a few weeks since my last post, but I'm back. If I'm being honest, I have just lacked motivation and inspiration the last month, so I took some time off to reevaluate. It was SO good to take a breather, but I think I'm slowly getting my groove back. Anyone else feel like this this time of year? It's something I struggle with right around the end of winter, so I decided I desperately needed to find some inspiration to help welcome spring in. My goal was to find something to spruce things up around here, and the color green kept coming to mind. Let me start with saying I love green. It just makes me so happy! I found a few bottles at Old Time Pottery that I fell in love with and thought it would be fun to create a simple and unique table centerpiece. The end result is my favorite! Today, I am sharing 3 ways to use green bottles in your home for spring, and I can't wait for you to see!
1. Table Centerpiece
This beautiful collection of bottles really freshened up my kitchen eating area. This space was feeling flat, so by simply adding four different mismatched bottles and some greenery really make this space shine again. Without trying too hard, the bottles speak for themselves and make a beautiful statement centerpiece.
Just look at that reflection! The sun coming through my windows makes the centerpiece look like it has a spotlight directly on it. Isn't that exactly what we want from our centerpiece? It's the star of the show exactly how it should be.
2. Mantel Decor
The second way I use green bottles in my home for spring is to put the collection on either side of my mantel. I just love how they look with this wood archway along with some greenery. Nothing says spring to me more than green, wood tones, and faux greenery. Love how this space came together!
3. Console Table Focal Point
The final step was to take the collection to my favorite console table. Green bottles speak for themselves so by simply adding them to this space changed the look of this space completely. I finished off the spring vibes by adding some cutie little birds. Now, I can't help but noticing the space. Love how happy it feels now!!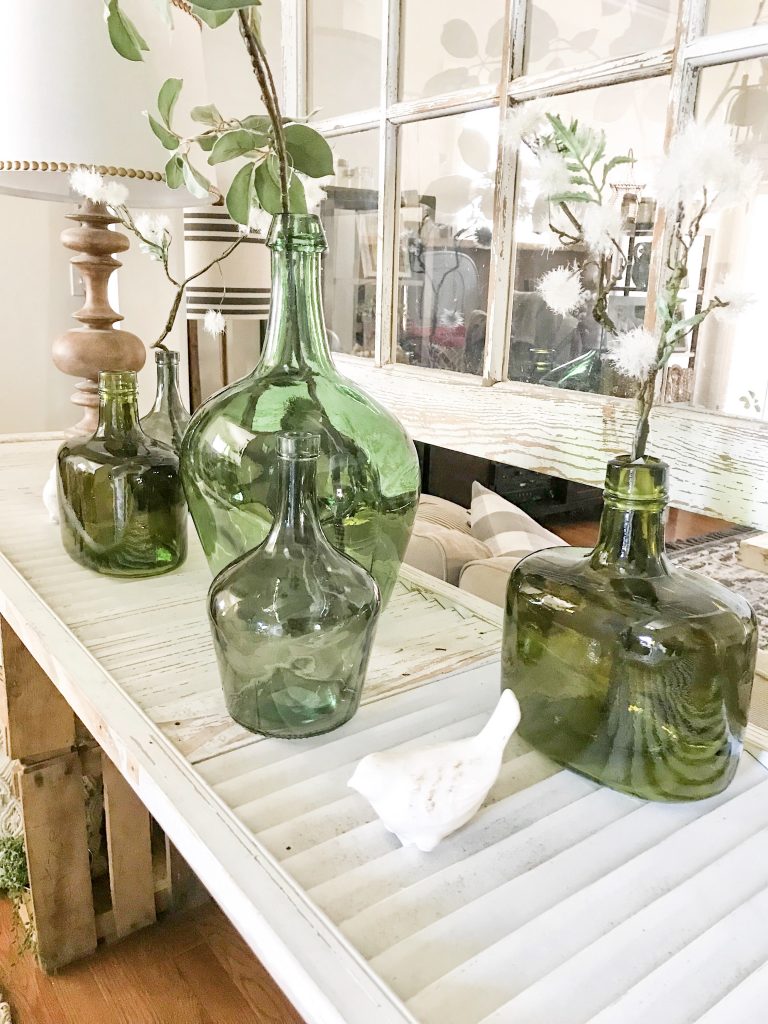 So there are my favorite ways to use green bottles in my home for spring. I hope you enjoyed my ideas, and maybe even offered you some fun inspiration along the way. Using collections of bottles to make a statement will always be one of my favorite ways to decorate. You can even see how I use bottles for other seasons HERE too. Thanks so much for stopping by today! Happy weekend sweet friends!
Shop This Post

Pin For Later
Shop The Post