If you have been keeping up, my kitchen has been getting a refresh in the new year. Nothing big, just small changes here and there to give it a fresh new look. My favorite part about all the changes that have happened is that I have kept them all super budget friendly, and that includes my latest DIY. Today, I am so excited to share with you how to make a kitchen window shelf. If you are looking to spruce up your kitchen window, this it the DIY for you. The best part is that this project can be done in a couple hours, and it makes a huge difference in your kitchen!
Kitchen Window Shelf Inspiration
In the fall, I completely changed my kitchen eating nook. I got a new farmhouse table and chairs and added this focal point wall. I decided to make some wood shelves for this space and absolutely loved how they turned out. The goal for my kitchen window was to mimic the look of these shelves and add a smaller version for that space.
What Tools Do You Need?
Materials
1 x 10 Common Board
Bracket
Shop Hart Tools

Step 1- Find The Size Wood You Need
The first step is to find what kind of wood you are wanting. I went with the 1×10-6FT Common Board. Make sure to figure out how deep you want your shelf to be. The depth of this board was perfect for my space.
Step 2- Cut Your Wood's Length
The next step is to measure the length of your window. You want your shelf to fit the length of your window. Then, I used my circular saw to cut my board's length.
Step 3- Stain The Wood
After my board was cut, it was time for stain. I used the same color as I used in my DIY kitchen eating area shelves. The color is called Golden Oak and it happens to match my new kitchen table perfectly. Love this color!
Here is the color compared to the natural wood color.
Step 4- Attach Your Brackets
Now it's time to get your drill out and screw in your brackets. I measured where my brackets needed to go and screwed them into the wood. I chose white brackets because I really wanted them to just blend in with my white trim.
Step 5- Screw Your Brackets Into Window Molding and Decorate!!
Last and final step, screw in your brackets to the trim. See, wasn't this the easiest DIY EVER!!
This little kitchen window shelf is such a fun space to decorate! I love to put plants and my favorite kitchen decor pieces up here. It really is one of my favorite spaces to decorate! So, are you ready to make one for yourself? This project cost around $30, and it added so much character to this little kitchen window. I hope you guys enjoyed this simple DIY as much as I did. As always, thanks for stopping by!
Shop This Post

Pin For Later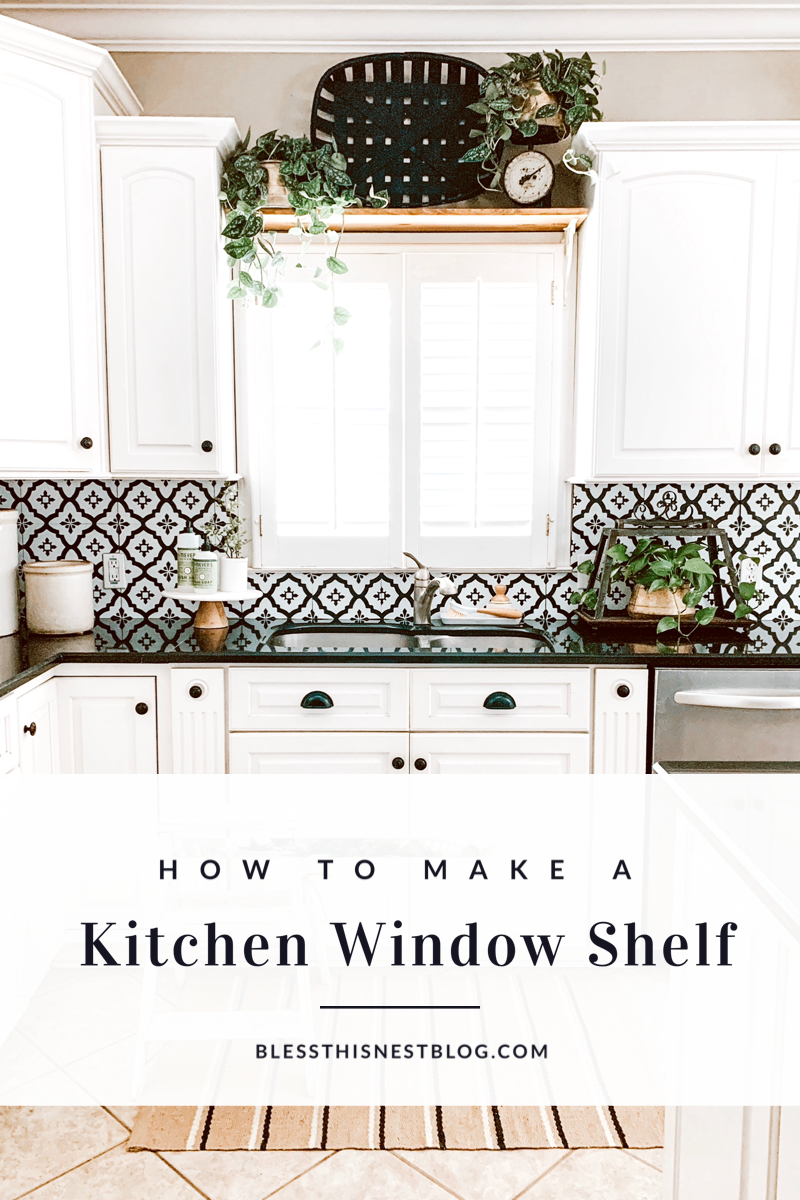 Shop This Post