Hi sweet friends! Coming at you from day 1,089 from quarantine…LOL! How are you holding up? I took a little break from the blog to get used to our new normal and establish some sort of routine around here. We are finally getting the hang of things, so I'm so excited to be back doing what makes me happy, and that is sharing my home with you. Today, I thought I would finally share my living room spring refresh reveal, along with my new layered rugs from Boutique Rugs. I'm loving the new look, and it came just in time since we will be stuck here for a while. I've always said, "We need to love where we live," and that is especially true right now. So, here is a small tour of my new living room!! I hope you love the changes as much as I do!
Living Room Spring Refresh Reveal
Layered Rugs From Boutique Rugs
A few weeks back, I shared all about my new living room wall decor, and I'm still loving the fresh new look of it in here. One addition that I haven't shared with you guys yet is my new layered rugs. My living room is pretty large so my 8 x 10 Bolivar rug seemed a bit small for this space. My solution was to add a larger jute rug underneath, and I love how it turned out. I'm still so obsessed with the layered look! You can find the top rug HERE and the jute rug HERE.
Now, all the furniture touches the jute rug and pulls this large space together. You can shop more Boutique Rugs HERE. #boutiquerugspartner
For this room refresh, I also wanted to add some black touches to this room. I know black doesn't really scream spring, but a few darker touches here and there really added something special to this room refresh. I found these pretty black lamps at Kirkland's, and love the statement they make in my very neutral space. Love how they also match the rim of the basket on the wall and pull everything together.
Spring Mantel Decor
Another space that got a fresh new spring look was my mantel. I centered the entire look around this Threshold French Country Mirror. I've had my eye on this mirror for a while now, so when it finally came back in stock, I scooped it up. I finished the simple spring look with some books and fresh greenery. Greenery is such a simple way to get a space ready for spring!
Another new space in my living room are these double shelves that I hung in the corner of the room. I found these pretty horse prints to use as the focal point and added some brass touches along with real greens. Don't you just love how the vines look draping from the shelves?! This little space might just be my favorite addition to the room!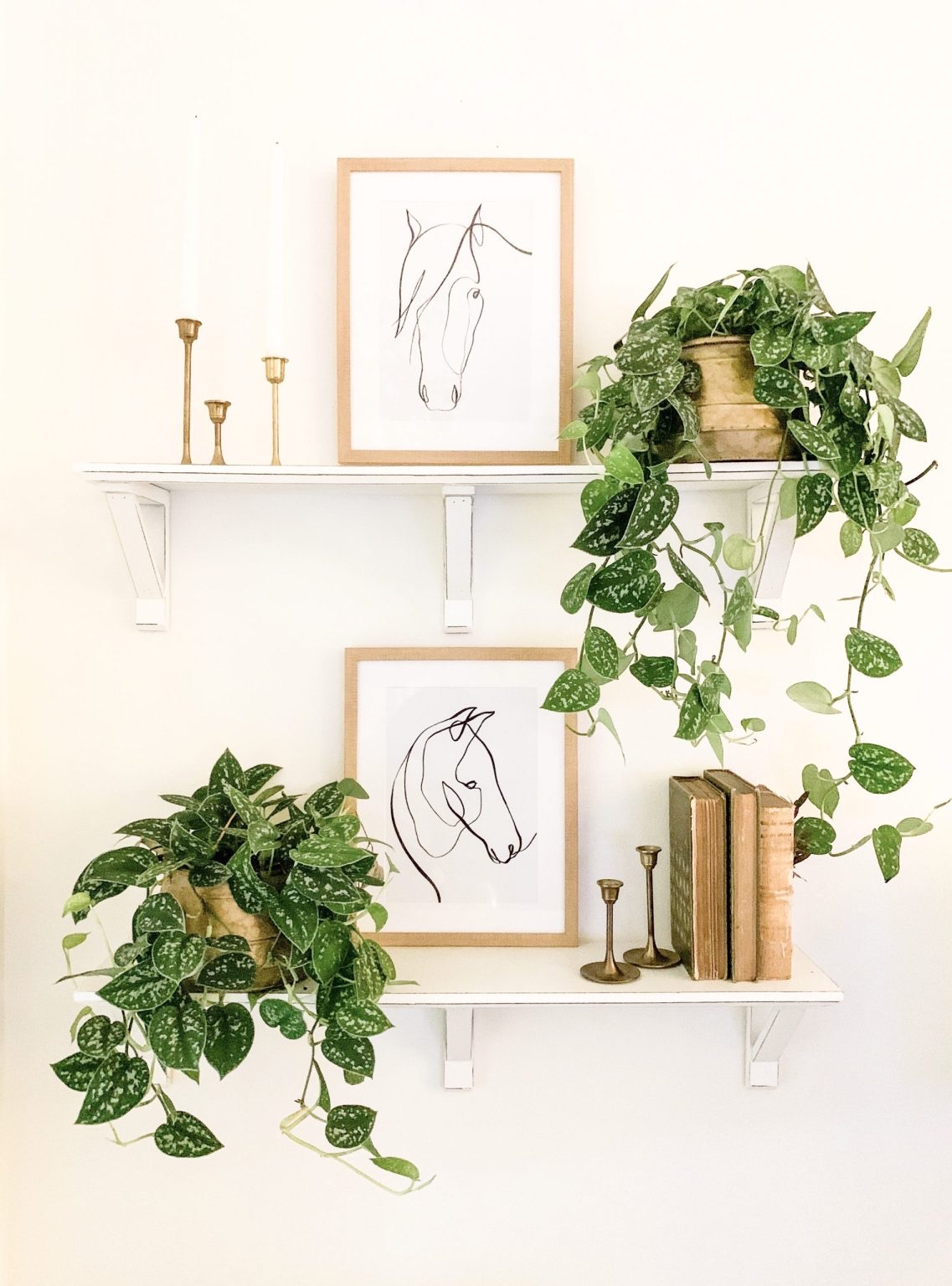 There you have it my friends. My living room spring refresh is complete, and I'm so excited I was able to bring in a few additional touches to give this room a completely different look. You honestly don't have to make a lot of changes. By simply adding a new rug, different lamps, or even a few new pillows can give your space that refresh it needs. As always, thanks so much for visiting today, and don't forget to leave a comment to let me know you were here. I LOVE hearing from you!!
Shop My Living Room

Pin For Later
Shop This Post