Happy Sunday!! We are only 9 days away from the 4th of July party people!! Can you believe that? My life has been so hectic lately that I just got around to putting a little red, white, and blue in my living room. Today, I'm going to share some of my 4th of July decor with you.  I'm hoping you can use some of these examples and recreate these looks in your space.  Better late than never I guess 😉
The 4th of July isn't a big holiday for decorating, but I personally love to see the pops of red, white, and blue in my home around this time of year. I typically don't decorate with red, so this gives me an excuse to add some rich colors like this to my spaces.  I only have a few staple 4th of July pieces of decor, but it only takes a few to give your home a festive look!!
Vintage Flag
I found this old vintage flag at the flea market and totally was smitten over it! It is dirty, and wrinkly, and stained but I adore how it looks behind my couch!
Painted Wooden Flag
I actually found this piece yesterday on a picking trip for my antique booths and I had to have it.  It has that rustic look that I love. I knew my fireplace needed this piece!
 Blue Mason Jars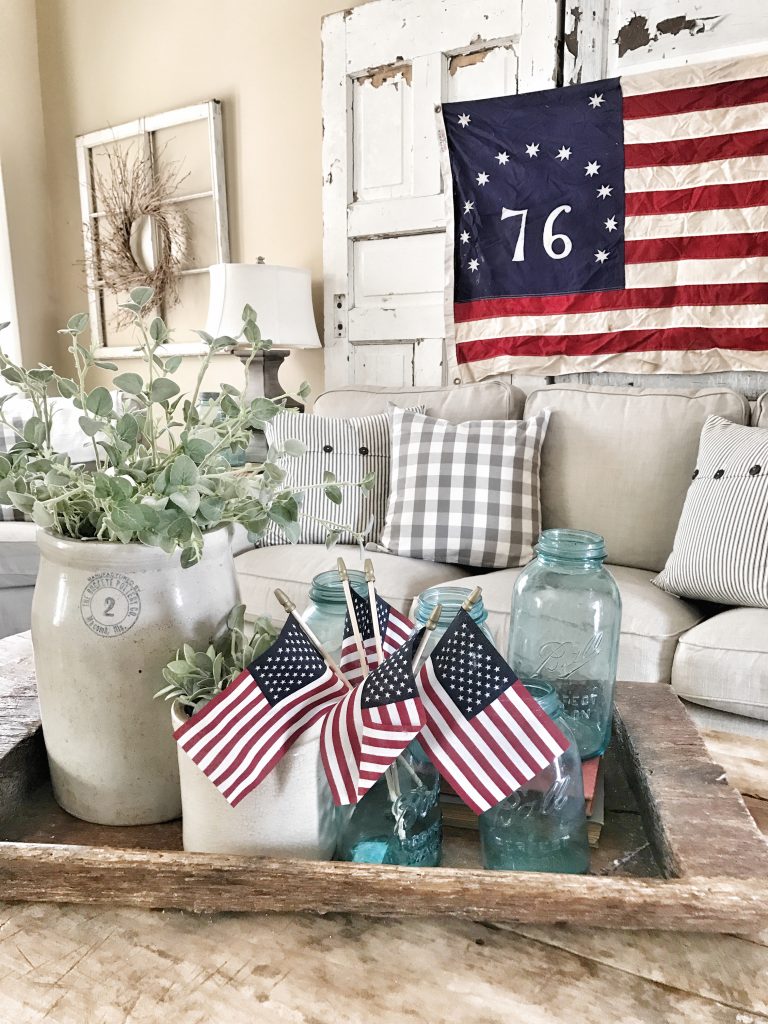 Sometimes I feel like a grandma because I love collecting random old pieces like crocks and blue mason jars. These jars give the space that subtle blue tone that looks great when paired with other pieces of 4th of July decor.
Flag Banner

This American flag banner is an easy DIY project or you can cheat like I did and find one in the dollar spot at Target. I love banners because you can add them to your fireplace, a window, or a table and they add just enough to give it a festive look!
So, there you have it. A little farmhouse and vintage inspired 4th of July decor. You don't have to go all out to decorate your home for a holiday, but just by adding a few touches here and there will be enough to get your kids excited. I hope you got a fun idea or two that you can use in your home!! Thanks for stopping by!!
Happy 4th of July!! xoxo