Hello friends and happy Sunday!! Today, I'm talking entryway decor ideas. Last week, I decided to go on a little Target adventure through Nashville and hit a few to see what was new. My favorite time to shop is after Christmas because they are putting out all the new fresh spring decor. I lucked up and found some pretty pieces that were perfect for my entryway. I can't wait to share with you my entryway refresh, and I thought it was the perfect time to give you some entryway decor ideas from Target incase you are wanting to update your entryway as well. It doesn't have to be new pieces, but having these 5 staple pieces will help your entryway get the attention that it needs.
1. Lamps
The first entryway decor idea is obvious, but it happens to be my favorite piece of decor. I'm talking about lamps!! Yes, I'll admit it, I'm addicted to lamps. As a result, I end up buying them even when I don't have a spot for them. This beautiful grey concrete lamp is a new spring release from the Studio McGee Threshold line (the link is not on their website yet). I instantly fell for the the weather texture and modern shade and knew I had to find a place for them. Adding beautiful lamps that make a statement is a great way to anchor your entryway and add color, texture, or character to your space.
Shop My Favorite Lamps

2. Boxes
Entryway decor is a way to add personality to your entryway. The possibilities are endless, but a fun piece of decor that I love to use are decorative boxes. They add height, pattern, and color to your entryway. I found the cutest boxes from the spring Hearth and Hand line at Target. The second I spotted these window pane pattern boxes, I knew they had to find a place in my entryway. Below you can find a few more pretty boxes for some fun entryway decor pieces.
Shop My Favorite Boxes

3. Greenery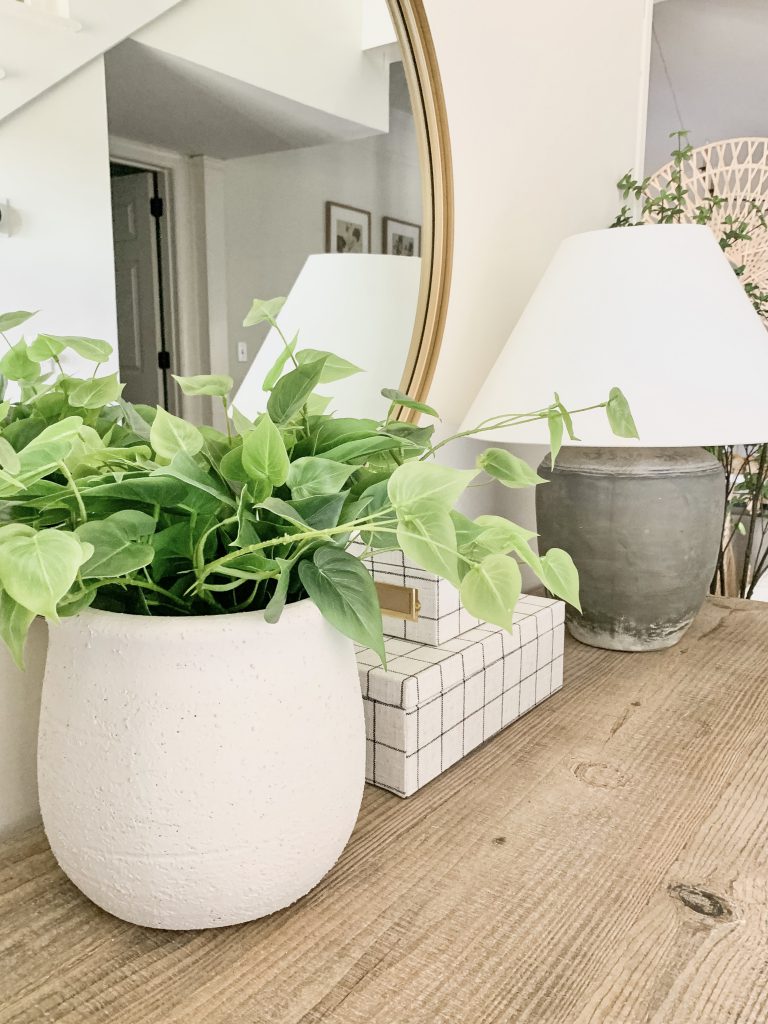 If you know me or have been around a while then you know that I LOVE greenery. My favorite piece of decor is real plants; however, faux plants are great too if you can find some that look real. I was so excited to find this artificial pathos plant because it really does look like the real thing. Whether you use real or faux plants, they are the perfect piece to your entryway decor. You can see more of my favorite faux greens below.
Shop My Favorite Faux Plants

4. Trees
Now that we got our signature table pieces down, let's talk other entryway decor ideas. If you have room, then I love adding a faux or real tree beside my table. I found this beautiful one while out shopping last week and was instantly drawn to how real it looked. The size wasn't too big and it was around $100 (the link is not on the website yet). I highly recommend extending out from just an entryway table and adding a tree. Below I shared some of my favorite faux trees from Target.
Shop My Favorite Trees

5. Mirror
Now let's talk wall decor. Of course your entryway table needs something on the wall to bring the eye up. My favorite wall entryway decor idea is to add a mirror above the table. Usually your entryway table is by your front door so it helps reflect light and make the space bright. I chose this round and gold mirror from the Studio McGee Threshold line, but of course there are so many beautiful sizes and shapes to choose from. You will find some other great options below!
Shop My Favorite Mirrors

So, I hope you enjoyed my spring entryway refresh along with a few entryway decor ideas. Thanks so much for stopping by the blog today!
Shop This Post

Pin For Later
Shop This Post