Happy Friday!! We made it!! You guys, I'm so excited to finally share a project that I have been working on for the last couple of months!! This is a client's house that is an actual farmhouse so naturally it needed a few farmhouse touches. I'll show you how we created a farmhouse style living room. I had a baby towards the end of it, but luckily my client took our vision and finished things up beautifully!! Today, I'm sharing the living room and TV area reveals for this project. I love seeing our vision come together. It just so happens I was working with the best client's who listened to my vision for their home and even added a few extra touches that will blow you away.
We started off the project by changing the paint color. We went with a gray color scheme. I just adore how beautiful and simple gray tones add to a space. It's also one of my favorite colors to use when I am adding the farmhouse look to a space. We went with Pussywillow by Sherwin Williams in the living room and Repose Gray by Sherwin Williams for the TV room, kitchen, and dining room. I love these Colors!!!
Living Room
Creating a Farmhouse Gallery Wall
This wall is the focal point of the living room. It is the wall you see right when you walk in the front door. I knew it needed something special. I found this beautiful old church pew at the flea market but wasn't sure it it would fit in this space. Luckily, it was a perfect fit!! My client and I decided a gallery wall was what would look best for the space above it and so that is what we created. I am a little obsessed with how this wall turned out.
Before…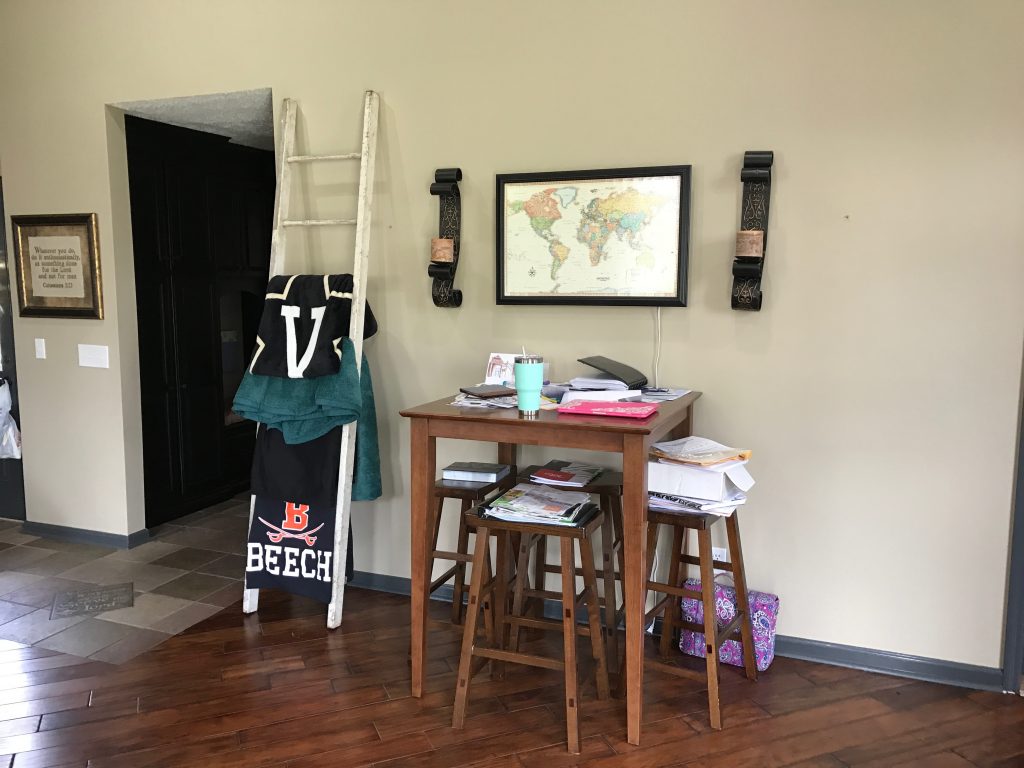 After…
Creating a Farmhouse Living Room
I can't take much credit for this space. My client had the brilliant idea of adding a console table behind the couch. This table is from World Market and it's my favorite!! Love how this space turned out!!
Before….
After…
Adding Farmhouse to the Fireplace
Isn't this mantel to die for? It was already amazing so it wasn't hard to make it look beautiful. We just cleaned it up a bit and added these beautiful vases from Kirklands. I love the idea of a vase on each side of a mantel because the stems can be easily changed out for seasons and holidays.
Before…
After…
These amazing prints above the piano are from Southern Sawdust and they are gorgeous!!
Adding Farmhouse to the Reading Nook
My clients love to read so when I saw this space, I knew we needed to make it a cozy getaway to escape to with a good book!!
Before…
After…
TV Room
Adding Farmhouse to The TV Room
This room is one of the most used rooms in their home. Their children play games, do homework, and watch TV in it so we wanted it to be a beautiful but fun space for them to hang out in.
Before…
My client found this adorable TV stand at the flea market. We had a hard time deciding what to go on the walls but in the end, my client loved the idea of a smaller gallery wall and I totally agreed it is exactly what this space needed. I love how it turned out!!
Before…
After…
Well friends, that was part 1 of this refresh where I showed you some tips on creating a farmhouse style living room. I love how it all came together. We had a blast refreshing these two spaces and giving it the farmhouse look. I think we nailed the look we were going for. For more farmhouse living room ideas check out a similar post from my home. I can't wait to share with you the the kitchen and dining room next time so stay tuned! Thank you so much for stopping by! Have a lovely weekend!
xoxo- Carissa