I'm so excited to share with you one of my favorite things to decorate with…..BOOKS! I have been decorating with old books for a while now and I love using books in my home. New, used, old, dirty, torn, it really doesn't matter. I'm not picky when it comes to them because you can use them in so many fun and creative ways. The ideas are endless. Today, I'm sharing with you 5 ways that I use them in my home. Hopefully, I can help you see the potential with these fun little treasures.
1. Use Old Books In a Vignette
I believe books are the perfect addition to any home vignette. They are pretty much displayed in every vignette I have in my home. In this vignette, I opened and layered a few thin books. The open pages are the perfect backdrop to a vignette. I added a couple of antlers and some greenery to the books and thats it! I think they look so pretty grouped together.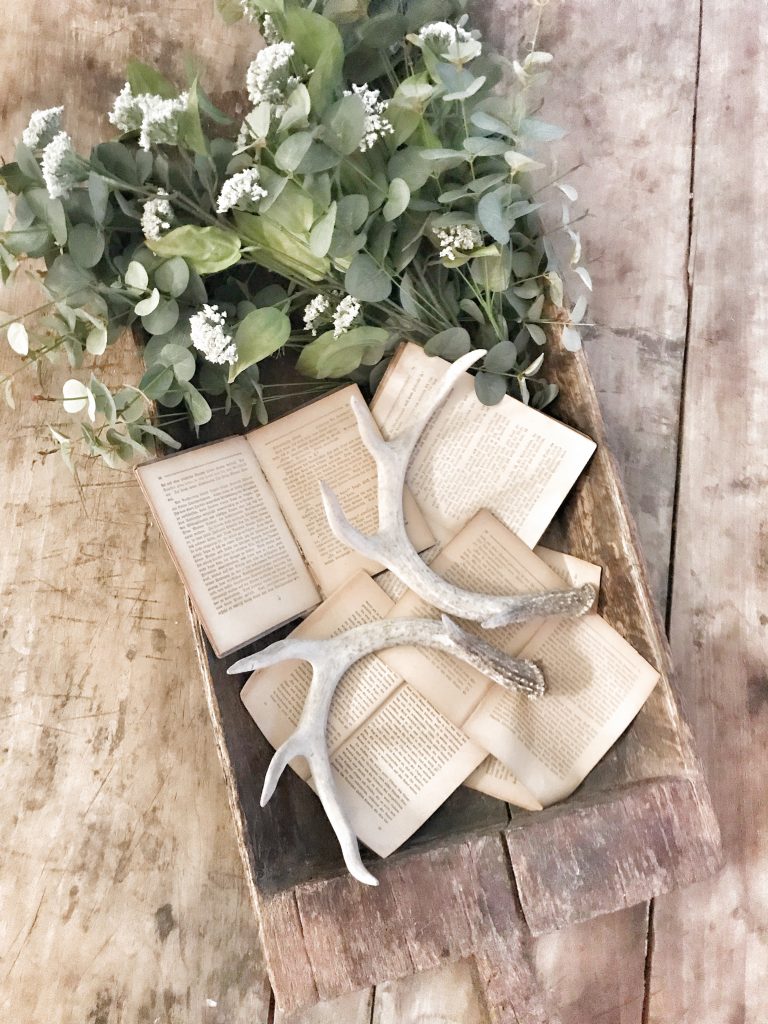 An open book with the pages displayed is so simple and creates layers and texture to a vignette.
2. Put Old Books Between Corbels or Book Ends
This is a simple technique but looks so pretty. The look of an old book is classic, and I just added a few to my dining room hutch and put two corbels from Hobby Lobby on each side of them. One tip when displaying books like this is to turn them where the pages are showing instead of the binding. I like to mix in both ways.
3. Stacked Vintage Books with Greenery
I use books to add a little something extra to a table, shelf, or coffee table. Just two or three books stacked on top of each other is a perfect space filler. It also adds a little color to your space. In this hallway I just put a sprig of greenery on the top of each stack of books to finish off the look.
4. Decorate Using Old Book Pages Only
This way is perfect if you have those ugly or worn out books that are not being used. Just rip the pages out and use it on a cork board or bulletin board. I used an old church hymnal that I found at a yard sale to cover this ordinary cork board in my kitchen. It took me about 5 minutes to do this project. Check out my post about decorating a cork board using old books to learn more. It added a fun touch to my kitchen for only about 50 cents.
5. Removing The Binding
This set of books were pretty rugged and torn when I got them, but there's a simple fix to transform them into an asset to your space. Simply strip them down to only the pages. Then, tie a burlap tie around them and add a twig of greenery. This is one of my favorite ways to display old books. This can also be used with newer books that have an unflattering cover. Just tear the cover off and let the pages speak for themselves. As always greenery is a great addition to the top.
I LOVE decorating with old books and their pages.  There are endless possibilities and they are so cheap. I never pass down a vintage book. My hope is that you found a new way you can use them in your home. Let me know if you also love decorating with books. I always love chatting with you all so let me know if you have any questions. Thanks so much for stopping by!
Have a great day!!