Hi guys!!! Happy New Year!! I'm finally all cleaned up from Christmas and I don't know about you, but that always puts me in the mood to redecorate. I love a fresh start with my decor after the holidays. I've never been one to decorate for winter. I'm just ready for it to all be out. I like to begin the new year with some personal goals, along with some home goals. One of my home goals is to refresh a few things in my living room. This year I decided to refresh my backdrop to my couch by adding an oversized farmhouse wall clock.
Farmhouse Clock Inspiration
My inspiration for the large farmhouse wall clock was the one Joanna Gaines has in her farmhouse. Of course, hers is gorgeous and antique and huge and perfect. I knew I wasn't going to find an antique clock that large (believe me, I've searched high and low), so I started looking in a few of my favorite stores and came across a large galvanized clock in Hobby Lobby. I'm a lover of pretty much anything that is galvanized, and I have touches of rusty galvanized pieces all over my living room., So I figured this might be the perfect fit for my space. I brought it home, and I love how it turned out in front of my chippy antique doors.
The size was perfect, and I love how it looks in my space.
As you can see, I have a few old and new galvanized pieces in my home. I love mixing wood pieces with galvanized pieces. They compliment each other so well.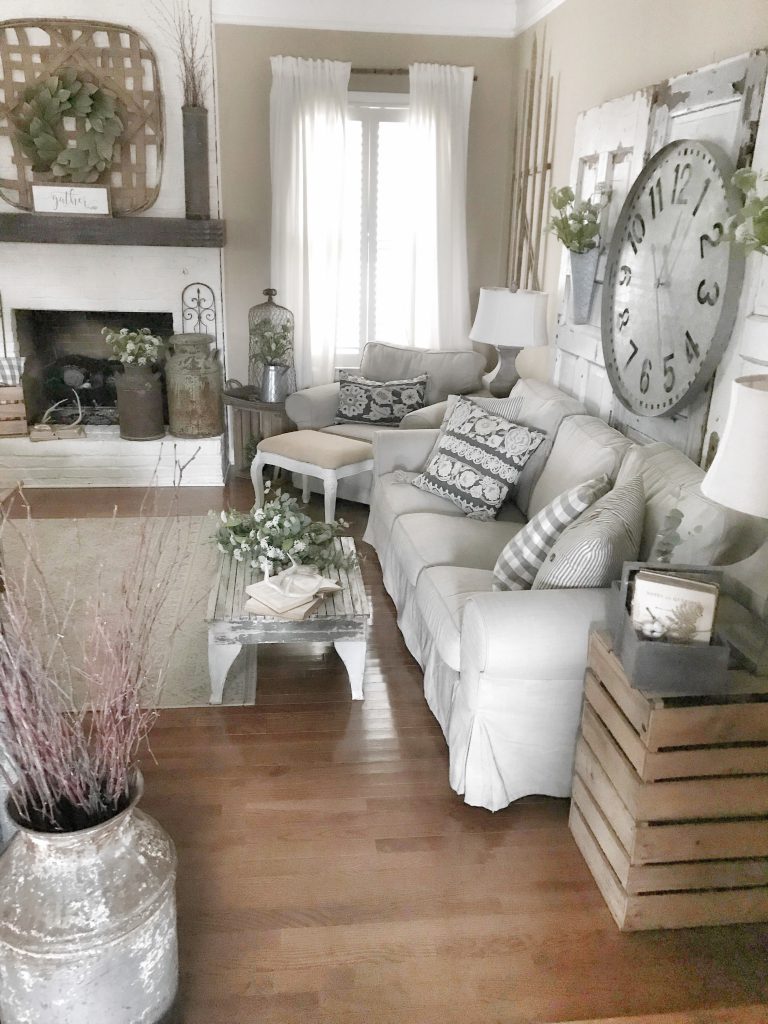 I love a little symmetry and balance so I added these galvanized plant holders to each side of the clock. I think it needed a little something, and you can never go wrong with some faux greenery.
Hope you love my new oversized farmhouse wall clock as much as I do! I think it's a great fit for my living room refresh. Now it's time to get to another living room goal which is painting. Yes, I'm ready to brighten up this room with a lighter color. Anyone know how to convince your husband its time for a new paint color?
Below, I have posted a few of my favorite farmhouse style clocks from Amazon so go check them out. Thanks for stopping by!!
My Favorite Amazon Wall Clocks

Shop My Living Room