Guys, I am so excited to share with you an awesome and beautiful event that I had the privilege of decorating for the past two years by creating lots of fall table vignettes. This event couldn't have been anymore perfect! The atmosphere and decor made for one of my favorite nights. It was the perfect welcome to fall!! It is a local event here in my hometown of Hendersonville, Tennessee called Farm To Table hosted by Hendersonville Produce . I love this event because it shows the importance of our farms and farmers, local food, and the small businesses we have in our town. This event was a celebration of hard working folks and recognizing what they do everyday.
No. 38 Vintage Marketplace is where my Bless This Nest booth is located, so I was asked to help decorate the tables for this event. The fun part is that we use items from our store to create fall vignettes for the center of the tables. Lots of farmhouse goodies went into making these beautiful vignettes for the event.
Fall Table Vignettes
We used lots of authentic farmhouse pieces that we found at our store. From chicken feeders to vintage scales to books to old milk crates, all seemed to be at home at this event. The setting was an old home located on a once horse farm. I wish you all could visit this beautiful home. It really is a dream location.
So, let's talk about our fall vignettes. We added lots of natural fall elements provided by Hendersonville Produce, and we had every kind, shape, and color of pumpkins to choose from. We also used wheat and cotton to add height to our centerpieces. Creating a vignette is an art of piecing and stacking items together to tell a story. You can make them as simple or as elegant as you want. I love the challenge of creating the perfect vignette. I am so proud of how each table turned out. It was so hard to choose a favorite.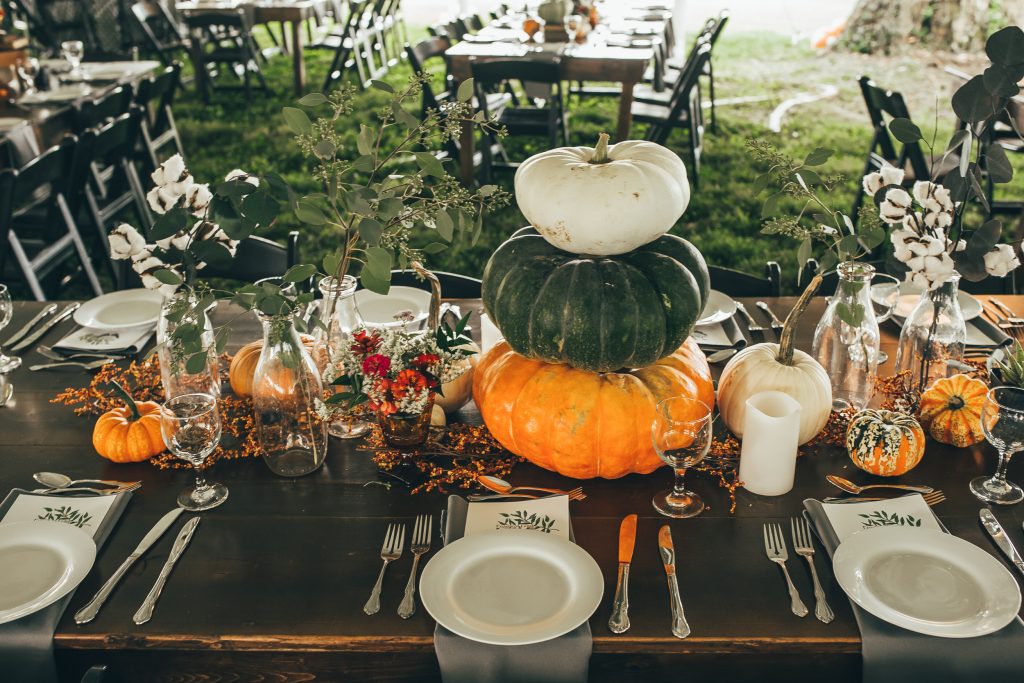 These colors are everything!!!!
So, which table was your favorite? It's pretty hard for me to pick a favorite. I just love that every table had it's own personality. It made it fun and interesting. I'd like to think that these vignettes were the topic of a few table conversations and hopefully it attracted a few new customers to our store.
Well friends, if you ever get a chance to attend this event or an event like it, please DO!! It truly was one of my favorite nights out. I am so proud of my little hometown and what all of these hardworking small businesses can do when they work together. The next time you are out shopping, please consider shopping local and support your small businesses. I've met the faces behind small businesses and it means the world to each of them when you choose to walk in the door. We love and appreciate you more than you know!!
Sources
Photography by Kyle Gregory Photography