Hi!! It's been a while since my last blog post, but this girl is staying super busy. I know, no excuse. I love my time at night to just sit and blog. Let me just say, I appreciate each and everyone of you who choose to visit my little blog. It truly makes me smile to think you would come and see what I am up to. Well, today I am really wanting to help motivate you. I really want to help you see how easy it is to add a spark to your desired space. Today I'm showing you how I created a farmhouse style kitchen in my space.
When we moved into our home 5 years ago, my kitchen had good bones but it lacked that spark that really made me love it. Besides the white cabinets and black countertops, it really wasn't my style. Hey, no biggie. It's easy to get overwhelmed when you are wanting to put your stamp on a space. Just try not to stress if it's not your style at first. It really just takes a few basic steps to update a kitchen or any space for that matter. Let's start with how my kitchen looked when we moved in.
Before…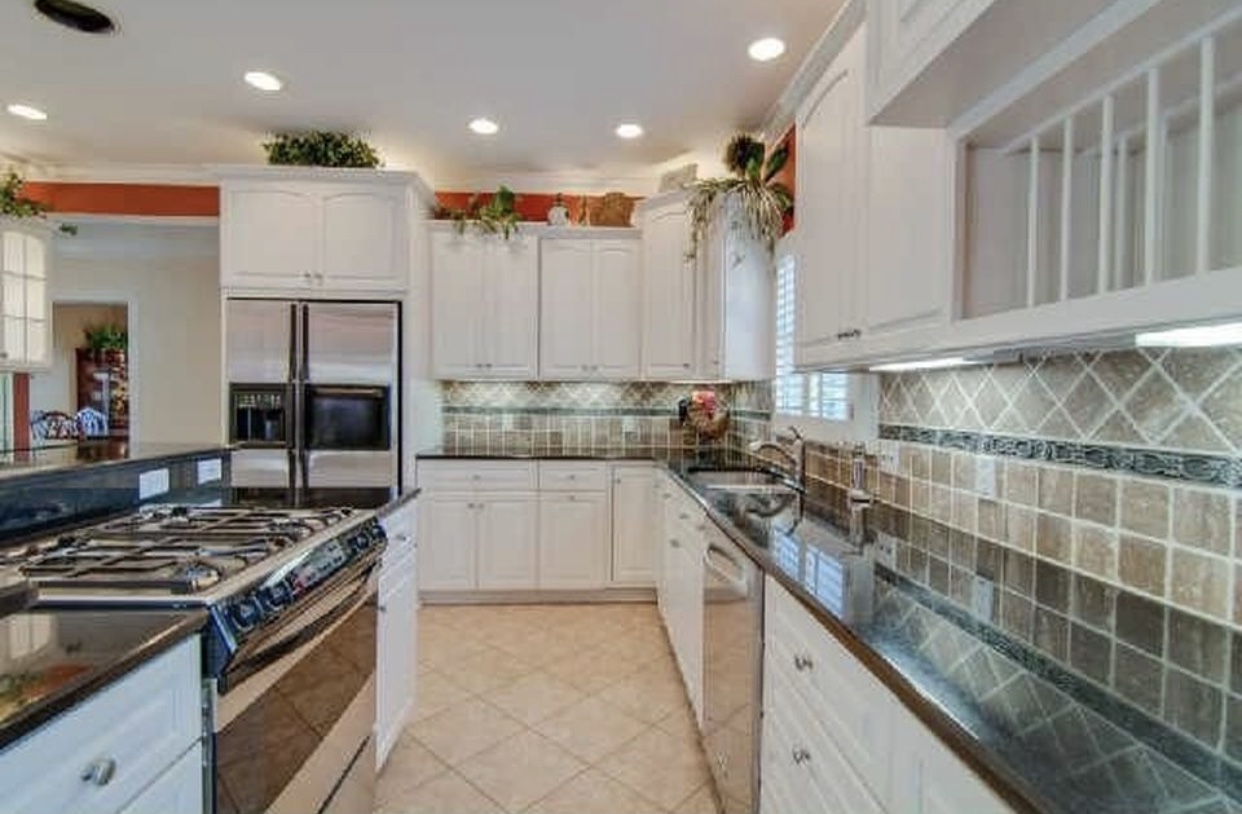 I'm not complaining. I loved it, but it just needed my touch. Here are 5 easy steps that I followed to add my farmhouse style to my kitchen.
1. Paint Color
My kitchen was red. Hey, nothing wrong with red, but I am a neutral girl. I needed to tone it down a bit. I went with a grey-green color called Garden Wall by Behr Paint. My kitchen paint color is the number 1 question I get so there you have it. It is a great color. Even though it has a green tone to it, you really can add any accent color to it. It looks great with pops of red, green, black, or blue.
2. New Cabinet Hardware
Once I got the walls painted, I hopped on Amazon and ordered these black knobs and drawer pulls and it instantly changed the look of my cabinets. Hardware is such an easy and fairly inexpensive change. I chose to do knobs on the cabinets and pulls on the drawers. I have a lot of cabinets so I wanted to do a different look on the cabinets and drawers to break it up a bit. This style of hardware also gave my kitchen the farmhouse look that I was going for and it matched my black countertops which tied it all together.
3. Farmhouse Style Furniture
What does a farmhouse kitchen need? You guessed it, a farmhouse table. Now, this is not my ideal farmhouse table. This was one of my first big furniture purchases when we got married 12 years ago, so it is a little hard to part with but I am ready for a change. I am on the lookout for an actual old farmhouse table but until I find the perfect one, this one is what I am working with. I found some black spindle chairs at my store No. 38 Vintage Marketplace . I also converted an old hutch into a hanging farmhouse hutch , and I love the farmhouse feel it added to my breakfast nook.
Here is the before…
and here is my updated farmhouse breakfast nook…
4. New Lighting
Lighting is another easy way to update your space and give it the look you are trying to accomplish. I actually found this light fixture at a yard sale. Yes, a yard sale. I just painted the wrought iron black and added some pretty crystals that I also found at a yard sale. LOVE this chandelier so much!!
5. Decor
Decor is what ties your look all together. To finish off the farmhouse style kitchen look, I added old scales, signs, crocks, pitchers, and greenery to my kitchen. I also made this burlap sack curtain to my window and a barn wood shelf to display my decor on. This little window over my sink is my favorite part of my kitchen.
So….pretty easy right? I think so. I know that some spaces need more work than mine did however, it is surprising what some paint can do to quickly change a space. Going from red to grey was a huge first step to getting the look I was going for. Then, I just followed the other four steps and I had accomplished my farmhouse look. Well, I hope I was able to offer you a little bit of encouragement. Start with these 5 easy steps first and see what you think. Thanks for stopping by! Remember that you can shop my kitchen on the pictures below. Have a lovely Tuesday!!
xoxo Carissa
Shop My Kitchen