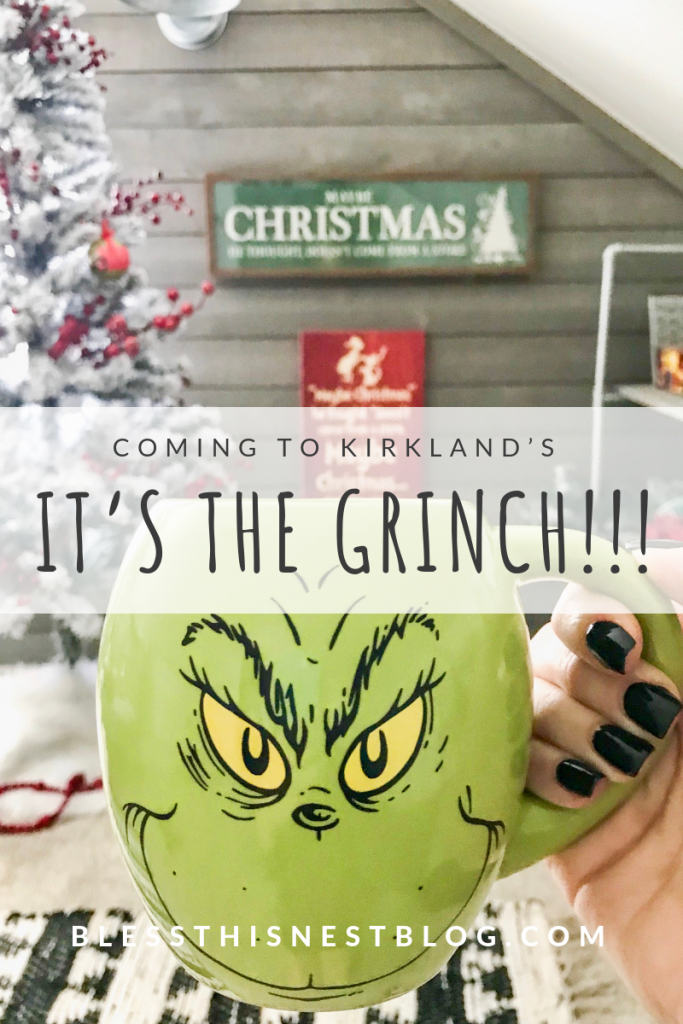 This post is sponsored by Kirkland's, but all of my opinions are my own.  Thank you so much for supporting the brands that make this blog possible!                                                                                                                            
We have a tradition in our house. Every year, when we are putting up the tree, we watch our all time favorite Christmas movie. Any guesses which one I am referring to? That's right, we love The Grinch in our house. That's why, when Kirkland's asked me to team up with them and help promote their new collection of Grinch home decor I said, "YES PLEASE!" I am so excited that Kirkland's is bringing your favorite Christmas movie into your home with their Grinch items, celebrating the wacky and whimsical world of Dr. Seuss' holiday classic.
The minute I got my hands on these Grinch items, I knew exactly where they needed to go. We transformed our attic into a nursery last spring, and I have been looking forward to decorating this room ever since. I knew these adorable Grinch items would look so cute in the nursery, and I was right. I love how perfect they look in this space!
Dr. Seuss Grinch Wall Decor
I mean, how perfect are these signs? They especially look so cute in a nursery, kid's room, or playroom. This red Grinch Christmas wall plaque and green Grinch framed art look great paired together or mixed and matched in a gallery wall. The best part to me though is the quote. This is one of my Dr. Seuss quotes of all time. They will for sure bring in the spirit of the holidays and remind you and your family that maybe Christmas perhaps means a little bit more!
Pre-Lit Grinch LED Ornament
I think we have a new Grinch lover in the house! This pre-lit Grinch ornament was a huge hit with my son, so big sister helped hang it on his tree. He literally couldn't stop staring at it. It really was the cutest thing ever!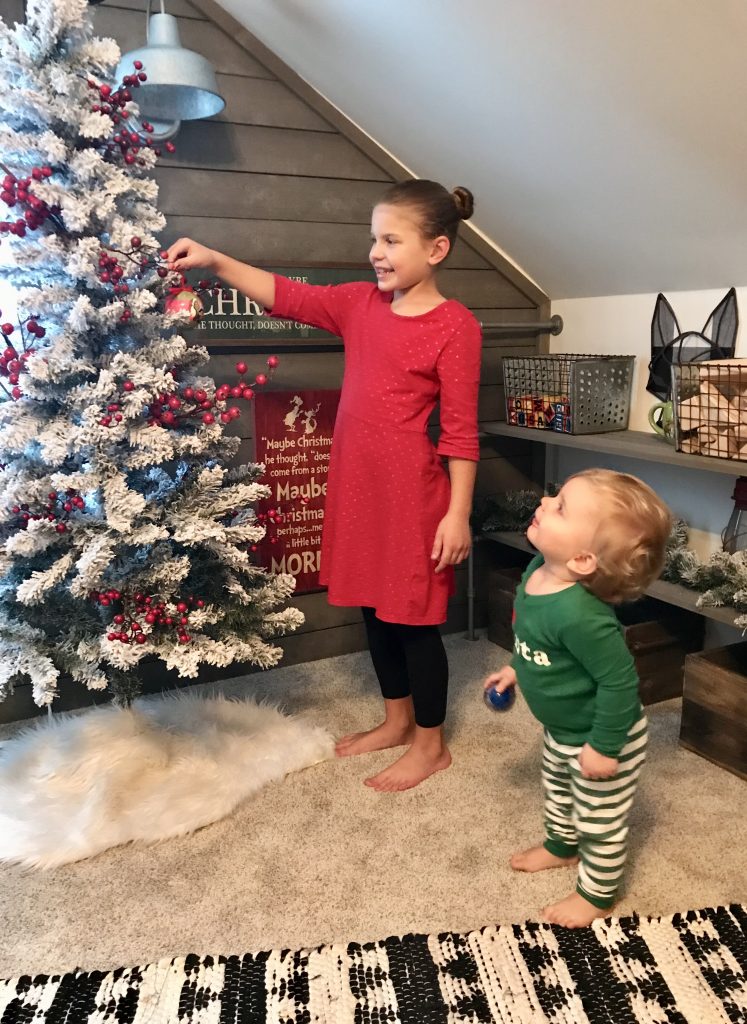 It looks so cute on his flocked tree! I especially love the red ribbon that the ornament hangs from!
My daughter turned on the LED light after she got it hung, and he literally screamed with laughter. He was so excited to see this ornament light up. The red glow literally lit up the tree. I know this ornament will be the first of many that he collects, and the fact that he loved it so much already makes this ornament super special. I know it's going to be a  keepsake for years to come!
Green Merry Grinchmas Mug
I think it's safe to say I'm going to need to stock up on a few more of this adorable Grinchmas mug. I used it for my coffee while we were decorating his room for Christmas, and my kid's were already begging me to make hot cocoa so they could use it. We can't wait to use this fun mug around the holiday season!
This mug is double-sided too!
The nursery is all decorated for Christmas, and we couldn't love it more! Remember, you can find these adorable Grinch decor items online and in-stores starting October 26. So, tis the season to celebrate with family and the new items featuring the Grinch from Kirkland's. They will for sure fill your home with Christmas cheer!
Thanks so much for stopping by the blog, and be sure to let me know what Grinch items you pick up!
Pin For Later