Who else loves gallery walls?? I'm a huge fan of them because they are fun, unique, and create a focal point for any space. Today, I'm going to be sharing a few simple steps to hanging a botanical print gallery wall and revealing the new look in my living room! I absolutely love how it turned out, and the best part is that these steps helped eliminate a ton of holes that I knew would happen, especially when hanging a gallery wall. So, let's begin with what you need to get started.
Step 1: Gather Your Materials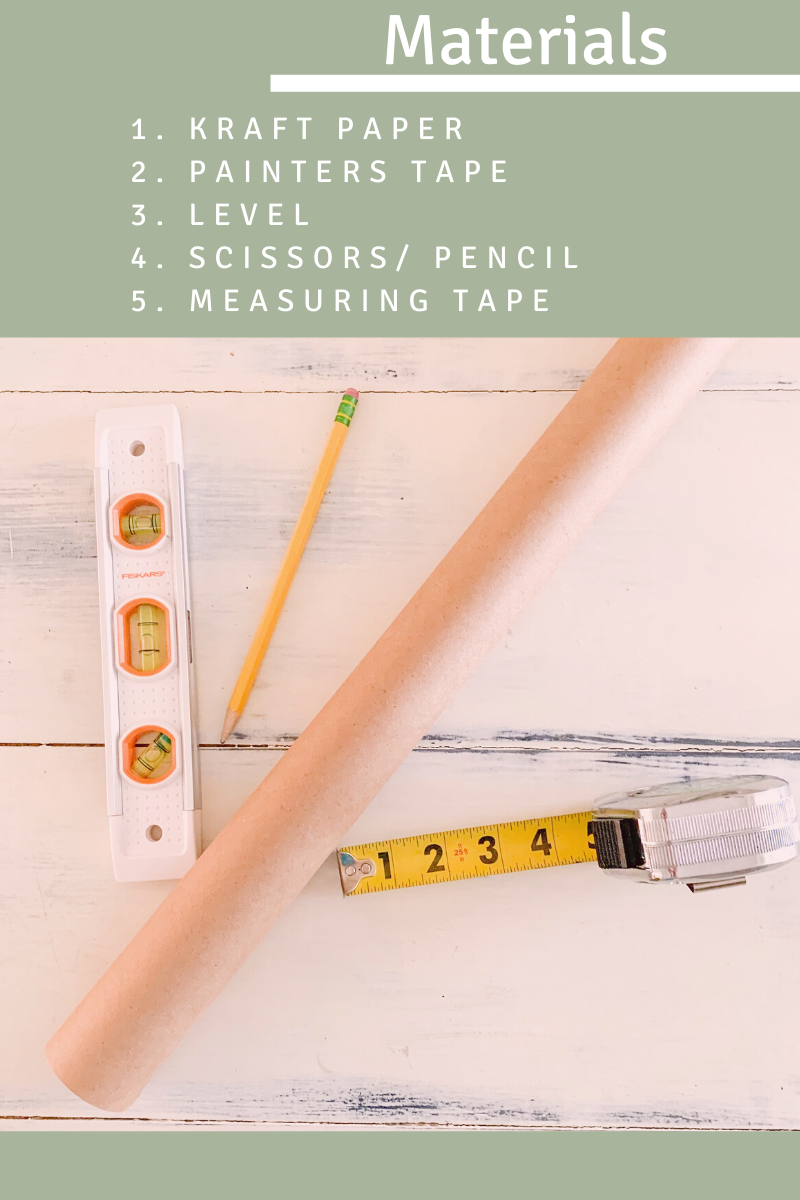 The first step to hanging your gallery wall is to gather up your materials. Luckily, I already had everything on hand. I keep rolls of Kraft paper around for projects, but you could use any type of paper. I also needed a level, measuring tape, pencil, and painter's tape.
Step 2: Trace Prints Onto Paper and Cut
Now it's time to trace out all of your frames onto the paper, and cut them out.
Step 3: Measure, Level, and Tape
After you have all of your paper outlines, it's time to arrange your gallery wall. This step is a great visual for planning out your design. I found the center piece and taped that on. Then, I began measuring and making sure my pieces were even and level. Next, use your painter's tape to tape down your four corners. This step allowed me to easily remove and move my pieces around until I had them just right. The last step is hanging them. Note– This part is optional but worked great for me since I'm no hanging expert! I used the toothpaste trick and applied toothpaste on the hangers on the back and then pressed the picture against the paper mold. This makes it easy to see where you need to put your nails. Worked like a charm!!
Botanical Print Gallery Wall Reveal
Here is my botanical gallery wall, and I love how it turned out!! This set of 6 dried botanical prints came from Hillcrest Collections. You can see what else I recently got from them HERE. This set created the most beautiful backdrop behind my sofa! I love how each print is uniquely different. They each come in a beautiful wood frame and glass overlay.
This set really is a showstopper and created a beautiful focal paint for the large wall behind my sofa. You can shop this set HERE and be sure to use BLESSTHISNEST at checkout for 15% off anything you buy on their site. #hillcrestcollectionspartner
No matter what size gallery wall you decide to do, I hope these steps will help make your hanging process a lot easier. As always, thanks for stopping by today, and let me know if you have any questions!!
Shop This Space

Pin For Later
Shop This Post