Easter is only 2 days away, and I'm finally getting around to decorating. Better late than never I guess. To tell you the truth, I really don't decorate for Easter very much, but since we are home with nothing but time, I thought it would be fun to make a DIY Easter carrot garland to add a cute spring touch to my mantel. This craft was super simple to make, and the best part is that I used items that we already had laying around the house. You can't beat a cute piece of decor for FREE!! So, let's get to it. Here is what you will need to get started:
Step 1- Make A Cone
The first step is to figure out the size you want your carrot to be. Then, you cut your construction paper in a cone shape and begin rolling. You can always trim the top off if it is too long. Next, secure your paper with tape.
Step 2- Wrap The Cone With Twine
This step can be a little tricky to get started. Feed your twine up the bottom of the cone and hot glue. Then, start wrapping the bottom and hot glue again. You want to make sure the bottom is secure so it won't ravel off the bottom. Continue to wrap making sure your jute twine is tight and touching. Note: I used tape to secure the bottom since I was out of hot glue sticks.
Step 3- Secure The Top
Once you are finished wrapping, you need secure the top. You can glue or tape the top ring to the paper inside the cone.
Step 4- Stick Greenery In The Carrot
The last step to finish off your carrot is to give it a stem using some greenery. I found four stems that worked great. I stuck them in the cone to finish off the carrot. Just look how cute! I decided to make two smaller carrots with one larger one in the center.
Step 5- Clip Carrots To Twine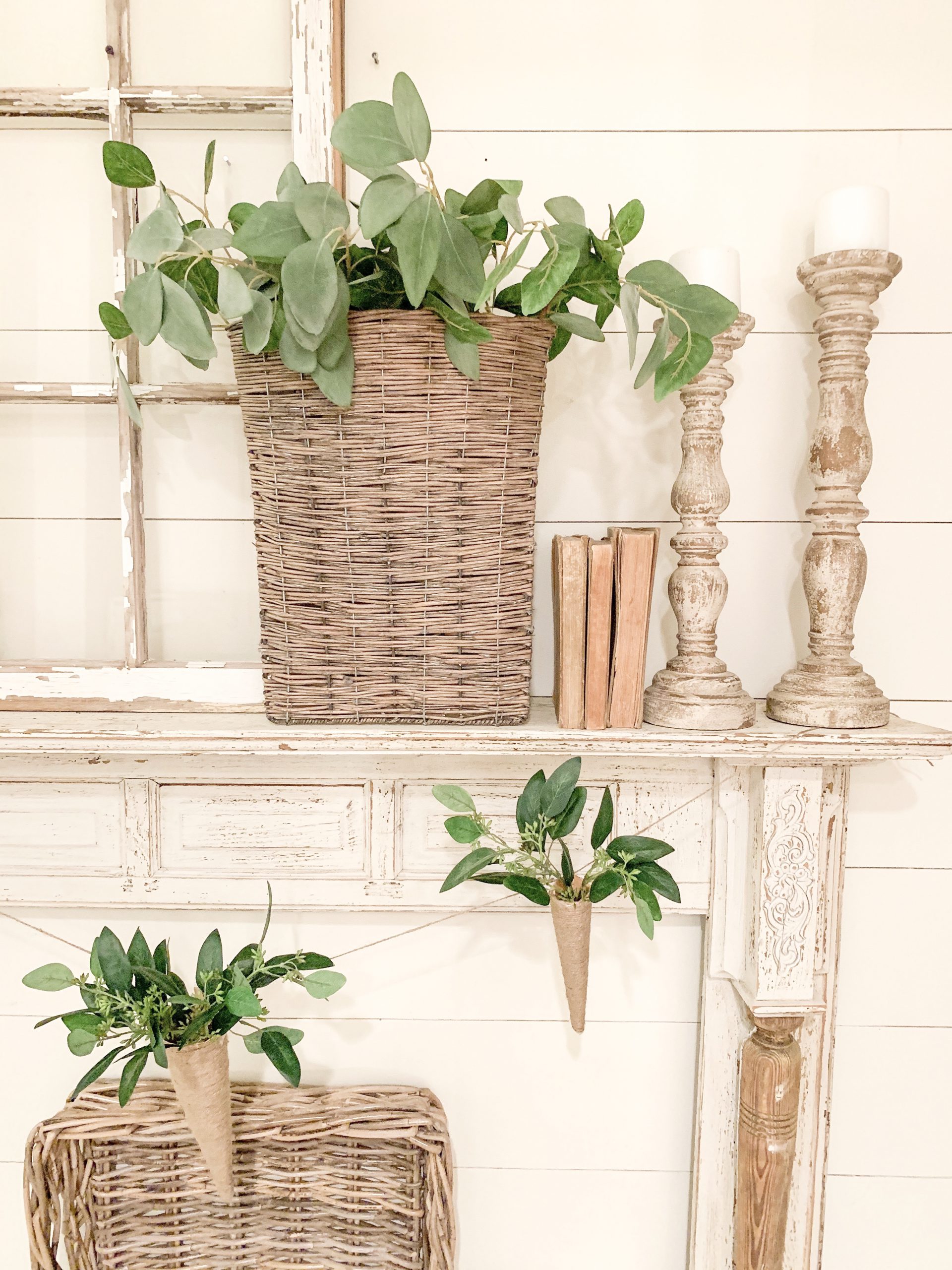 The last step is super easy. I cut my twine to the correct length for my garland. Then, I clipped the back of the carrots to the jute twine using small clothes pins. See! I told you this was so simple!
I hope you guys enjoyed this super simple carrot garland! My favorite part about these twine carrots is that you can use them in so many different ways. They would look so cute in a wreath, sitting on a shelf, or in your Easter vignette!
Shop This Post

Pin For Later
Shop This Post