Hello hello friends!! Did you miss me?? Well, long story short, I've been MIA from the blog because my living room flooded towards the end of October so my house had been under construction for a while. They finally finished last week, so I have been so excited to finally get all decorated for Christmas. I'm starting off with my master bedroom. I'm calling it my merry and bright Christmas bedroom tour because I just got a new colorful rug that just makes me so happy. It added the perfect amount of color for my Christmas bedroom, and I can't wait to share with you how it turned out!
Christmas Bedroom Tour Details
Let's start with this beautiful new vintage inspired rug. I wanted to change things up from my usual neutral rugs and add a pop of Christmas cheer in here. I found this gorgeous and very colorful rug that matched my headboard perfectly. It's called the Holi Area Rug and I couldn't love it anymore. It really set the tone for the merry and bright Christmas bedroom that I was going for!
DIY Natural Headboard Garland Details
As you will see with most of my decor this year, I added natural garland and pinecones to my headboard. Since it's a bedroom, it just needed some simple decor to make it look so pretty and festive. I just layered two different garlands from Hobby Lobby and love how it looks draped over my bed.
The other simple touch that I added to my Christmas bedroom was these oversized pinecone and natural greenery form Hobby Lobby. I just cut my natural stems down and layered them in the bowl with the oversized pinecones on the top. It's a simple and beautiful way to create a Christmas centerpiece or piece of decor.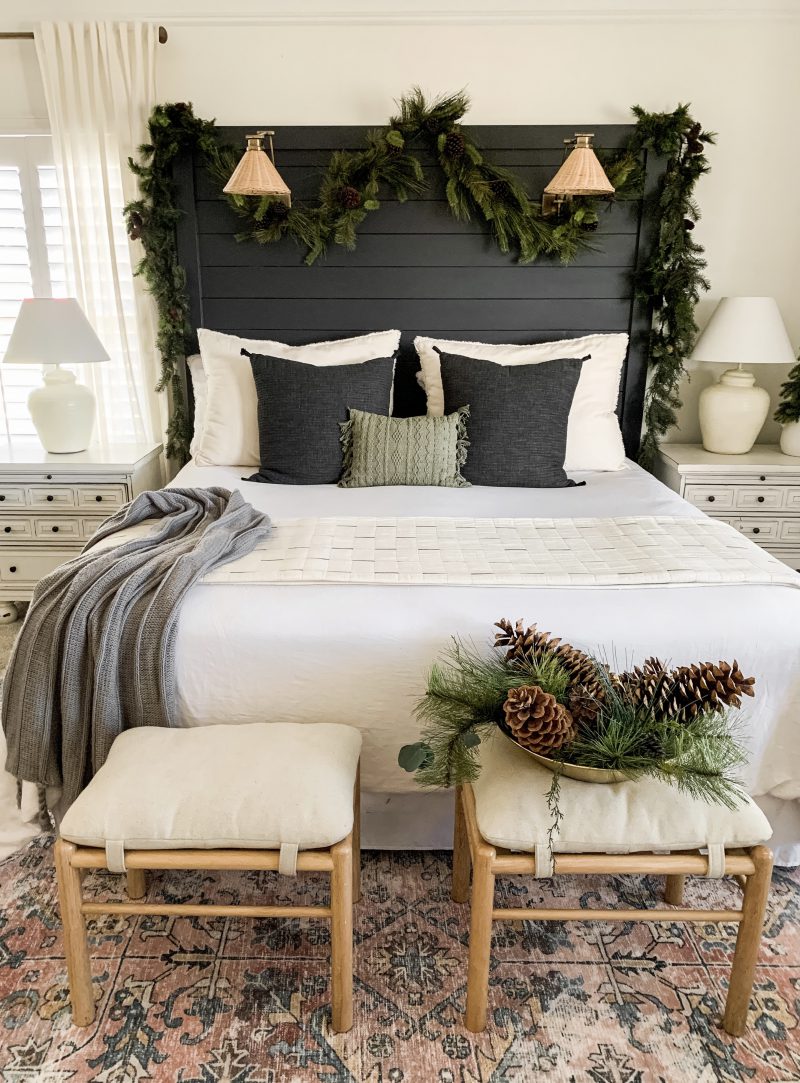 As you can see with this gold bowl, I did the same technique!
See, it doesn't take much to add some holiday cheer to your bedroom. Just a new cheerful rug mixed with some neutral decor creates the perfect cozy Christmas mood in your room. Thanks so much for stopping by the blog today and be sure to look for more Christmas inspo headed your way soon!
Shop This Post

Pin For Later
Shop This Post