If you are anything like me, decorating the tree and mantel are easy peasy, but boy, do I struggle to find the perfect table centerpiece. This week, I shared my white and gold Christmas tree and mantel, so I wanted to carry that look onto my coffee table. My goal was to add some of the same greens that were on my mantel and create a pretty and simple table vignette. Luckily, I found some items that I love, and I am going to share with you how I created a DIY Christmas table centerpiece. This literally took me about 5 minutes to create, and I love how it turned out! So, let's start with what you need to get started.
Step 1- Place Your Trees On The Tray
Start with your tray. You of course can choose any tray that fits your decor. I found this gold round tray and knew that would look perfect on my coffee table. Next, place your trio of trees in a triangle. I did a mix of a small and large wood trees and a glass tree . I just love how they compliment each other so well.
Step 2- Place Pine Greenery On Tray
I found this pine greenery at Hobby Lobby and cut each piece off of the main stem to make smaller pieces. This allows for easier placement around the trees. Be sure to fill it in and cover the bottom of the tray as much as you can.
Step 3- Add Dried Eucalyptus
My favorite eucalyptus is from Hobby Lobby. You can find the one I used in the dried foliage section. Next, cut the branches down to smaller stems and tuck into the pine.
Step 4- Add Snowberry Stems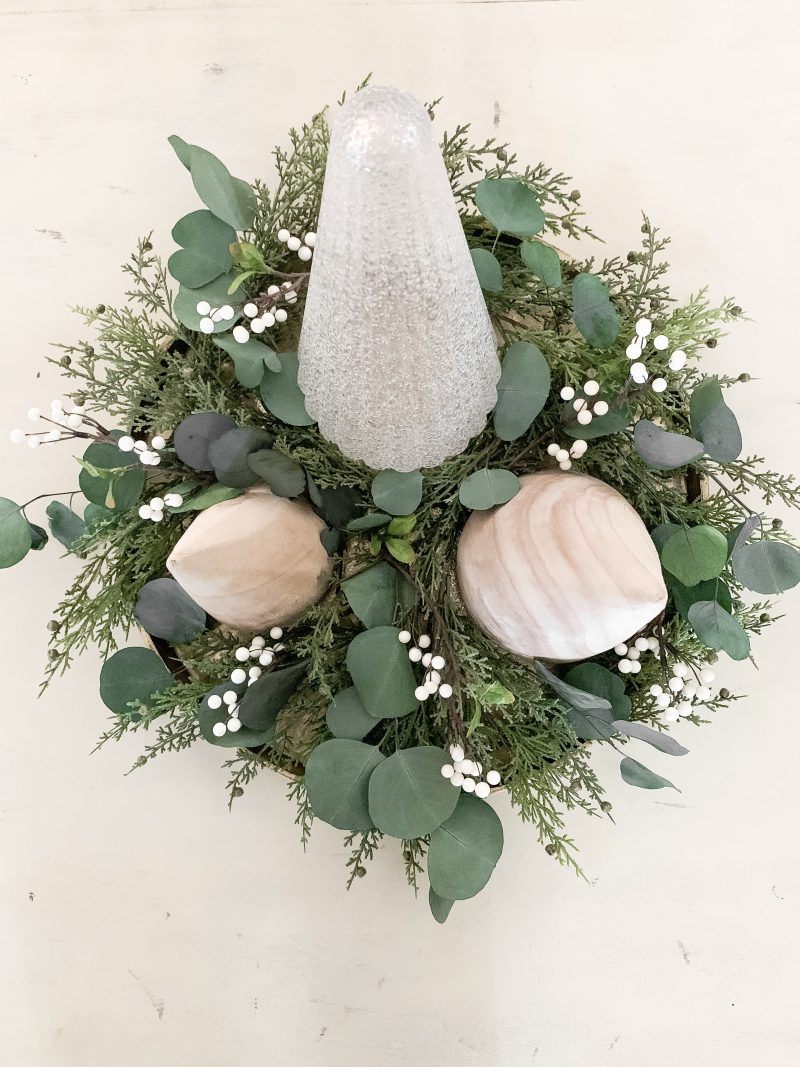 The last foliage that I added was this snowberry stem for some pops of color. I also used it in my Christmas tree and mantel this year. Cut the stems down to make small stems and tuck into the greenery.
Step 5- Add Twinkle Lights
To finish off this easy Christmas table centerpiece, add some string fairy lights to give it a pretty and cozy twinkle.
See, wasn't that so simple! The best part is that you can use these items or similar ones and it will still turn out beautifully!
Shop This Post

Pin For Later
Shop This Post