Happy Thursday sweet friends!! So, who's ready for shopping season? If you are anything like me, you love getting a great deal this time of year. Well, I've got some exciting news!! Boutique Rugs is having their biggest sale of the year, and it starts today!! Their black Friday sale is happening November 12-December 6, and it's the best deal you will see all year. They are offering 65% off with code BF65 which is huge! Since I am a huge fan of Boutique Rugs, I thought it would be fun to share with you my Boutique Rugs home tour. Their rugs are stunning, so I can't wait to show you how I use them in my own home!
Entryway Runner
Let's start in my entryway. I love to add a runner in this hallway to make a fun and bold statement right when you walk in. The Leiter Runner is the perfect choice for this space because it adds a vintage inspired yet neutral look that matches my entryway table so beautifully. You can see a post all about this rug HERE.
Living Room Area Rugs
The next gorgeous rug is the Tahmoor Area rug. I decided to go with this rug in my living room because it went perfectly with my neutral decor. The colors include light gray, medium gray, charcoal, beige, tan, denim, and camel. You can see more details HERE.
I layered my Tahmoor rug with the Iantha Jute Rug. This rug is the perfect layering rug. The light cream color blends beautifully with most pattern rugs. You can see more details HERE.
Bonus Room Area Rug
Another gorgeous neutral rug is the Albuquerque Area Rug. I added this rug to my bonus room and it looks like it was made for this room. The colors are similar to the Tahmoor rug with grays, creams, and pops of denim and camel. You can see more details on this amazing rug HERE.
Master Bedroom Area Rug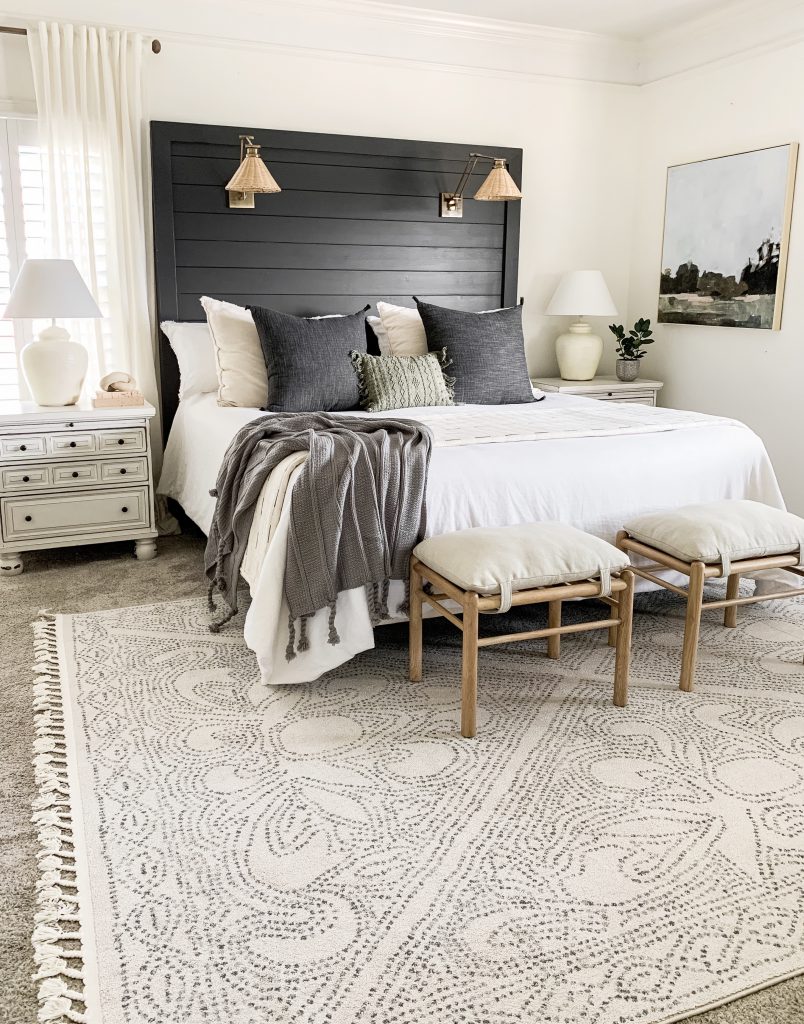 It was love at first sight with the Birdwood Area Rug. I instantly fell in love with the pattern and knew the various shades of gray and charcoal would match my new moody headboard perfectly. You can see more details on this rug HERE.
Boy's Nursery Area Rug
I am in the middle of transitioning my son's nursery into a big boy room and my makeover inspiration was this Shawanee Area Rug. The black and white cross pattern adds so much fun character to his room. Love this rug so much and can't wait to see how it all turns out!! You can see all the details HERE.
Outdoor Area Rug
The last rug on the tour is this Thorntonville Outdoor Area Rug. I have used this rug all spring and summer in my outdoor patio, and I am highly impressed with this rug. I love the pattern and how well it blends in with my outdoor decor. After months of use, it still looks brand new. You can see more details HERE.
I hope you enjoyed my Boutique Rugs home tour! I can't say enough about these rugs! The selection, the quality, and the price is unbeatable. If you are looking for that perfect rug, this black Friday sale makes it easy to finally get the rug of your dreams at an amazing price. So, are you ready to shop?? You can get stared HERE!! Don't forget to use code BF65 for 65% off at checkout! Happy shopping!!
Shop This Post

Pin For Later
Shop This Post