I know what you're thinking. Why in the world am I seeing a Christmas post before Halloween?? Well, there is good reason for it. I'm sharing a Christmas sneak peek from Kirkland's! Now don't get me wrong, I am still in full on Halloween mode here, but my job as a home decor blogger is to help inspire you and hopefully give you a few ideas for you to use in your own home. That is why I got this cozy little space in my hallway all decked out for Christmas and it only took 5 items from Kirkland's to completely transform this space.
Christmas At Kirkland's
 I had so much fun this past week shopping at Kirkland's and getting to see their new Christmas collections firsthand. Kirkland's has three holiday collections this year- All Through the House, Very Merry, and Winter Wonderland so you're sure to find something that fits your decor style. I personally loved them all and every collection had something that would fit in my home perfectly. I challenged myself find a few items to create a fun vignette for you guys. My goal was to show you how easy Kirkland's makes it to decorate any space in your home!
And here is the finished space all ready for Christmas. My kids literally screamed with excitement when they saw it. I had so much fun decorating this cozy little space in my hallway, so let me show you what I chose to pull this look together.
1. Black and White Merry Christmas Sign
Let me just say, Kirkland's has the BEST signs! I knew I wanted a sign to put on this tobacco gate but figuring out which one I wanted was the hardest part. I think I had 3 signs in my cart at one time because I loved them all. I even found one that I had bought last year and get questions about all the time. I used it in our Christmas Card and lucky for you, they have it again this year. I decided to go with this black and white Merry Christmas framed wall plaque, and I absolutely love this sign!! It is from the All Through the House Collection and fit in perfectly with my rustic farmhouse look.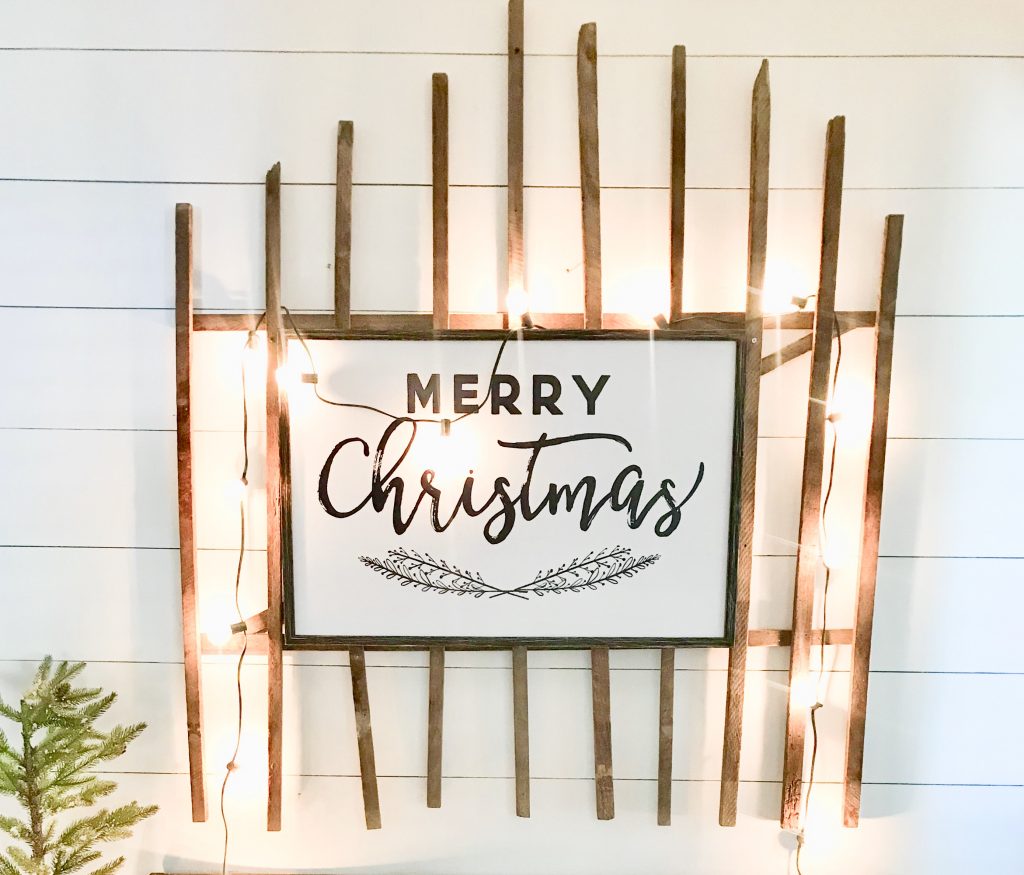 2. Mini Pine Trees
I spotted the cutest little trees and knew I had to have them. They had two sizes (32″ and 20″) and they came in the cutest galvanized buckets. These trees are from the All Through the House Collection. I put one on my chippy little side table and the other on my church pew, but these would also look great for a Christmas table centerpiece or on a mantel. I may need to go back and get a few more of these because they could literally go anywhere in my home.
3. Pre-Lit Red Christmas Truck
This adorable light-up vintage inspired truck is also from the All Through the House Collection. I chose this because of the beautiful bright red color and how the tree lights up which makes it such a fun piece of decor. I have two boys and I knew they would love this too! It is also so versatile and could literally sit on a shelf, under a Christmas tree, or in any Christmas vignette. I love how it looks on my vintage church pew.
4. Red Wood Bead Garland
I was so excited when I spotted this strand of wood bead garland. I have been loving decorating with beads around the house, so I was thrilled to find red ones for Christmas. You can do so much with these. I decided to just drape them across a vintage book because I think they make a statement on their own. These would also be perfect to use on your Christmas tree or across your mantel!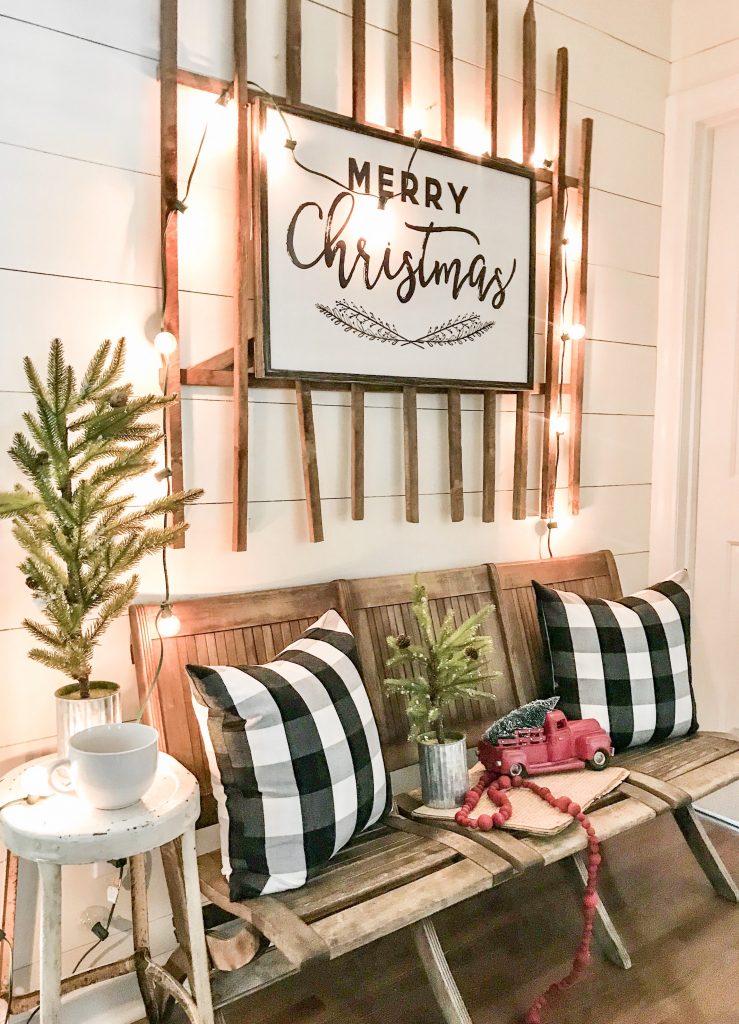 Well, that was fun! I am now officially excited about Christmas. Even though we are still a few weeks away from getting our houses all decked out for the holidays, I truly hope my little Christmas sneak peek from Kirkland's inspired you to head to Kirkland's and check out these three amazing collections. Remember to let me know if you have any question and be sure to tell me what you pick up at Kirkland's!
Pin For Later