Happy Friday friends!! So, did you survive Christmas?? We had the best day, but now we are in strait recovery mode around here. I've been doing a lot cleaning and relaxing today, and luckily, I had something really fun to read while I was laid up on the couch. My DIY burlap sack curtain was featured in a special addition of Country Sampler Magazine, and I can't wait to share it with you along with the DIY.
I still pinch myself when I walk into a store and see my name and creation right there in print. I still remember the days (way before Pinterest) of sitting on the couch with a stack of decorating magazines. For hours, I sat there studying and learning from them. Of course, I dreamed of being in one some day, but never EVER thought that was an option. Fast forward 20 years later, and this is the third magazine (you can see the others HERE and HERE) I have been in. It's surreal. That is really the only word I have for it….just really, really SURREAL.
Alright, so back to the magazine. This issue of Country Sampler features farmhouse style kitchens and so many other really amazing bloggers that I know and love. This edition really has it all from DIY's to painted cabinet ideas to kitchen makeovers. So much kitchen inspiration in one magazine.
My burlap sack kitchen curtain is found in the DIY kitchen decor section along with a few other simple kitchen curtain ideas. This super simple DIY is one of my favorites and was actually the second blog post I ever did. It has also been one of my most popular DIY's, so I thought I would share the full tutorial one more time in case you missed it the first time around.
Burlap Sack Kitchen Curtain Tutorial
Materials
Burlap Sack (Coffee or Bean sack)
Tension Rod or Curtain Rod of your choice
Burlap Twine
Straight or Safety Pins
Scissors
OPTIONAL: Sewing machine to sew seem
Step 1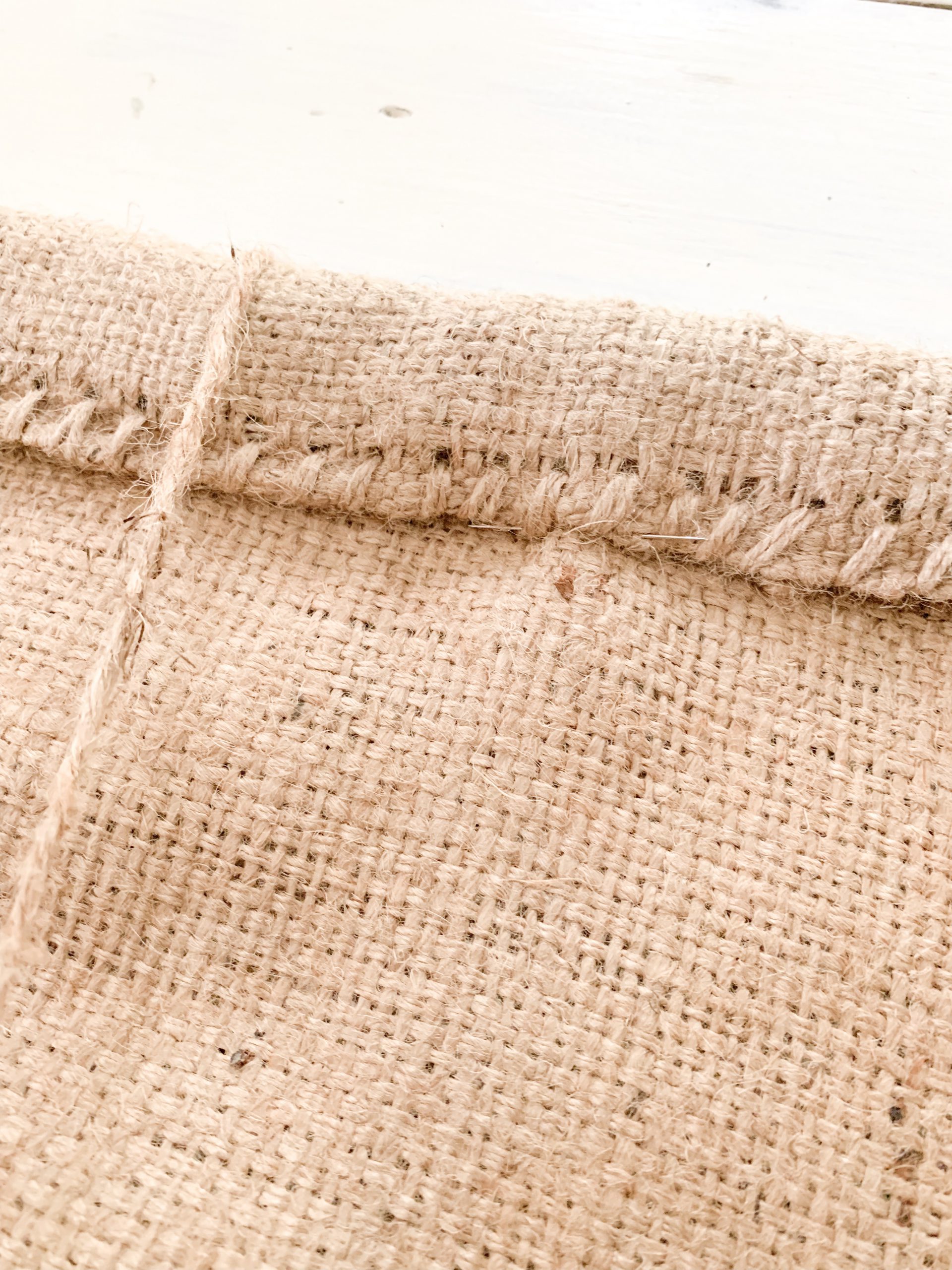 First, cut the back of your sack off. This first step can be optional, but I did it because it would have been too thick to hang. Next, lay your sack horizontal and fold the top down large enough for your rod to have room to fit comfortably through the opening. I then went along the fold and pinned the fold to the back using straight pins. You can also use safety pins but you use what you got and this was all I had at the time. Make sure your fold is even all the way across before you pin.
Step 2
Put your rod through the opening. See, I told you this was easy!! Last, take your twine and cut 2 pieces to your desired size. You can decide how long or short you want your curtains to hang. This is so easy to adjust if you need to. (You may want to hang them before you decide your desired height) I then tied a simple bow to each side making sure both sides were even.
Step 3
Hang and DONE!!! BOOM!! Now you have an easy farmhouse look to your window and it only took a few short minutes. This project cost me about $10 and has seriously been one of my favorite additions to my kitchen. It all started with a burlap sack and ended with an adorable farmhouse style curtain. Hopefully, this will inspire you to see passed the item and get creative. I love the challenge of taking something and finding a new and fun way to use it. I especially love when I can save money and complete a project with my hands. It's a feeling of accomplishment. That's why DIY's are the best!!
Shop This Post

Pin For Later
Shop The Post