How is Halloween only four days away?! This month has seriously flown by. I am super busy over here getting the kid's costumes together and getting my house all ready for Halloween. I love Halloween decor for so many reasons but mainly  because it doesn't have to be perfect. All it really needs to be is FUN. That's why I am so excited to be teaming up with seven bloggers to share how we spook-ti-fied our homes using products from JOANN for Halloween and let me tell you, they really nailed the Halloween creepy vibe. I had so much fun going through their blogs, and I know you will too!
Bless This Nest
I'll begin the Halloween decor round-up with my entryway candy bar. I had so much fun layering a few windows and creating a space that reminded me of a creepy old haunted house. I wanted to create a space for my trick-or-treaters to step inside and have a fun experience getting their candy. My kids and I had the best time creating this space. You can check out the full post here for all the details on the products and this diy scroll sign.
Next up on this Halloween round-up is my talented friend Leslie's eating area. When I say talented, I mean it. Leslie can pretty much do it all. I love this fun space she creating in her dining room. I can imagine having a dinner here at night with those hanging lights on. Isn't that so fun? She also made the black and white pumpkins out of duct tape!! Amazing right? You can see how she made them along with all of the room sources HERE.
Ok, can it get anymore creative? My sweet friend Marci created the funnest space in her entryway. I am not sure which part is my favorite, but the three hanging witches hats are pretty AMAZING! I love the black and white color scheme with the pops of orange. She also brilliantly made the BOO with wood letters and Halloween wreaths and shared the tutorial HERE. This space also reminds me of my favorite three witches in Hocus Pocus which makes me love this space even more!
So, let's move the Halloween fun outside. A well decorated porch on Halloween is pretty important considering that is where all the trick-or-treaters will be. My amazing friend Kelly created a space that will bring all the kid's straight to her house. I am so in love with this spooky and beautiful space she created on her porch. I love the beautiful mums so much, but my favorite part is for sure the layered rugs in front of her front door. She also decided to put up a fun Halloween sign instead of a wreath which I think is so creative. Head to her post HERE to see more of this amazing porch.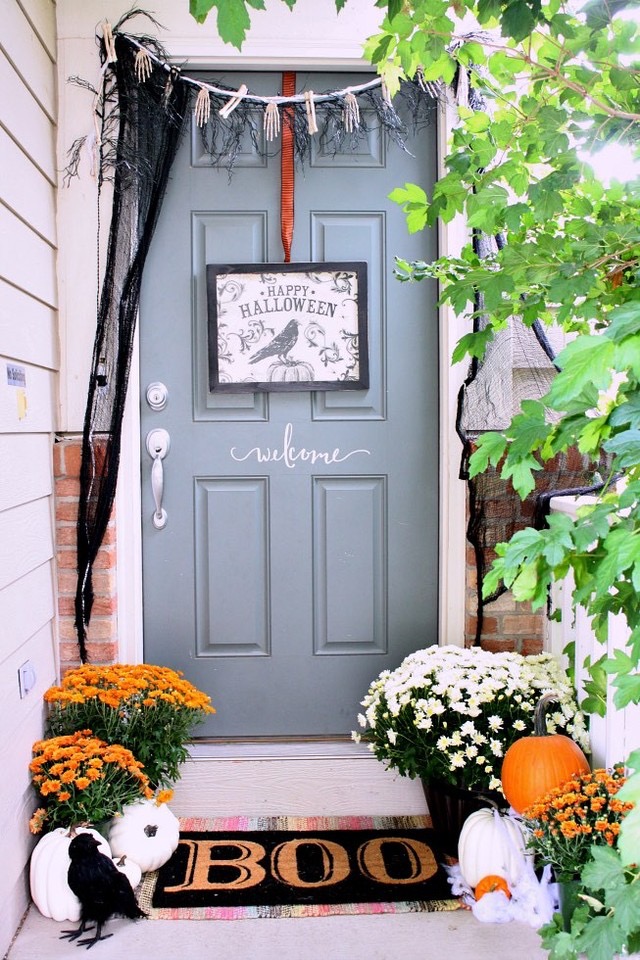 Another outdoor Halloween space that I instantly fell in love with was my friend Merichelle's porch. I was instantly drawn to the color purple and how brilliantly she used it. I actually never think of using purple for Halloween, but that is about to change. I think it's my new favorite. I love how she mixed and matched the pillows on her swing, and I especially love the purple mixed with the black and white striped rug. She even shared a night view of her porch HERE with the spooky purple lights. I wish I could visit this porch come Halloween night!!
The last porch on this round-up belongs to my sweet friend Brendt. She managed to mix Halloween decor and put the prettiest spin on it. She did such a beautiful job mixing lots of white pumpkins and flowers with classic black and white. I love how she kept here farmhouse style and used galvanized buckets to hold her mums. She also shared a few tips on her blog on how to incorporate Halloween into your fall decor which is so helpful. To see all of Brendt's tips and  Halloween diy's, click HERE. You can thank me later!
Another beautiful Halloween table scape in this round-up belongs to my friend Lindsay. I love how she mixed classic white plates and napkins with a fun and a little spooky centerpiece. These black velvet candles are so pretty mixed with a layered purple and white table runner. I also love how she added white pumpkins and purple bottles to her centerpiece. I absolutely love Lindsay's spin on a Halloween table scape. You can see a list of her sources and lots more ideas from this space HERE. I know I will be using so many of her ideas in my own home!
The last stop on our round-up does not disappoint. I mean, this Halloween themed playhouse is pretty much every child's fantasy. My amazing friend Sarah created this spooky Halloween haunted playhouse along with her four kids. I love how her diy spiders and bats where the star of the show. These are such a fun and affordable diy you can do with the kids and they will love every minute of being a part of your Halloween decorations. They look so great mixed with a few creepy Halloween decor pieces. You can check out the full tutorial and all the sources HERE.
Are you in the Halloween spirit yet? I know I am. It's not too late to take a few ideas and create a fun space for Halloween in your own home. I love how we all took items found at JOANN and created eight different spaces with them. I hope you were able to take a few ideas along with you! Thanks so much for joining me on this fun Halloween decor round-up and be sure to tell me what you loved!!
Pin For Later