My entryway is spooky and all ready for Halloween night! This space is right by my front door so that means all the trick-or-treaters will see it when they come to the door. I wanted it to have a haunted mansion feel to it so I found a few fun and inexpensive ways to make this space spooky without spending a lot of money. All of these Halloween decor ideas are easy and you can use them no matter what space you are decorating for this year.
1. Vintage Candle Sticks & Black Candles
One of my favorite and inexpensive pieces of decor are these vintage candle sticks. I have found most of them at yard sales and they especially come in handy around Halloween. The different shapes and sizes offer a unique look to your vignette. The trick to adding them into your Halloween decor is to replace the white candles with black ones and you instantly have a spooky piece of Halloween decor. You can also use these flameless black candles as well! They will safely stay lit all evening long for a spooky and inexpensive piece of Halloween decor.
2. Skulls
If you really want an easy way to add some spook to a space, you can't go wrong with a skull. Around Halloween, you can easily find them in the Halloween section and they instantly add a creepy look to your Halloween decor.
3. Black Draped Fabric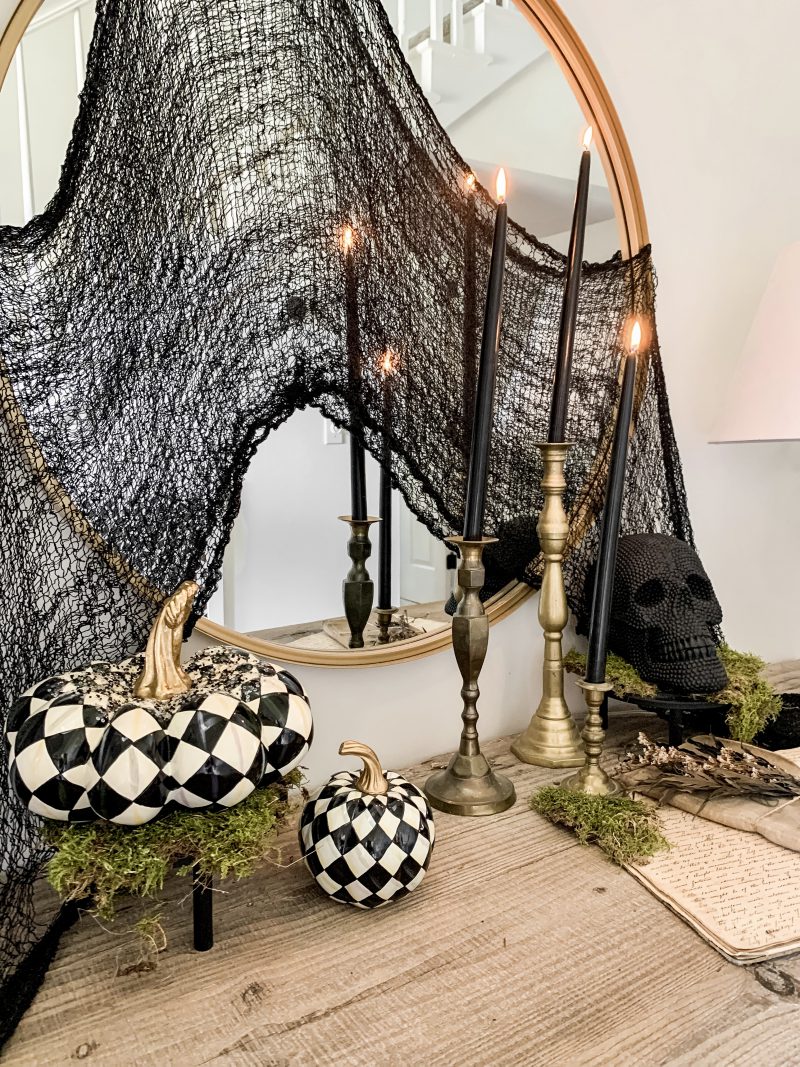 Adding a black gauze cloth to your table or backdrop is a fun and very inexpensive way to take the spook to the next level. This black gauze cloth only cost $5, and I love how it looks draped across the mirror and table. You can also use these as a table runner, a spooky window treatment, or even drape them over lamps to add a creepy touch to your lighting. The possibilities are endless with this easy piece of Halloween decor!
4. Moss and Dried Greenery
It's all about the details with this next tip. If you want an easy way to add spook to a simple piece of decor, just add some moss under or around your decor. It just gives it a creepy graveyard feel that I love. I added it under my pumpkins and skull and love how much it added to the space.
You can also add dried flowers to your books to give it that extra creepy feel!
5. Old Books
I am a lover of old books because you can use them for shelf decor, decor risers, or in this case, scary Halloween decor. I found my oldest two books and put them out on my entryway table. This was such a fun and easy piece of decor. Perfect for Halloween!
So there you have it. 5 easy Halloween decor ideas that you can include in your spooky decor this year! Want some more Halloween inspo? Check out some other posts that will help you get ready for Halloween!
Easy DIY Terracotta Pumpkins, Spooky Halloween Entryway, Simple Halloween DIY Bat Sign, and Halloween Entryway Candy Bar
Shop This Post

Pin For Later
Shop This Post