It's almost Halloween, and I am just getting around to sharing how I decorated this year. Where does the time go? Better late than never I guess. Although I don't go overboard with Halloween decor, I do like to add some spook to a few spaces. Today, I am sharing my spooky Halloween entryway and how I used simple layered decor to put this look together. It was so much fun turning this space into something out of an old creepy house. I hope you love how this space turned out as much as I did!
Halloween Entryway Details
My inspiration for my spooky Halloween entryway was this large skeleton print that I found at BFF Print Shop. It was a digital print so I could print it as large as I wanted. I wanted this subtle print to be the focal point of this space so I printed it in an 18 x 24 and framed it in a poster frame. If you are looking for cheap and easy artwork,
Next, I layered it with this Trick-or-Treat sign and love how they compliment each other without being too busy. I had fun with it and draped some spooky black material along the table and both signs. I love Halloween decor because you can just have fun with it. No perfection is needed when you are creating a scary scene.
Now, I accessorized the table using some fun Halloween decor that I already had. I created this vignette using a black bowl, and old book, and a black crow. If you are looking for easy Halloween decor pieces, I love decorating with black crows. You can also see how I used bats for my Halloween decor HERE.
I finished off the look with a creepy skeleton head and my favorite McKenzie-Childs pumpkins.
Oh, and I can't forget my huge gold skeleton. He might just be my favorite of all! I'd say he's pretty pleased with how this space turned out. Thank you so much for stopping by today friends and Happy Halloween!
Shop This Post

Pin For Later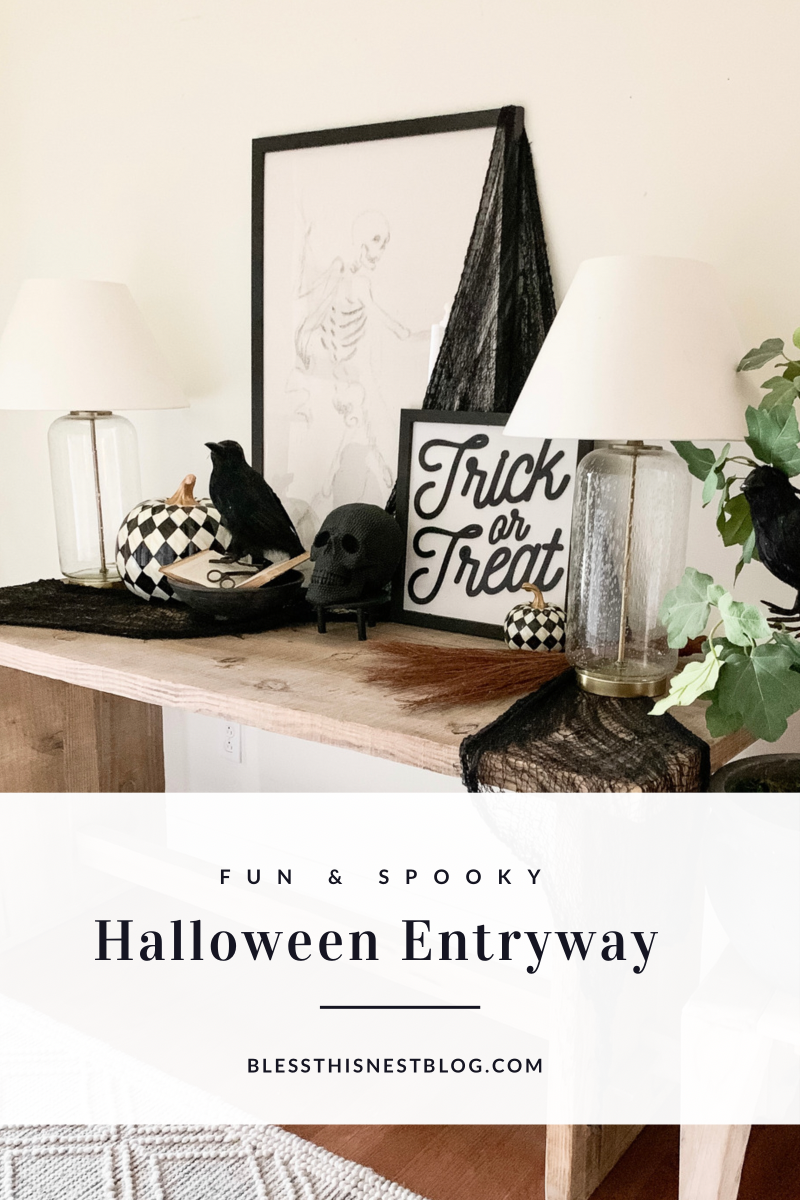 Shop This Post