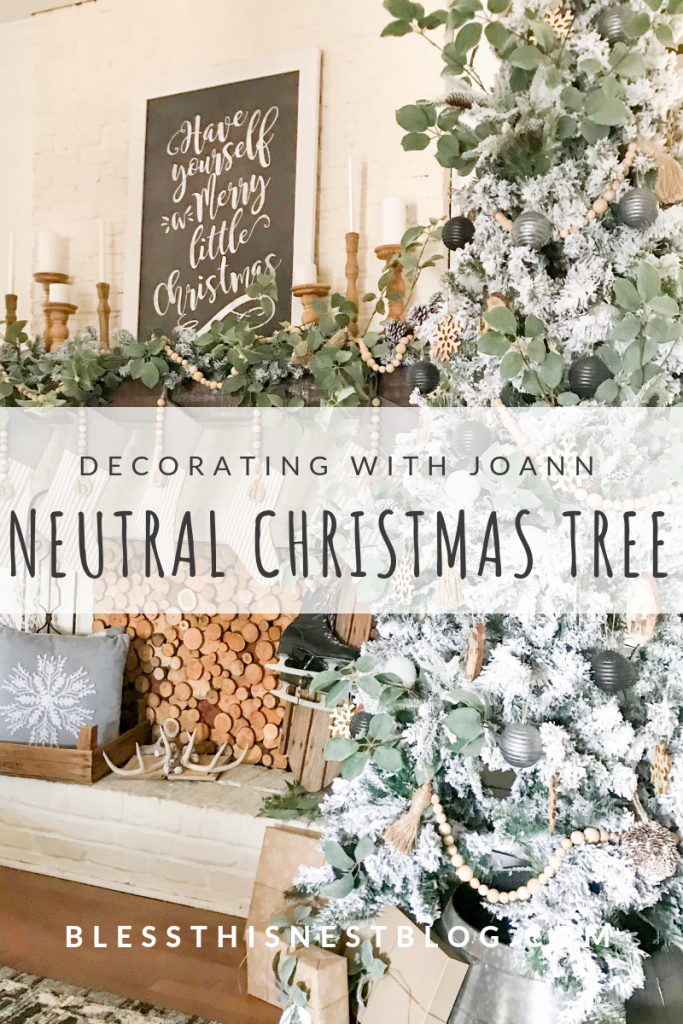 Hey friends! Can you believe Christmas is only a few days away? Are you ready? Of course I still need to finish up a few things, but I am getting there. I even have a few presents wrapped and under the tree! WHAT?!? That's huge for me. Before Christmas gets away, I wanted to share with you guys a very special place in my home. This is where all the Christmas magic happens, so I wanted to share the best for last. It's my Christmas tree! I just love the look on my kid's faces from the time we put up the tree to the unwrapping on Christmas morning and all the moments in between. A Christmas tree sees magical memories, so I wanted to make sure it was special. This year, I partnered with JOANN , so the kid's and I headed there to get all of our neutral Christmas tree decor, and I can't wait to share with you what we did!
Christmas Tree Decor Inspiration With JOANN
If you have been following along this year, I shared my Kitchen Tour with JOANN. I decided I wanted to carry the same neutral look with flocked and mixed greens along with rich wood tones into my living room. I knew what kind of ornaments I was looking for, so the kid's and I headed to JOANN to see what we could find. Of course, they had so many ornaments that fit the look that I was going for. It was honestly so hard to decide so here are 3 simple steps we took to narrow down our selection.
3 Simple Steps to Decorate Your Christmas Tree
Choose a color scheme– I recommend choosing 3 main colors. We went with wood, grey, and white. We even picked up a few wood slice ornaments for a fun DIY.
Choose a garland– Garland can go vertical or horizontal. A garland can be anything like ribbon, beads, popcorn, yarn pom poms, and so much more. We decided to go with a wood bead garland.
Add a greenery– I just love an additional greenery going through my tree. Last year I went with red berries, but since I was going with mixed greens this year, I decided to add a natural green pick along with flocked pine and pinecones.
After we got home, the kid's couldn't wait to help me get everything on the tree. I strung the beaded garland on the tree first and then added the greenery picks in the tree. After I finished that, the kids started putting on the ornaments. No matter how simple or fancy your tree is, I believe it it so important to allow your children to help. Even if you go back and change a few things later. There is really nothing better than them feeling like they helped you decorate the tree. I also finished off the tree with something new this year that we found on our shopping trip. Instead of a tree skirt, I found this galvanized tree collar that I absolutely love!
Here is a closer view of all the ornaments that we chose from JOANN.
DIY Wood Photo Transfer Ornament
The last thing that I was determined to do this year was add a beautiful and personal touch to our tree. I wanted to add some family photos that we took this past summer to our tree but with a vintage look. Instead of just framing a few photos in ornaments, I decided I wanted to do a DIY photo wood transfer. I love how photos look when they are transferred to wood, so I decided to take on this project myself, and I am so happy I did!! I made 5 of these and they were so easy to make. It did take a little time to allow the photo to transfer, but the process was very simple. You can check out the full wood photo transfer ornament DIY HERE.
And here is my living room all ready for Santa!!
I loved that JOANN helped bring the holidays into my home this year. I literally decorated my entire home for fall, Halloween, and now Christmas with items from JOANN and I love my neutral Christmas tree. We had so much fun getting the tree ready as a family. It is actually one of my favorite Christmas traditions that we do together, and I love that JOANN was part of that. Remember to download the JOANN app where you can also see all of my holiday DIY's. As always, thanks so much for visiting the blog!
Merry Christmas sweet friends!!
Shop The JOANN Look
Gray and Snowflake Ornaments
White Ball Ornaments
Galvanized Tree Collar
DIY Wood Ornament Materials
Pin For Later