Hey Friends! Can you believe it's that time of year once again? Crazy I know. I feel like I was just putting my pumpkins out, but now it's time to deck the blogs. I hope you are ready to get comfy, grab a cup of hot cocoa, and stay a while because I am joining some amazingly talented blogging friends once again for Deck the Blogs: A Christmas Home Tour. All of these talented girls are tagged at the bottom of my home tour, and each one offers a unique and beautiful home tour. Something for everyone!!
My inspiration for my Christmas decor this year is a combination of vintage, birch, berries, and buffalo check. I love the idea of mixing vintage inspired decor like old sleds, ice skates, and old lanterns into my decor. It adds the rustic charm that reminds me of Christmas a long time ago. I also decided to change things up this year and get a flocked tree, and I love it…a little messy but so beautiful! I also added some flocked garland to my living room and kitchen. This year I wanted to add some red but not too much. So, I sprinkled berries all over the house like a little fairy. It added just enough of that pop of red that I was going for. Another one of my Christmas favorites is buffalo check. I love how classic and simple it is, and it mixes so well with my vintage decor. So, that was a little look into what direction I was going with my decor this year. I hope you enjoy my little tour and pick up an idea or two. Don't forget to Pin any ideas or leave me a comment! Let's get started!
Christmas Home Tour – Entryway
I love this view of my Christmas decor through my entryway hanging window. This window adds a fun divide from my hallway to my living room. I just added a little flocked greenery and this adorable wood rocking horse from HomeGoods.
Christmas Home Tour- Living Room
My living room is full of lots of chippy finds that I adore so much! This space behind my couch is one of my favorite spaces to decorate. I continued the same theme with flocked greenery and berries. I added these fun outdoor lights that I'm a little obsessed with and draped them on my doors. Love the glow they bring to my living room!!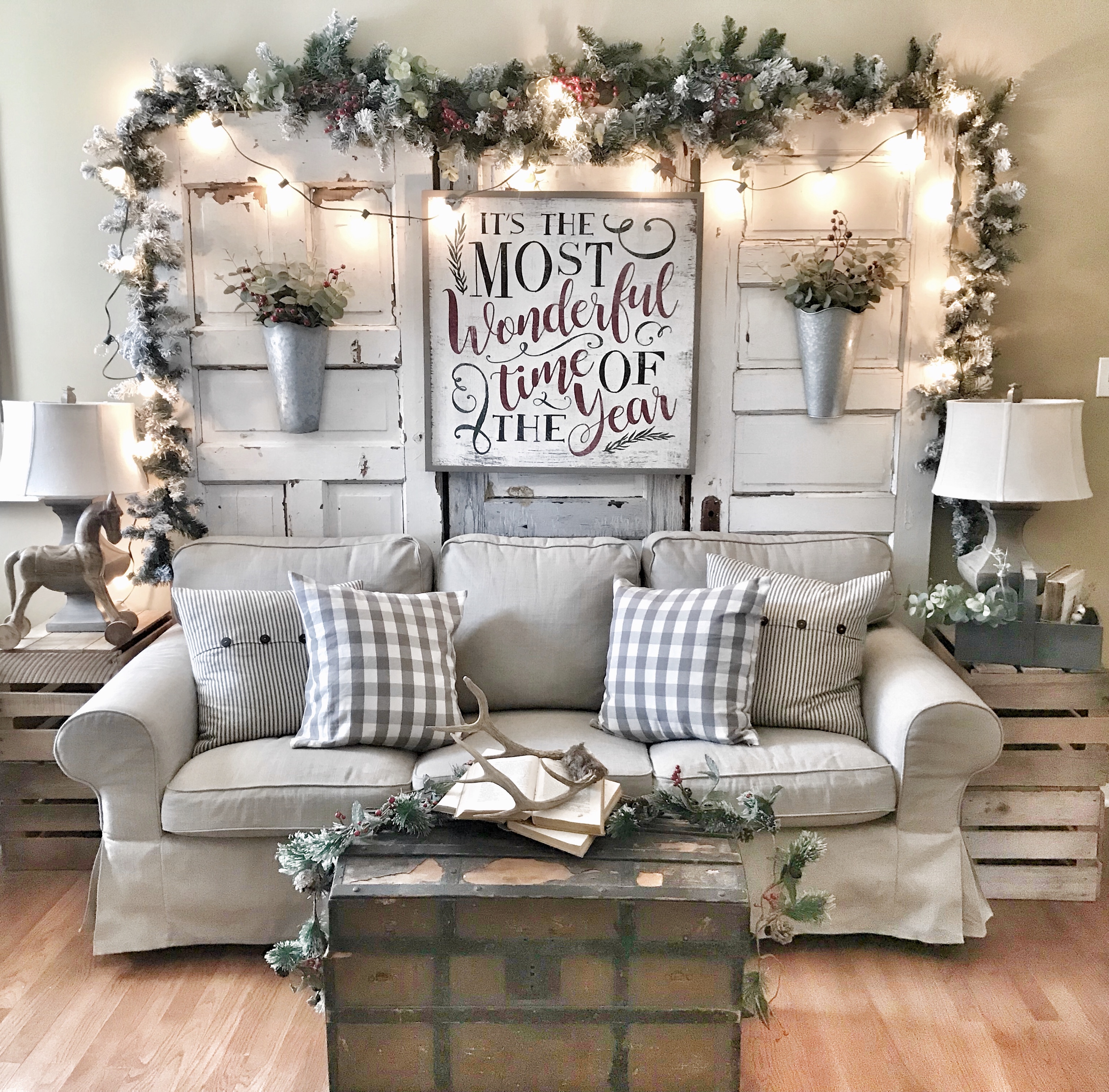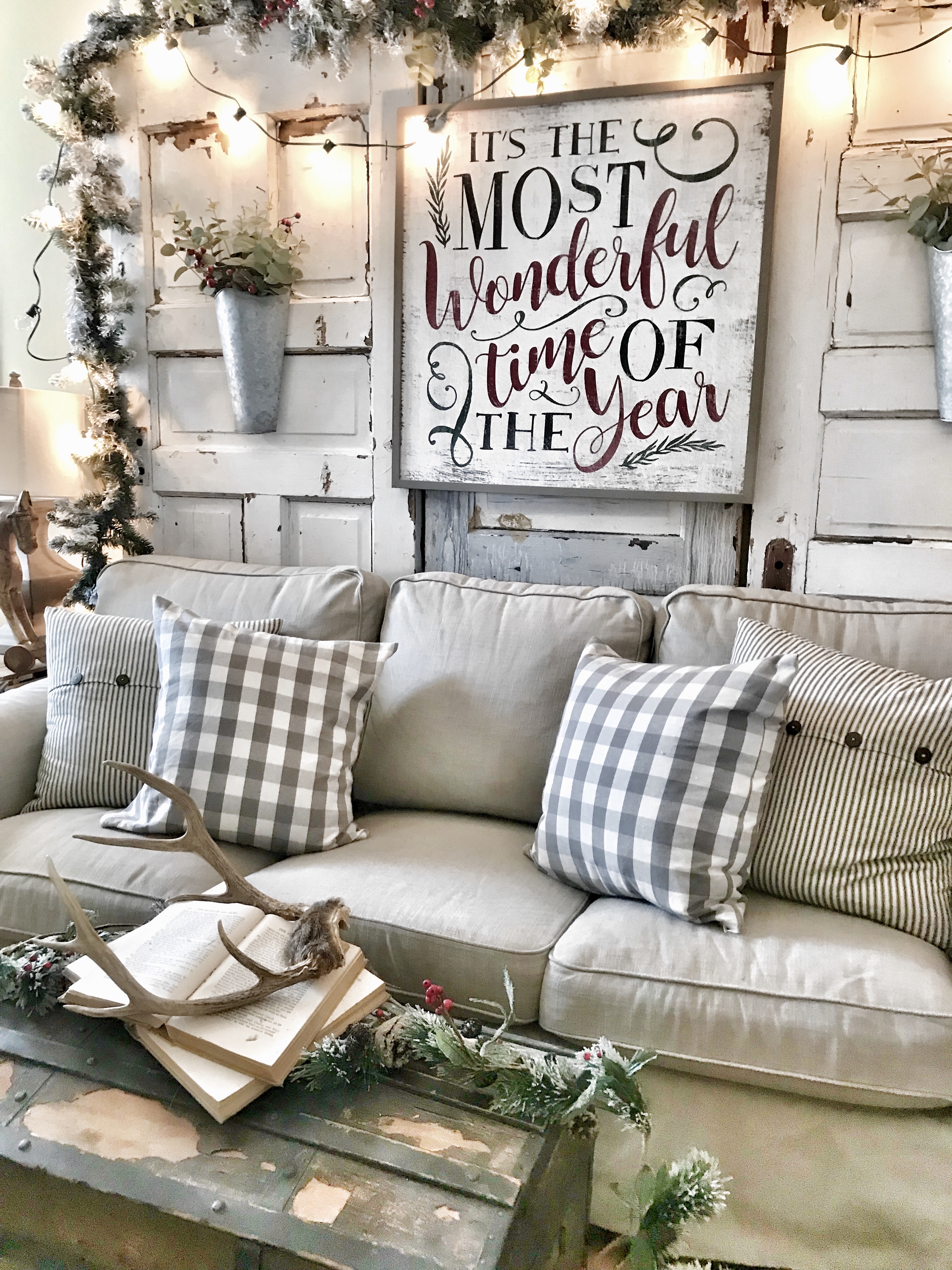 My fireplace is where I love to display my vintage Christmas finds. I found an old sled and pair of ice skates last year at an antique show, and love the rustic touch they add to my fireplace. I also added this adorable red ticking stocking garland from Amy Nelly's Shop . Go check out her page for the cutest Christmas decor!!
Don't you just love the glow of Christmas that the lights on a tree bring? I love how cozy it makes my living room feel. Now I just need to light the fire and turn on a good Christmas movie and I'll be here all night!
Shop My Living Room

Christmas Home Tour – Kitchen
Next stop is my kitchen and breakfast nook. This year I kept my Christmas decor simple in my kitchen. I mixed eucalyptus leaves, berries, and some birch logs to my pitchers and hanging scale. I seriously love decorating this little window shelf over my sink. It makes doing the dishes not so bad!
I added this fun and super easy DIY runner to my kitchen table. I tore the pages off an old hymnal to create a table runner. The book cost me $1 and I use the pages for lots of projects.
Aren't these old gas station numbers the cutest? When I found them I knew I wanted to use them in my kitchen with my Christmas decor. Glad I was able to find those two magic numbers!
Shop My Kitchen

So, that wraps up my Christmas home tour! I really hope you were able to get and idea or two. I've had so much fun getting my home ready for Christmas this year! Now it's time to hop to my friend's blogs and see their beautiful homes! Click on the pictures to get your tour started. Thanks for stopping by and Merry Christmas!!
xoxo Carissa
Related Christmas Posts on the Blog