We started a new tradition this Christmas thanks to Cricut! I have always wanted to do a DIY advent calendar with my family, so this year, I was determined to start this beloved tradition with my family. I love Advent Calendars because you can do them so many different ways. We all did a little research on what kind of calendar we wanted to do and came up with a bag calendar. I decided this was the perfect opportunity to use my new Cricut Explore Air 2 sold exclusively at JOANN. I couldn't wait to get it out of the box and see all of the amazing things this machine could do!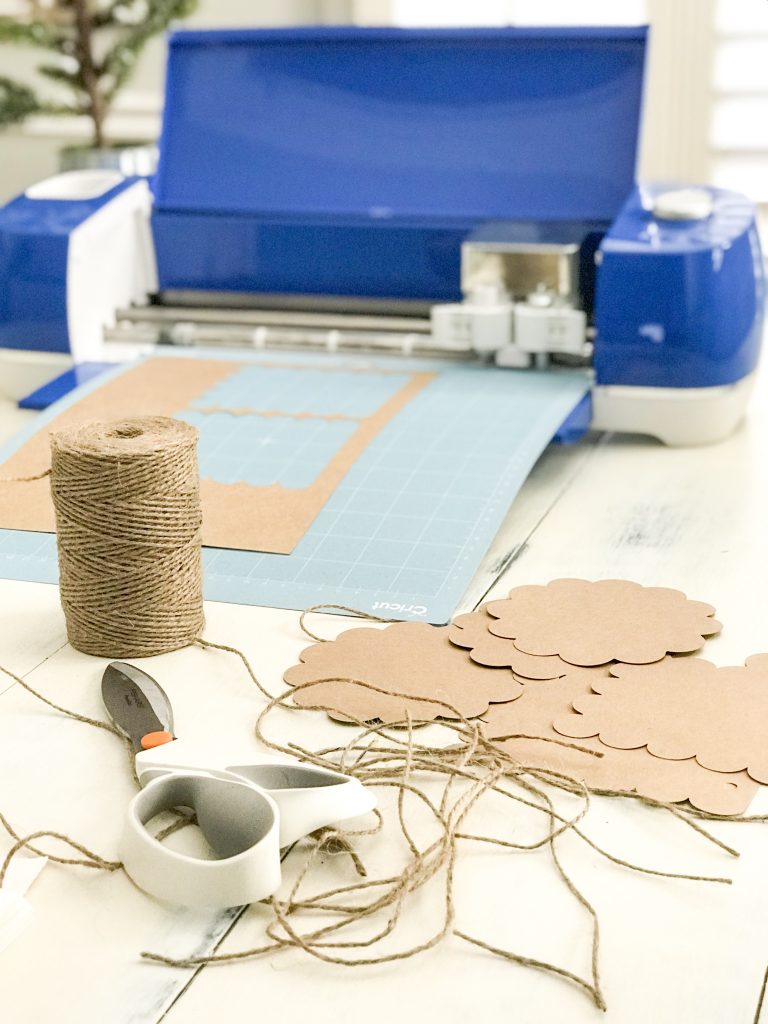 Before I tell you all the amazing things the Cricut Explore Air 2 can do, let me share with you the materials I used from JOANN to make my Advent Calendar.
Materials
So, let's begin!! After I downloaded the Cricut Design app on my IPhone, I quickly realized how simple this was to use. Guys, the possibilities are endless! This machine cuts over 100 different materials-everything from cardstock, vinyl, and iron-on to specialty materials like glitter paper, cork, and bonded fabric. It also has thousands of images, fonts, and ready-to-make projects. Can you say AMAZING?
My design was simple. I cut out two different scalloped tags for the center of my bags. I also did a few extra so I could used them as tags on my presents. DOUBLE WIN! After that, I decided on a number font and cut out my numbers. This machine cuts up to 2X faster than the previous machines, and I could tell. It cut my cardstock paper quickly and beautifully!
After my paper was cut, putting together the bags was simple. I tied the bows on the tags using my burlap twine and then glued everything together. That's it!! Here is my final product!
I honestly couldn't love it anymore! I was so happy with my very first project, and I'm already thinking about what I am going to create next. This machine really is amazing and so easy to use. I believe this would be the perfect Christmas present too! Here are a few more features this Cricut Cobalt can do.
Cricut Explore Air 2 Features
Upload and cut your own artwork absolutely free.
Upload files and turn your masterpieces into home decor, cards, gifts, fashion, and more!
Design on the go on your laptop, iPad, or iPhone
Creating this Advent Calendar was so fun using my new Cricut, but seeing my kid's faces when they saw it was so priceless! We made sure to read all about the Advent Calendar to ensure they understood the meaning of it. They look forward to opening up a bag everyday with either a small toy or something fun to do as a family. I think it's safe to say this is a tradition we will carry on for years to come!
So grateful my Cricut helped me start a new family tradition by creating a DIY advent calendar and the best part is that it was so easy to use! I have already found a ton of projects to do with my kid's and even found some things to make as Christmas gifts. This machine is going to be a game changer for our family. Don't forget that this can be found exclusively at JOANN. Be sure to check out this for yourself and add it to your Christmas list. You can thank me later!
Pin For Later