I've been trying to get this post out for a few days now, but unfortunately I found out on Tuesday that my husband and I have Covid. Funny how your plans can change in a heartbeat. We are trying to put things into perspective because situations could always be worse. This Christmas, instead of seeing extended family we are counting our blessings and we are going to enjoy being here together. Luckily, we have a cozy house to enjoy while we are sick. Today, I am finally going to be revealing my neutral Christmas living room tour. So, grab a cup of cocoa, and I hope you enjoy how it turned out!
I'm starting the tour off with my favorite view. I just love the glow of Christmas lights and how my Christmas tree and mantle add the most beautiful and peaceful presence. The theme this year is similar to last years theme. I went with natural greens, pops of blacks, whites, and gold, and I finished it off with a wood tones in my wood beads, rocking horse, and natural wood trees.
This easy DIY table centerpiece brings the Christmas glow to my coffee table. I shared all about how I made it along with which greens I used in the link above in case you want to check it out.
Neutral Christmas Mantle
This year for my natural Christmas mantle, I made a DIY layered garland. I decided to go dramatic and heavy on one side and drape my garland down to the hearth of my fireplace. I usually like a symmetrical mantle but this year I was feeling a little frisky (LOL) and went asymmetrical. Love how this small change made such a huge difference and was a great way to mix things up. (Tip– Use Command hooks or nails to help hang your garland. Since my mantle is faux wood, I used multiple Command hooks for my garland and stockings.)
For my DIY garland, I used faux spruce garland, white holly stems, pinecones, and dried eucalyptus. Love how beautiful this mix of faux natural greens looks together!! I used a few brass candlesticks from my collection and the cutest wood rocking horse from HomeGoods to the top of my mantle to add some height and character.
Then, I layered in a few gold bells down the side to add a pop of gold. Instead of wrapping my garland with lights, I added some battery fairy lights to outside of the garland. They are small but they add the prettiest twinkle.
I finished off my Christmas mantle by adding this chevron gold fireplace screen along with a few pillows and these cute trees from Hobby Lobby. Creating Christmas mantles are my favorite! You can see a few from years passed below.
White and Gold Christmas Tree and Mantel Decor
Cozy Christmas Living Room and Neutral Decor
Neutral Christmas Tree Reveal With JOANN
Deck the Blogs – A Christmas Home Tour
Natural Christmas Tree Reveal
My Christmas tree stared off being an epic fail this year. After I plugged it up, not a single light worked. NONE! So, instead of buying a new one, I improvised and wrapped it with new lights. It worked great and saved me so much money!
The ornaments are a simple combination of large white and black balls from Hobby Lobby, I then added a sparkly ribbon and wood beads to wrap around the tree. The finishing touch is this cute rattan star that I added to the top.
Neutral Christmas Decor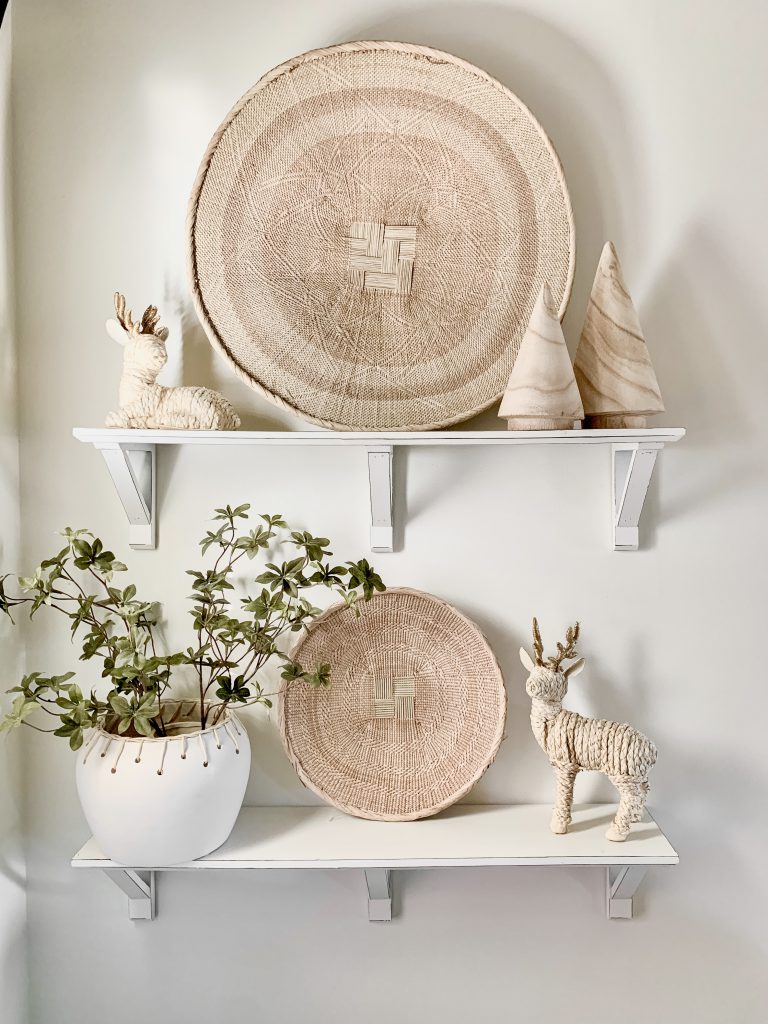 For the rest of the room, I added in some rattan and natural wood tones. I found these cute rattan reindeer at Target and love how they look on these shelves in my living room.
I hope you enjoyed my natural Christmas living room tour! I hope you have a blessed Christmas and happy New Year!!
Shop This Post

Pin For Later