Hi friends! Happy Wednesday! Anyone else starting to get a little spring fever? After going on week four of my kids being sick, I'm so ready for warmer weather. I will be so thrilled to kiss this winter season goodbye. I currently have my windows open, and I'm loving this little tease of spring weather that we are getting today. The feeling of spring always gets me in the mood to freshen things up and add lighter colors in my home. I added a few fun pieces to my mantel today and thought it might be the perfect time to share with you guys how we decided on creating this Pottery Barn mantel and also share with you a fun secret about it.
I shared with you my fireplace makeover a few months back, but I never really went into detail about our mantel. After we decided to paint the brick, we were searching for a beautiful wood mantel to give it a rustic feel. We decided on a real wood mantel, but after doing a little research, we saw that had a few drawbacks. We would have to wait until the wood dried out before we could hang it and being the impatient person that I am, I wasn't really pumped about waiting for that process to take place. Another negative was the weight of the wood. I wanted a pretty large mantel and it was going to be super heavy. My husband wasn't exactly excited about trying to hang it because of all the anchors we would have to drill into our fireplace. All of those were going to be obstacles that we were just going to have to deal with if I wanted a pretty mantel…until I stumbled across the perfect solution.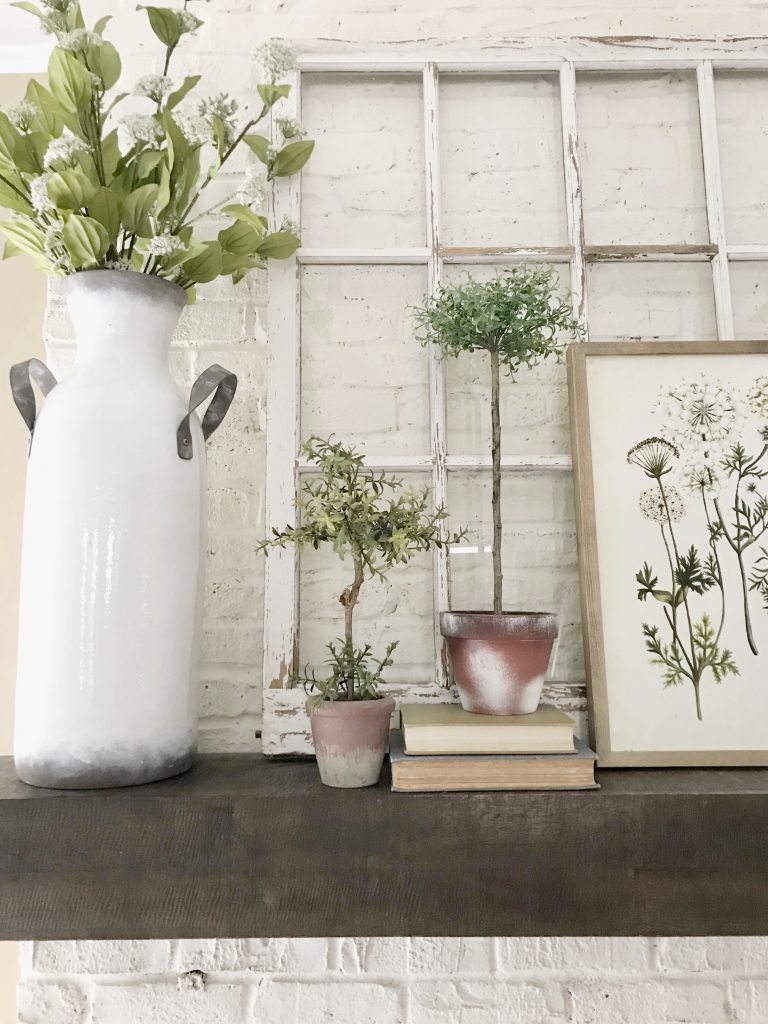 The Mantel "Hack"
Currently, Pottery Barn doesn't sell mantels.  However, I had a "lightbulb" moment one day when I was on Pottery Barn's website and spotted their Benchwright shelf. I knew what I wanted to do. This piece was a technically a shelf but the size and look of it were perfect for a mantel. The best part is that it had the real wood mantel look that I had wanted, but it didn't have the weight of real wood. It also came with a hanging kit. I was so excited and couldn't get it ordered fast enough. I was still a little nervous about getting my hopes up since I hadn't seen it in person. After it finally got here, I could instantly see it was the perfect solution. It was so beautiful! It just looked so real!
I especially loved the color and texture of it. It added so much character to my fireplace and really my whole living room!!!
Another bonus is that it is super sturdy and safely holds all of my mantel decor. The depth of this shelf leaves plenty of room for large vases and windows and books and plants and pretty much all of my favorite things to decorate with.
So, what do you guys think? Even though its faux wood, it looks pretty darn real to me. I'm so thrilled that I came across this Pottery Barn mantel/shelf 😉. It really has been the perfect addition over my fireplace. Below I am listing the sources of my post, and I would love for you to check it out and let me know if you have any questions about anything. You guys are the sweetest for stopping by! Thank you so much! Have a lovely day!!
Shop My Living Room

Pin for Later