Hello friends and happy September!! I am so excited that fall is right around the corner, and it got me thinking that I needed to get outside and update a space that needed it so badly. My front porch was in desperate need for a little update. I have big plans for this space (I'll talk about that later), but I wanted to start making a few small updates before I get to the bigger ones. I had so much fun adding some new lights, planters, and a cute bench. Another fun addition to my porch was a super easy DIY address sign. Today, I am so excited to share with you how I made it and my porch reveal! Before I share the reveal, let me show you what you need to make your very own sign.
DIY Address Sign
Here is what you need to get started on your address sign. I went to Hobby Lobby and found so many blank wood sign options, but settled on this small wood and white sign. I loved the size and the price. It was 50% off of $15. Next, I found some metal numbers that fit the sign perfectly.
The next step is to measure out your numbers to make sure they are evenly spread apart. These numbers come with risers to attach behind to give them a shadow effect. Now, just drill them in and you are done! So easy and it really is the cutest addition to your porch!
Here it is! My DIY address sign turned out even better than I expected. I saw a few on Etsy for $90 plus and this one cost around $40. Hobby Lobby even had numbers you could use for $2.50 each so you could easily make this sign for even cheaper. I decided to go with a little more expensive numbers, but both would look great!
My husband put some anchors in the mortar so we could hang in by my front door. We also changed out the front porch lights, and I love how the sign looks under the light. It especially looks so cute at night all lit up.
Porch Refresh Reveal
If you give a girl a new address sign then she will want new lights, planters, and a bench..HA. After hanging the sign and lights, I knew my porch needed some new pretty planters. I found these at Old Time Pottery. I also added a bench that I found on Facebook Marketplace. Love how my porch refresh turned out!
Here is the first ever photo of my home. Now that my porch is looking so much better, the next things I want to do in the future is to get new columns, fix our steps, and add a new front door. Of course when you have an older home, there will always be things to do and update, but for now, I am loving these small changes.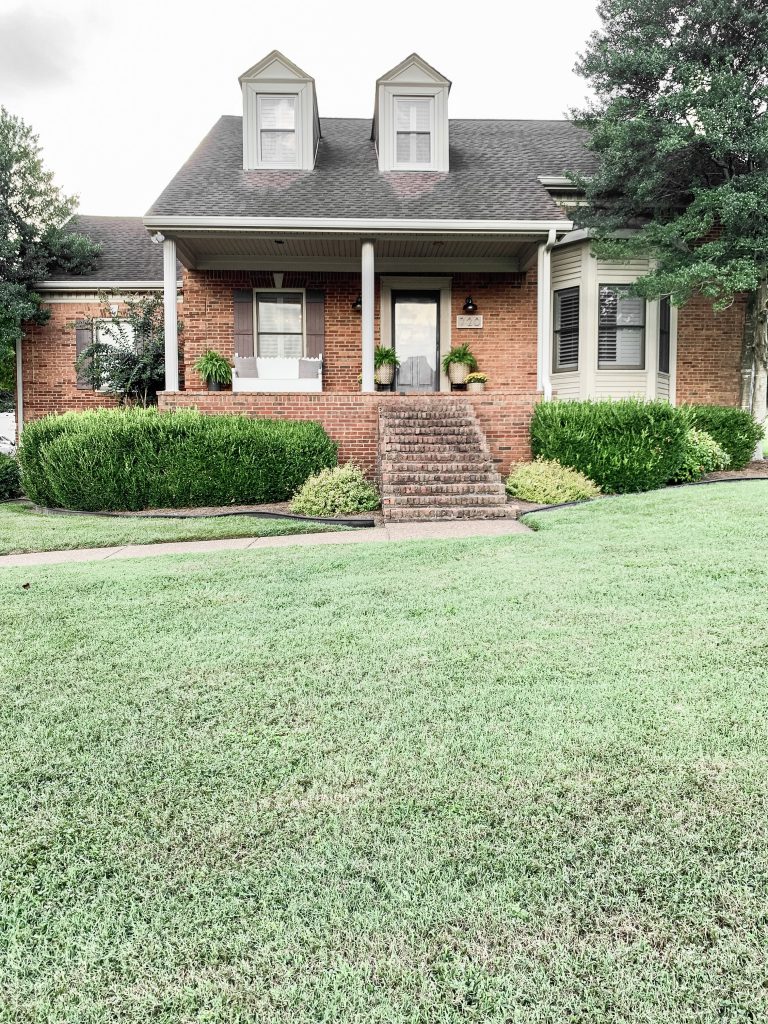 This porch refresh came just in time for fall. I can already imagine all the pumpkins that I will add up here very soon! Until then, I hope you enjoyed seeing my sign and porch refresh. Thanks for stopping by!!
Shop This Post

Pin For Later
Shop The Post