Hey there friends! How's your summer going? Mine has been nonstop crazy since school let out, but things finally slowed down this week for me to do a little work outside. Our covered porch is an area that we nonstop use, especially in the summertime, so I knew it needed some TLC. We pressure washed, cleaned cushions, planted, and put down some new rugs out here. I can't wait to give you a little tour of how it looks now! I'll also be sharing all the details on our new outdoor rugs that I am completely obsessed with. So, let's get started with my outdoor patio tour!
So here is our covered porch!! It's an area that I hardly ever share and I'm not sure why because we absolutely love being out here. It is broken up into two spaces. We use one side as an eating area and the other as an outdoor living room space.
This outdoor sectional really makes the most of this space and allows for lots of people to relax and lounge. We got this sectional about 3 years ago and it still looks brand new. It came with a chair and coffee table to complete the full outdoor living room look.
I keep it simple out here with the greenery. Succulents are my greenery of choice under my covered porch. I created a small arrangement for my coffee table centerpiece. I love succulents because they are so pretty yet super simple to maintain in the heat. You can see more of my favorite greenery in this post.
Another touch to keep my outdoor space super cozy is to add lots of pillows to my outdoor sectional. Since it is a covered space, I mix indoor and outdoor pillows. Oh, and this oversized throw is one of my favorites for a cool summer night.
On the other side of the porch is our outdoor eating area. We got this table and chairs from World Market a few years ago and it has held up so well. We went with two benches instead of a lot of chairs and I am so happy we did because it allows a lot of guests around the table. I added some faux succulent arrangements that I got at HomeGoods a few years ago.
Outdoor Rug Details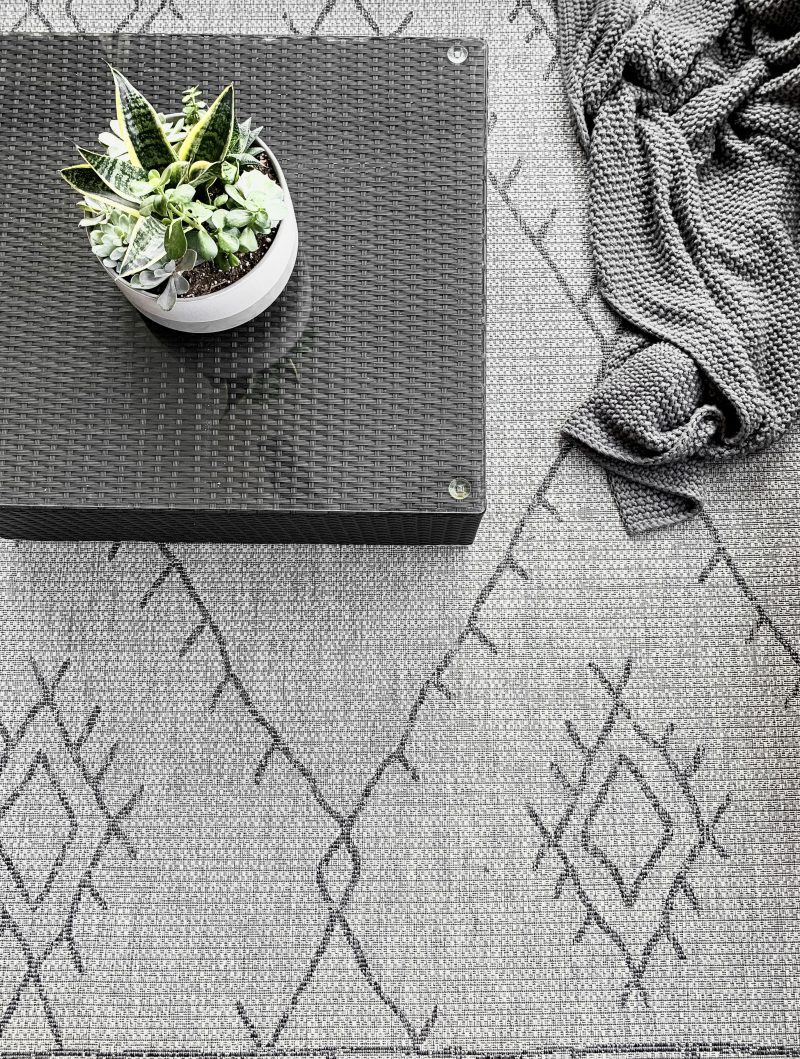 So now let's get to my new outdoor rugs. These beautiful outdoor rugs are from Boutique Rugs of course. Like I mentioned earlier, I have two separate spaces under my covered porch so I needed matching rugs. I went with the Marwood Outdoor Rug, and am so happy with how it looks in this space.
The colors in this rug are black, white, taupe, and charcoal which is exactly the color scheme that I use out here. I also loved the simple and modern patten that this rug had. It really is such a gorgeous outdoor rug. It was the perfect way to pull this whole space together!! You can always use my code NEST at checkout for additional savings! You can see more of my favorite outdoor rugs HERE.
Shop This Post

Pin For Later
Shop This Post