Hey there friends! So excited to share with you today's post because it has been a long time coming. I have been wanting a new washer and dryer, since mine was 12 years old, for a while now, and I'm happy to say that I finally got one! I teamed up with The Home Depot to not only get the Samsung Smart Dial Washer and Dryer, but also their Jet 70 Cordless Stick Vacuum and Clean Station. Over the past year, I have had a deep desire to create a healthier home for my family. I've slowly been making changes that are going to benefit that goal, and this Samsung Healthy Home kit is a huge step in the right direction. Today, I am so excited to share with you all of my new Samsung healthy home products.
Samsung Washer & Dryer
So, here they are! My new Samsung Smart Dial Washer and Dryer are not only so beautiful but they really do live up to their name! I'll have to admit, since my old pair was so ancient, I was a little intimidating by the smart dial feature. Boy was I wrong. From the first moment I turned them on, the Samsung's intelligent and simple to use multi-control panel allowed me to customize my cycle list so easily.
It also learns and suggests your favorite laundry cycles based on your day-to-day use. The dial is so easy to turn to find your correct cycle. How awesome is that?! Anything to make this busy mom's life a little easier I am for!
One of my favorite features is the extra-large 5.0 CU. FT. capacity. This helps cut my washing loads in half. Another feature that makes this product standout above the rest is the CleanGuard antimicrobial technology to prevent odors inside the drum. That is always a concern with anyone who wants a front loader so that is a huge added bonus and one reason why I was so excited to have this product.
A few other awesome features of this washer and dryer duo are the stacking feature. Although I don't have room to stack mine, I love that you can use them either way. They also come in two sleek finishes (ivory and black stainless steel) that are sure to compliment any home.
Jet Stick & Clean Station
Another product that I am so excited about is the Samsung Jet 70 Cordless Stick Vacuum. Keeping with my goal to have a healthier home, this vacuum's 5-layer HEPA filtration system traps 99.9% of mircrodust for cleaner air in our home. This vacuum comes with a mini brush, soft action brush, turbo action brush, and a wet brush. So let's just say, whatever needs to be cleaned, this vacuum will get the job done.
This vacuum will clean everything wall-to-wall with a turbo action brush and powerful motor that will keep pet hair and debris under control. Not to mention, I have three kids and a dog who sheds like crazy so this has been so amazing helping to keep that under control.
After the cleaning is done, just pop out the dustpan, stick it in the cleaning station, and it sucks out the dust and debris in a matter of seconds. This is a lifechanger for my vacuuming game. It literally is as easy as 1-2-3.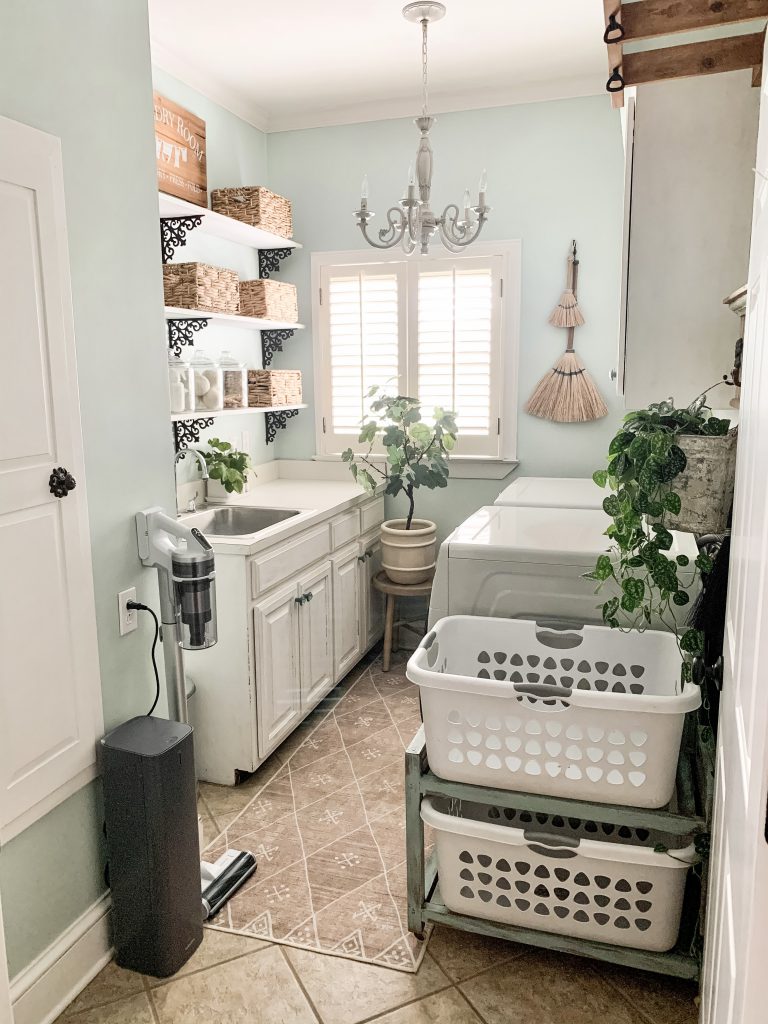 Now that I have had my new Samsung products for a few weeks, I can honestly say they have helped make my life so much easier. From doing quick and larger laundry loads to easy and fast vacuuming and cleanup, these products have made this busy and tired momma so happy. I can truly say they are helping to create a cleaner and healthier home for my family!
Pin For Later
Shop This Post