Guess what friends?? Tomorrow is my antique booth's first birthday!! A little over a year ago an antique shop called No. 38 Vintage Marketplace was set to open, and I had just quit my teaching job ready to start a new chapter in my life.  EEEKKK! Now that is scary stuff. Starting a whole new career with nothing but prayers and a gut feeling that it was all going to be okay. I was a little nervous but so ready to start selling and creating fun pieces that I loved!!  So, in this post I'm going to share some tips with you that have helped make this past year a success in my antique booth.
Here I am right about this time last year. Just a girl who had no clue what I was doing.
Here's a shot of my booth on opening day
I was learning on the job. Over the past year I have learned so much! Am I an expert?? Umm NOOOO! Far from it, but I do believe I can share with you a few tips that I used to help you get started with your own booth. Maybe you are on the fence about staring your own booth or you just began this fun journey. Hopefully, you can take a tip or two and use it for your own space!
Tip #1 White Paint and Creative Lighting
The first step in having a successful booth is having a neutral paint color. I went with good ole WHITE! This color is called White Dove by Benjamin Moore. I have a large booth at (No. 38 Vintage Marketplace) and a small booth at (112 Antique Mall) and the white looks great in both! Having a white background serves three purposes: it makes your space look larger, it brightens it up, and it makes your items pop.
Besides having a neutral wall color, I also believe good lighting is important. Get creative with your lighting. Give it a fun touch. I chose this antique chandelier because it matched the look that I was going for and it had lots of lights on it so it would brighten up my booth even more. In my smaller booth, I went with this ladder chandelier that I created out of a ladder and vintage lamp shades. It also creates lots of light while giving my booth a farmhouse touch.
Brand Yourself
Give yourself a name. After you have a name, put a sign in your booth so people will know where to find you. It's easier for someone to find you with a name instead of a description especially in the antique world. Some antique malls or stores have hundreds of booths so you want people to know where to go to find you. I made my sign with barn wood that I had lying around and some letters from Hobby Lobby. Since I have two booths at different locations, I tried to make my signs look similar and again, it went with my style and farmhouse theme I was trying to create.
Create a Style
Decide what look you want for you booth. I wanted a vintage farmhouse look so I choose pieces that go with that look like ladders, shutters, scales, etc. This does not mean that you can't put other items with other styles in your booth, but I think sticking with a certain look versus a ton of random items gives your customers a clear picture of what they can use it for and gives your booth a theme that is easy to see for your customers.
Learn to DIY
I'm always up for learning new things, especially if it could help me sell some items. One of the most important DIY that I learned a few years back was chalk painting. Not everyone is up for it. I totally understand that. It's a lot of work, but it does allow you to make money on pieces that you can find for cheap. I also make signs, chalkboard windows, I recovered chairs, and pretty much anything that is going to help me add that special touch to an ordinary piece.
 Here are some of my DIY pieces that I have created.
White chalk painted table and recovered chairs using burlap sacks
Chalk board window in
Chalk painted hutch with chicken wire instead of glass
Barn wood Signs
Create a Social Media Account
I created a Facebook page Bless This Nest Interiors that I am constantly updating. This allows your friends and local customers to know when you get new pieces in. It's a great way to advertise yourself and get your name out there. Also, I created business cards to sit in my booth with my Facebook and Instagram information on it. I'm actually shocked with how many business cards get taken from my booth. Both of these have been a great marketing tool for my booths.
Move Your Stuff Around and Don't Get Discouraged
I'm combining these two because they sometimes work together. It's so easy to get caught in rut in your space, especially when business is a little slow. Some months are great and some are not. That is how this business works. Maybe you are having a slow month and not much is selling. Make it a priority to visit your booth often and shake things up. I have had a piece sitting in the same spot for weeks and I finally move it from one side of the room to another and it sells in a day or two. Customers who enjoy coming to your store usually come frequently and will get familiar with booths. They want to see it fresh and different. Sometimes all it takes is moving your items around to create a whole new look.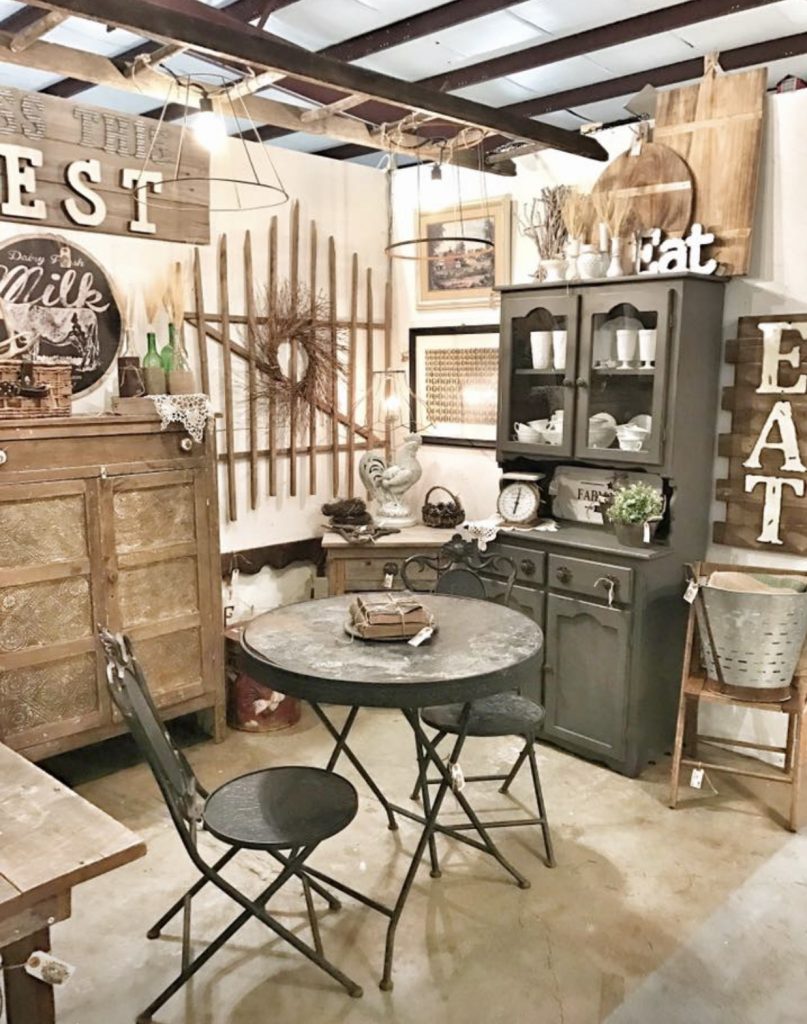 Work, Work, Work
If you want a successful antique booth, then you need to work it. You need to visit it often and constantly be working on new pieces for your booth. I sometimes get busy with life and notice my sales are down. Sometimes it's just a slow month for everyone but usually it's because I haven't been there to keep it fresh. I'm not at all trying to scare you. It CAN be a side job. I know so many vendors who have a full time job and have a booth on the side. It's totally doable. You just need to make it a priority to visit it often and constantly be looking for new items and creating fresh ideas.
So, those are a few tips that can help you on your antique booth journey. I know I will learn so much more along the way. One thing that I promise is that you will meet sweet new friends who share a passion for junk! I've had the best time exploring new places and getting to know my customers. It's truly been the best experience. Just stay positive and believe in your talents and you will do great! Good luck on your new journey!
God bless and have a lovely day!
Since this post I've posted some updates to my antique booth.  If you're interested in more antique booth tips, check out the updated post.