Last week, I shared my son's teen room makeover with you, and I still can't get over how this room changed. My son absolutely loves his new room for so many reasons, but one huge reason he loves it is because of is new Beddy's bedding. He has always had bunkbeds in his bedroom and if you know anything about bunkbeds, then you know they are a NIGHTMARE to make. Let's just say his bed never got made because it was a huge hassle. As a result, his room always looked messy. Today, I am going to show you why Beddy's bedding is not only amazing for any kind of bed but especially Beddy's for bunkbeds. Let's start with me sharing the sad reality of what his old bed used to look like before we got Beddy's.
Bunkbed Before Beddy's….
Yikes!! I can't even tell you how many times he got in trouble for this but honestly, I didn't really blame him. Making a bunkbed means you are on top of the bed you are trying to make which makes it extremely difficult. After changing out his bunkbed in the makeover, I knew Beddy's bedding was the only way to go with his new beds.
Beddy's Bedding Bunkbed Reveal
Wow! Can you believe the difference?? Before I share with you why Beddy's is so unique, let me give you the details on which comforter I chose for his room. Since the bed was going to be against a dark focal point wall, I knew his bedding needed to be lighter so it could really pop. We chose the Love At Fist White (Minky) bedding. Love how it looks on his bed mixed with a variety of pillows to pull the whole room together. (Use code BLESSTHISNEST for 15% off your total)
I paired it with this super cute and soft Ivy League blanket and matching throw pillows. The pattern is especially cute and looked so good in this space.
The inside of the blanket is also the minky material and it's reversible too which is an added bonus.
Why Are Beddy's Perfect for Bunkbeds?
Beddy's is unique because it offers a zip-up feature to each side of the comforter. The entire bedding is one large piece that fits snug around the mattress like a fitted sheet. That also means no more sheets which is awesome!! The bottom sheet is actually built in so it always stays in place. Can I get an AMEN!? The bedding set also comes with a coordinating pillowcase and sham.
Now to make his bed everyday, all he has to do is zip up both sizes of his comforter and his bed is made. BEST. INVENTION. EVER!!! He even makes his bed before school everyday which makes this mamma super happy.
See how clean it looks around the edge of the bed? No more cramming the bedding down the top and bottom. It always looks perfectly neat and put together.
This product is such a game changer that I just had to share it with you. Not only are Beddy's perfect for bunkbeds, but they are also great for campers, kid's beds, and even adult size beds. My younger son and daughter also have Beddy's on their full size beds and love them! So, I hope this gave you a little hope if you are struggling with how to make your kid's bunkbeds or regular beds. Beddy's truly have been a lifesaver for us! We give them a 10 out of 10 for sure!! #beddy'spartner
Shop This Room

Pin For Later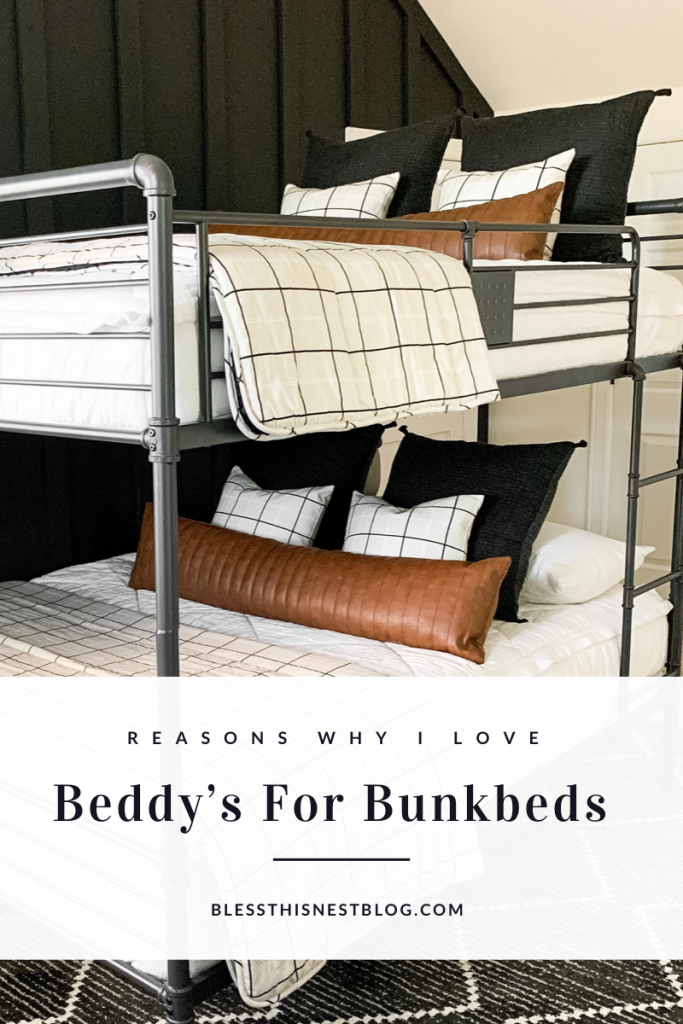 Shop This Post