Today is a super fun day because I get to share with you guys my daughter's bedroom makeover reveal. This little girl room decor and bedroom makeover post is one of my favorites for so many reasons, but mainly because it was a chance for us to plan, shop, and have so much fun together transforming this room. My daughter has been asking me for a room refresh for a few months now, and I totally agreed that it was time for her to have a "big girl" room.
We were SO READY to start planning out what we wanted to do in her room, and I made her give me a list of a few items that she wanted.  But, I decided it would be so fun to leave the final room reveal a surprise. A few things that was on her list was new bedding, some pretty wallpaper, and a fun reading spot. So, I'll show you how we completely transformed this room with 3 key pieces and a few simple accessories.  Hopefully this post helps you with little girl room decor to help you with your daughter's space too.
This is a sponsored post, but all of my opinions are my own. This post may also contain affiliate links. Thank you for supporting the brands that make this blog possible.
Creating a Focal Point with Wallpaperie Wallpaper
I knew that I wanted to create a focal point wall behind her bed. Her room was already a light blue color, so I was looking for a floral print that had a soft color pallet. One night, I was researching patterns and came across Wallpaperie on Instagram. I went to their Etsy site and found the most beautiful and magical print called Whimsy Floral and instantly knew that was the one. It had the most beautiful floral print that matched her all her colors perfectly. This wallpaper is not only beautiful, but the quality was top notch. It was so easy to hang, and I was honestly blown away with the outcome. Guys, this wallpaper is a show stopper!!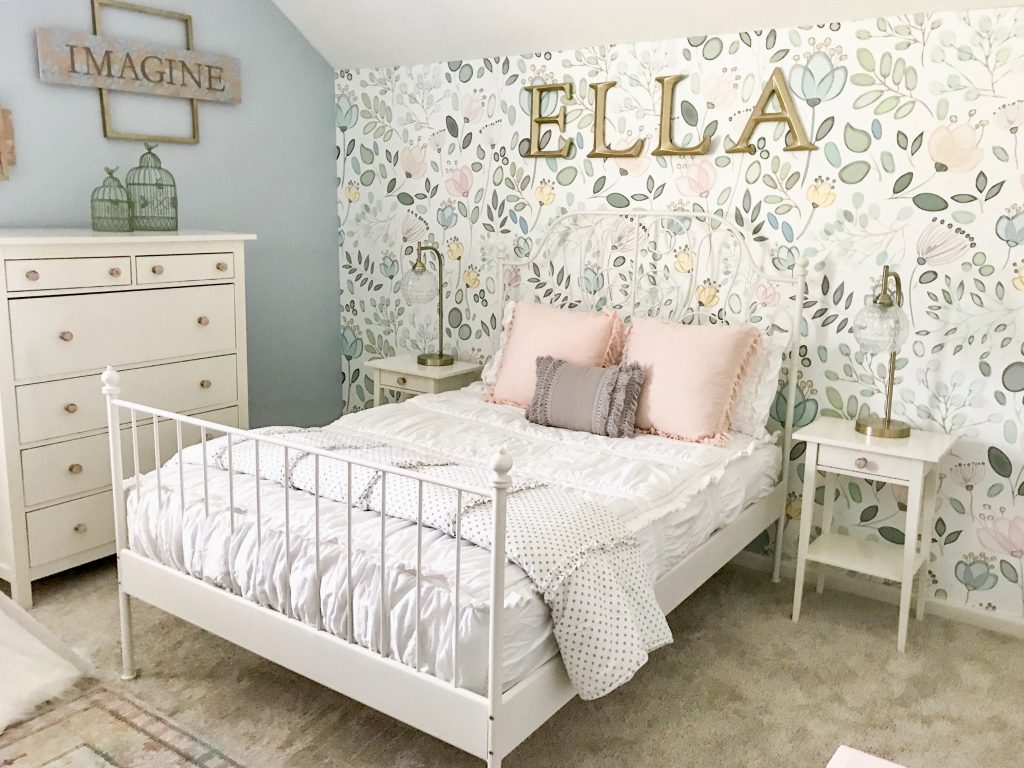 I also added the wallpaper to the wall on the opposite side of her room to give it some symmetry. Besides the beauty and the quality, this wallpaper was also peel and stick which made the hanging process super easy. I am so in love with the impact this wallpaper had on her room. I finished off this little corner by adding a shelf and a few signs — perfect little girl room decor additions.
I'm still trying to convince her to switch rooms with me, but she's not going for it. This wallpaper made for one happy little girl!! Isn't it gorgeous??
Simple and Beautiful Bedding- Beddy's Beds
The next step to creating a more grown up look was all about choosing the right bedding. I knew I wanted white so I could bring out a few accent colors in the pillows. I had seen a few of my friends use Beddy's Beds (coupon code BLESSTHISNEST for 15% off), and knew that was exactly what this room needed. Beddy's Bedding in one word is AMAZING!! The entire comforter fits like a fitted sheet and the top cover unzips to allow them to climb into bed easily and then zip back up. So cool and so easy. My daughter can make her bed in less than a minute. Beddy's Beds actually makes making your bed fun if you can believe that.
We also added this white and grey polka dot quilt from Beddy's Beds which we absolutely loved! Besides how easy this bedding is to make, it is also the SOFTEST BEDDING EVER! The inside of the bedding and the quilt is lined with a cozy minky interior. She told me she has never felt anything so soft. I think I need one for my room as well!
This bedding is called Chic White, and it is so beautiful!! The ruffles give her bed a super chic look that we both love so much!
Her Cozy Reading Spot- Tiny Land Teepee
My daughter has always dreamed of having a cozy spot in her room to read. I found this beautiful lace teepee from Tiny Land and knew that would look so perfect in her room. It was so easy to put together and looks so beautiful right in front of her window.
I added a few flowers to the top and sides to tie in with her floral wallpaper. I wanted to make this that cozy little spot she had always dreamed of, so I added a fur rug and some pillows inside. She loves it more than I ever imagined she would and that makes me one happy momma.
Pink and Gold Accents and Rug Details
The last part was all about the accents. I decided that pink and gold where the two colors I wanted to accent. I had found an old vanity at a yard sale, so I knew this was the perfect opportunity to paint it pink. This is for sure something she will love to have as she grows with this room. I always loved having a vanity in my room. She has been using it as a desk, but I know one day she will sit here and put on her makeup which makes me happy and sad at the same time. I'm just glad she has a beautiful space to create, and she loves it!
I added a gold mirror and gold stool, and I recovered the top of the stool with fur to match her rug.
I found this beautiful pink rug at a store called Old Time Pottery. Unfortunately, I don't have a link, and I am not sure where it originally came from, but you can find similar rugs on Boutique Rugs. I also love this pink and blue rug. Use code NEST60 at checkout to get 60% off!
The last little touch that helped me repurpose a few pieces was something that was very useful and saved me a ton of money. I used a can of gold spray paint to paint the mirror over her dresser and the little owl lamp that was very sentimental to me. This lamp was in her nursery, so I wanted to make sure that stayed. The new gold color and the white shade gave it a more grown up feel which we loved.
Well my friends, that is it! I really hope you guys love this little girl room decor and makeover as much as we do. She loves it so much that I have to make her leave it. It feels pretty amazing that she constantly thanks me for this room. I just love the fact that she loves it so much. I can't wait to watch her grow up in this pretty little room!  If you're interested in what the room looks like around the holidays you can check out my girl's bedroom Christmas tree post. You can also check out her big girl room refresh post,
Pin For Later