Happy Saturday!! Can you believe we are a little over a week away from the Fourth of July…..what? How is this possible? June has seriously flown by, and I really feel like I have been slacking on getting my home ready for the Fourth. I actually LOVE to decorate for the Fourth of July, but I do try to keep it simple. I'm so busy this time of year, so I think having a few key staples around the house make decorating with red, white, and blue super simple. Here are a few easy ways you can get your home looking ready for the big day!
1. Vintage Flag
It doesn't actually have to be a vintage flag even though vintage flags are kinda my jam. I lucked up and found this beauty (it was even in a magazine), but you can simply add a new or old flag to your wall, and it makes such a simple and beautiful statement. I also added a few small $1 flags to my coffee table to finish off the look.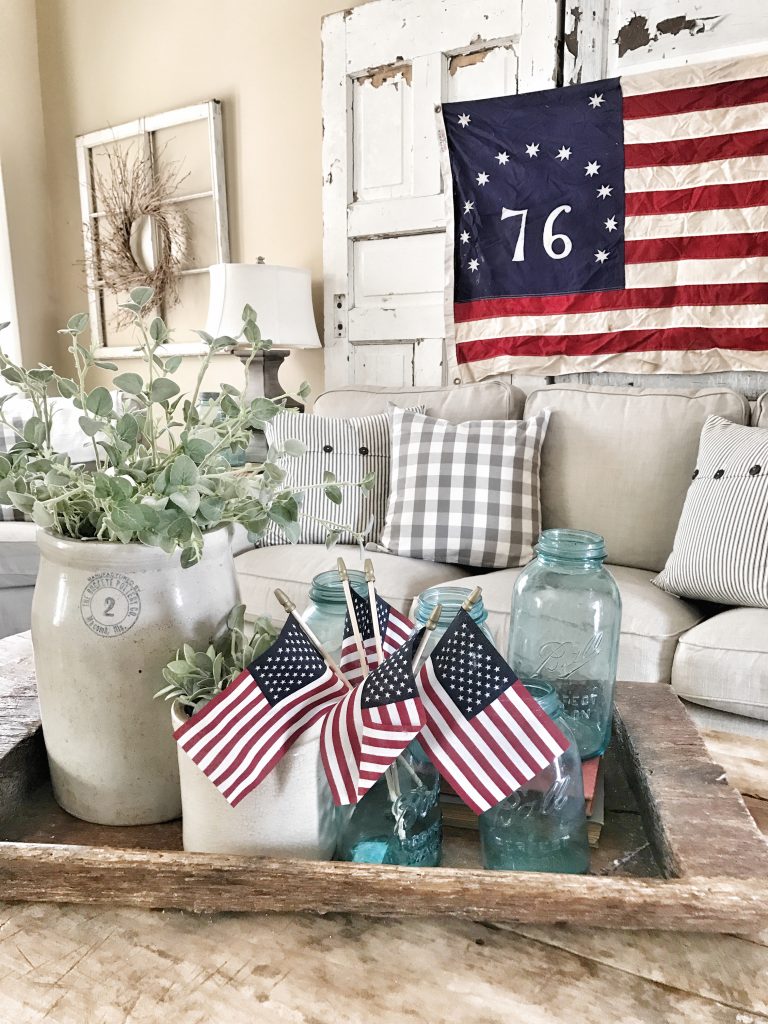 2. Blue Mason Jars and Vintage Books
With this tip, I recommend planning ahead. You can look for holiday decor all year round. I just pick up a red book or a blue mason jar here and there especially when I see them for a good deal. Shopping all year round also makes it quick and easy to decorate when the holiday comes around.
3. New Mixed With Old
I found this flag banner at Hobby Lobby for $10, and hung it on a vintage tobacco stick fence. Mixing new items with old decor pieces make the newer items not feel so new.
So so simple. I honestly can decorate my house for the Fourth of July in about 30 minutes. Once you collect your favorite new and old items, it is super easy to pull them out every year. I also love how this decor is perfect for Memorial Day and the Fourth of July. Two holidays with the same decor is a huge bonus and just another reason to decorate with red, white, and blue. So, what do you guys think? Do you decorate for the Fourth of July? Let me know. I would love to hear what you think.
Pin For Later