My kitchen eating area got a little refresh! I have been wanting to add a more modern touch to this space, but wasn't sure exactly how I wanted to accomplish this look. Anytime I feel lost in designing a space, I always play with a design board. I started with finding a modern and simple rug that would help define the space and accomplish the modern look that I was going for. Of course, Boutique Rugs had so many beautiful choices. In the end, I found a sleek and modern rug that I can't wait to share. I added a few more modern additions to my kitchen eating area, and today, I am going to share my ideas to give your kitchen a contemporary feel without breaking the bank. You can incorporate one or all of them, but I know by simply adding a modern touch here and there will give your kitchen a fresh new look!
Modern Kitchen Design Board
Let me begin with my design board. I had so much fun switching out rugs in this space until I got it right. I already had a farmhouse table that I wanted to keep but was ready to change out the chairs as well as the rug. In the end, I settled on some short and sleek black chairs with rounded backs. I just love how they look with the new rug and table. Now, it was time to put this new look together in my kitchen, and below is the reveal along with my tips for adding a few modern touches to your kitchen.
1. Add a Simple Modern Rug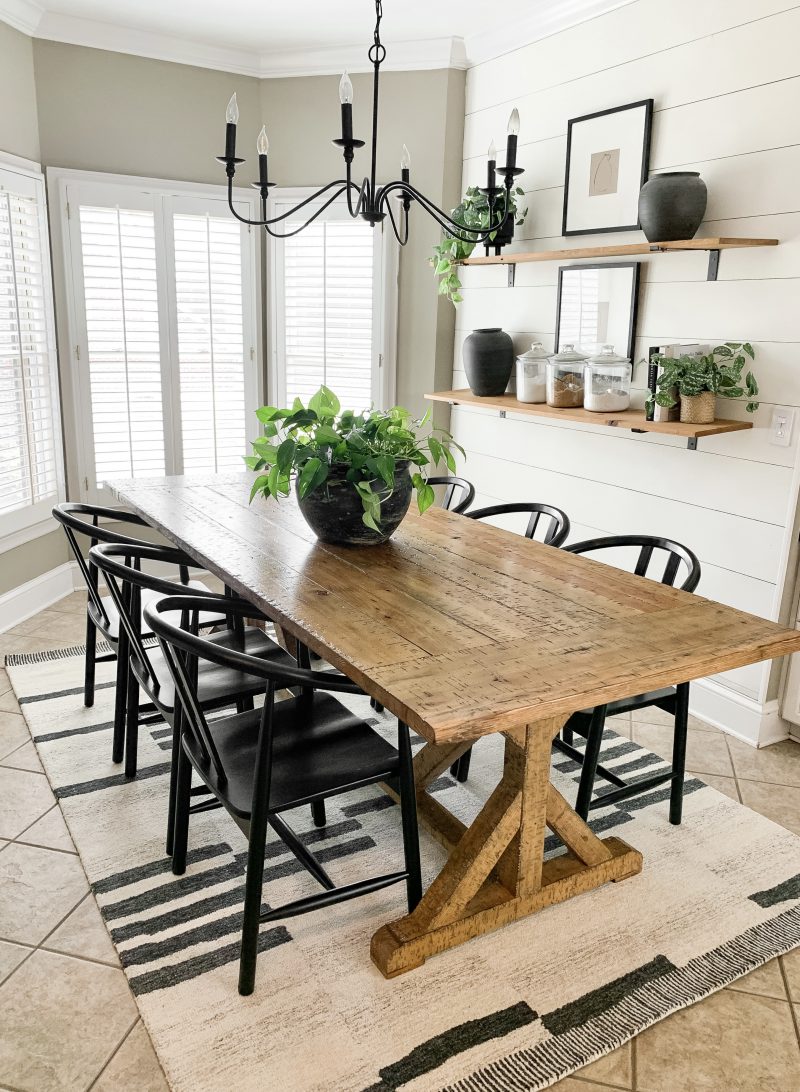 A rug is an excellent way to add texture and warmth to your kitchen, and it can also serve as a focal point for the room. Since the goal was to add a modern feel to my kitchen eating area, I started with finding a minimalistic style rug. Generally, a modern rug would include simple and clean lines, geometric shapes, or a black and white color scheme just to name a few.
I came across this black and white rug called the Aibonito Wool Area Rug and fell in love with the clean lines. I knew this was exactly the look that I was going for. It is a beautiful wool rug that complimented this space perfectly.
2. Add Modern Dining Chairs
Another way to give your kitchen a modern touch is by updating new dining chairs. Choose chairs with sleek lines and a minimalist design to create a contemporary look. I found these black Hearth and Hand sculpted dining chairs and knew they were the ones! I fell in love with the curved back and arms. They are sleek and beautiful, and I absolutely love how they look in my eating area!
2. Incorporate Open Shelving
Open shelving can give your kitchen a modern and airy feel, while also providing convenient storage. Display your favorite dishes, plants, glasses, and cookbooks to add a personal touch to your space. I added these DIY wood shelves to my kitchen eating area and love how simple and sleek they look in this space.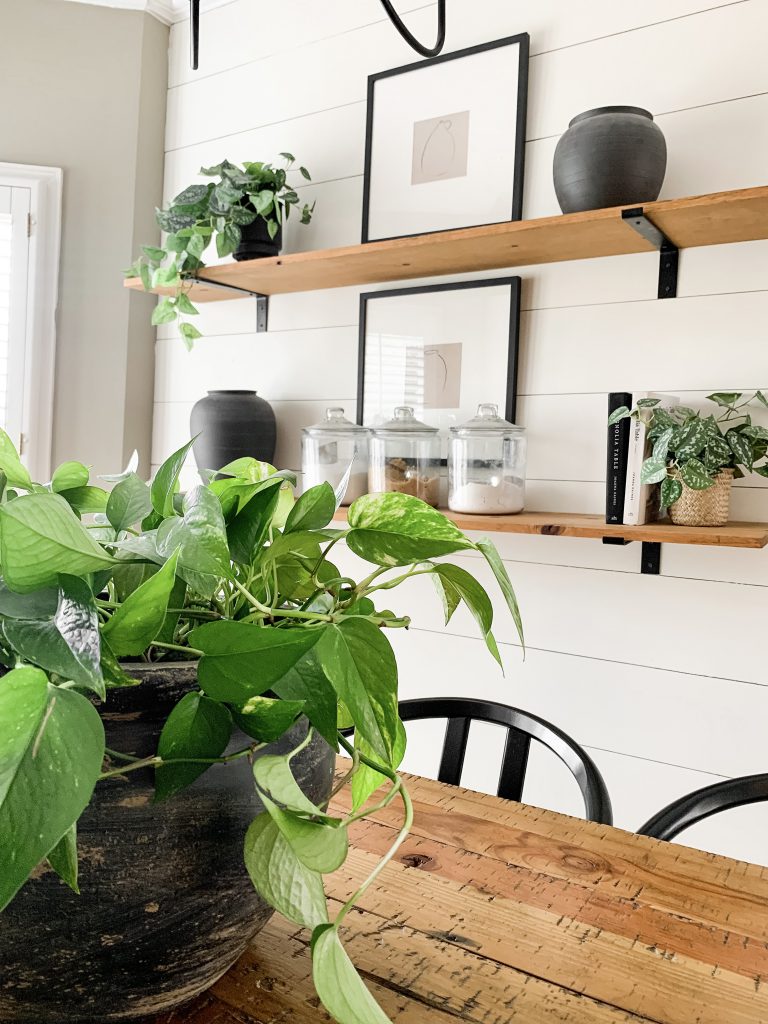 Also consider adding simple artwork to the walls. I found this pair of minimal Studio McGee prints and love how they look in the center of each shelf. Also, be conscious of overcrowding the shelves. Keep them simple but stay true to items that you love.
3. Keep Your Decor Simple
Modern kitchens are minimal, so I also decided to simplify the decor that was out on my counters. I decluttered and only displayed a few useful jars, plants, cookbooks, and essential oils. I also decided to pull the same rug design into this space for that added texture. It helped carry the contemporary design into my kitchen area.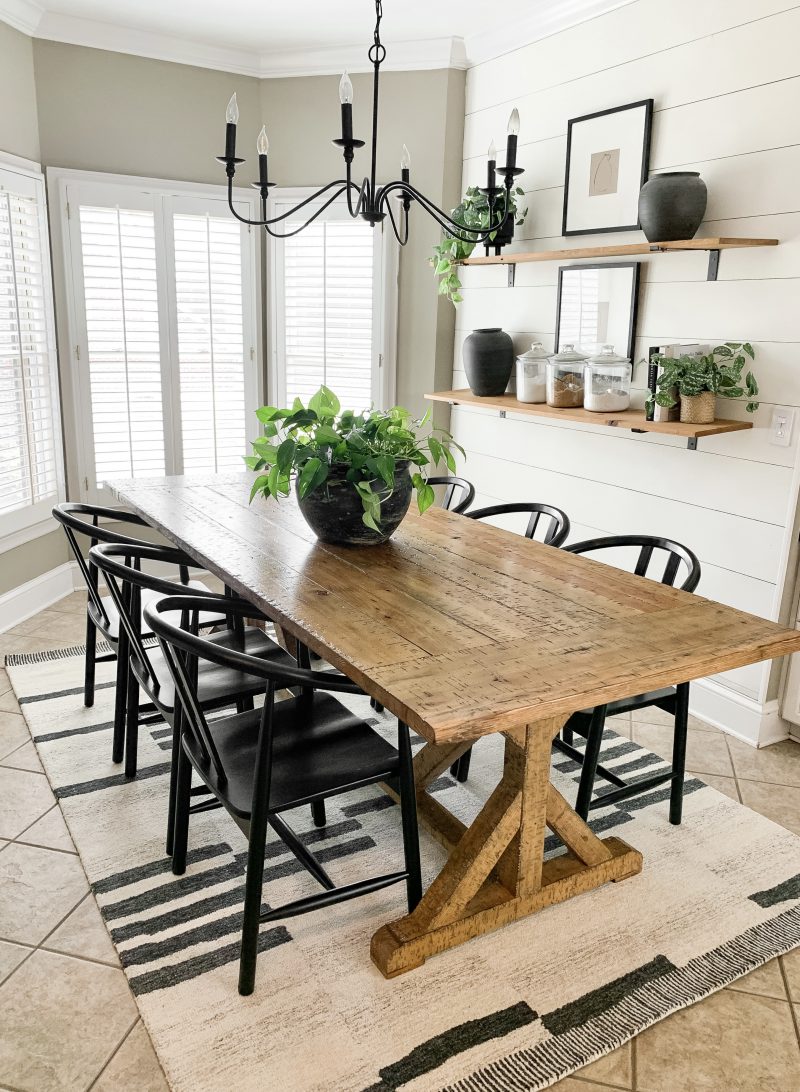 While the overall style of your kitchen doesn't necessary have to be modern, you can add simple touches to achieve the look that you are going for. By adding a new rug, modern dining chairs, open shelves, or by just simplifying your kitchen can transform it into a sleek and contemporary space. So why not try incorporating these elements into your kitchen and see how they can bring new life to the heart of your home!
Shop This Space

Pin For Later
Shop This Post