Hey friends! Today, I'm talking paint colors which I know can be a hot topic if you are building, buying a new home, or just looking to give your home a refresh with a coat of paint. I get lots of questions about our wall colors and trim, so I thought it was the perfect time to give you guys a home tour of my neutral paint color. Alabaster Sherwin Williams is the color that I chose to paint the majority of my home. It's the perfect off-white color but with a white feel. I know from experience that seeing a room painted in the color you are thinking about is way more beneficial than looking at a paint swab. That is why today, I'm sharing with you 5 different rooms in my home all painted with Alabaster by Sherwin Williams. Hopefully, this tour will help you decide if this is the color for you!
Alabaster By Sherwin Williams Color Details
I'll start with giving you my best description of the color. Alabaster by Sherwin Williams or color 7008 is soft, almost an off-white, paint color. This color is not a true white due to its neutral beige undertones. The color is creamy enough to look white without any yellow undertones.
Entryway Painted Alabaster
A couple of years ago, I decided to give my home a paint refresh, and my entryway was one of the spaces that was painted with Alabaster. This space gets a lot of light because it's right beside my front door. Alabaster looks so bright and beautiful in this space. I also recently painted my staircase white, so you can check out what trim and stair color I paired with Alabaster in this space.
Living Room With Alabaster Walls
My living room is also painted with Alabaster. My favorite part about using a white paint color is that is helps make your accessories pop. To add color to the space, just add it in your pillows and rug.
Master Bedroom
I also painted my bedroom Alabaster by Sherwin Williams. I paired it with a moody color that is in my headboard and love the contrast.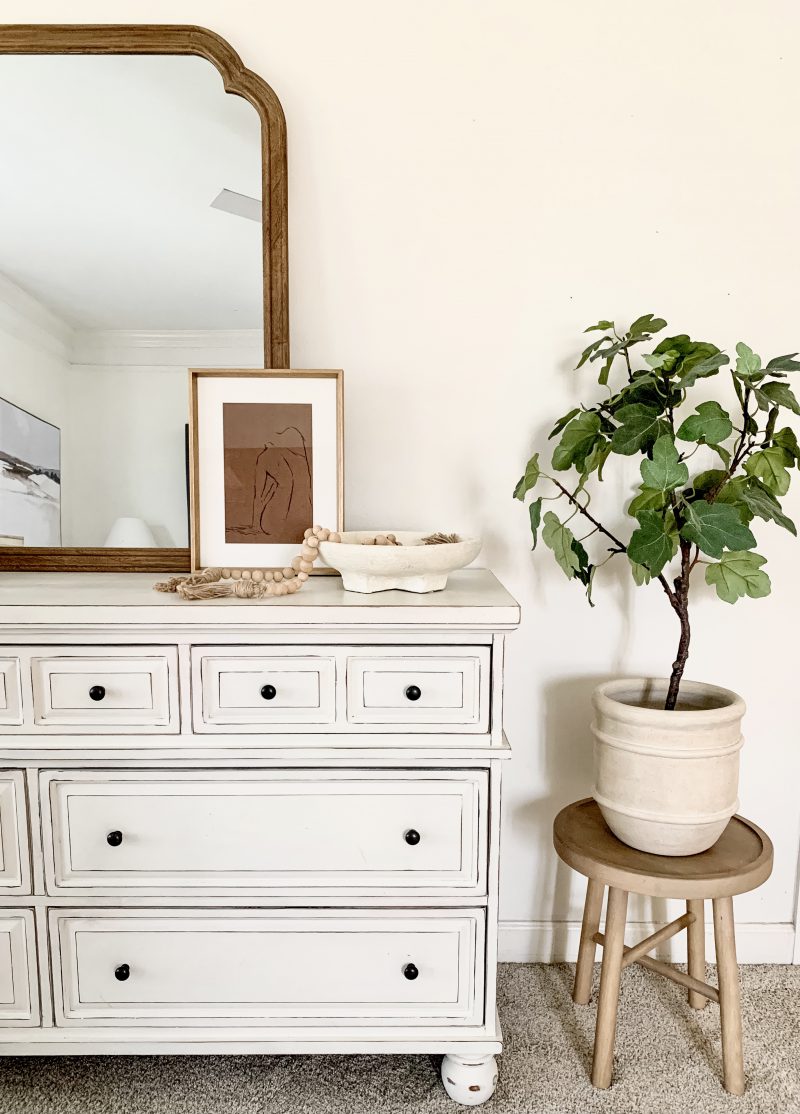 Bonus Room
The bonus room used to be a darker color, and it just felt a bit off. I gave this room a full makeover and love how Alabaster brightened this room up so much. It honestly feels like a completely different room.
Another benefit of going with a neutral color on the walls is that it allows other items like rugs and pillows to make a statement with color. Love how my new Arncliffe Rug looks in this space.
Shiplap Painted Alabaster in Kitchen
The last place that I used Alabaster was on the shiplap wall in my kitchen. The rest of my kitchen is Garden Wall by Behr, so I thought a pretty shiplap wall painted white would be a great focal point. Love how Alabaster blended so well with everything in my kitchen eating area.
Trim Color
One last detail that I wanted to add. We painted our trim White Umber by Porter Paints. I love how these two colors work so well together. Like I said earlier, I know how challenging finding the perfect neutral paint color can be. Hopefully, seeing Alabaster in a few different spaces helped you see if this is the color for you. If you want to see the other paint color that I use in my home, be sure to check out my farmhouse paint colors home tour.
Shop This Post

Pin For Later
Shop This Post