The number one FAQ that I get is about my house paint colors, so today, I wanted to go through each room and share my favorite farmhouse style paint colors. Choosing the right paint color is so HARD for me, just ask my husband. I'll admit that I don't have the best track record when it comes to choosing paint colors. I think we have painted and repainted almost every room in the three houses that we have lived in. Oops!! I usually end up either getting tired of a color or it doesn't look the same on the walls compared to the paint sample. Well friends, the good news is that I think I have finally got it right (for now), and I love all of the colors that are currently in my home!
Living Room and Master Bedroom – Alabaster White By Sherwin Williams
When we moved into our home five years ago, I had no idea what color to paint my main living areas. I knew I wanted something neutral, so I went with Lenox Tan by Benjamin Moore. If you take a look at my living room house tour, you can see this color.
So this past summer, I was itching for a change and my dream of having white walls came true!! I am so in love with this color. It is called Alabaster White by Sherwin Williams, and I think it is the perfect farmhouse neutral white. It has such a beautiful balance of white and off white and just gives off the most beautiful feel without feeling too white. I HIGHLY recommend this color if you are looking for a beautiful white for the interior or even the exterior of your home.
My master bedroom is another room that has gotten a refresh and new paint color since we moved in. You can see the original wall color in this post. I decided to also go with Alabaster White in here also, and love it so much!! It's amazing how much this color has changed the look of my entire room. Now, my room feels so much larger and brighter! Totally smitten with this color!!
Kitchen – Garden Wall By Behr Paint
One room in my home that has remained the same is my kitchen, and there is good reason for that. My entire kitchen is white, so I thought I needed a soft neutral color for the walls. I went with this beautiful gray-green color called Garden Wall by Behr Paint. My favorite part about this color is that is goes great with almost any color. I love mixing it with whites, blacks, and greens along with rich wood tones. It really is such a beautiful color that goes great with my farmhouse style kitchen.
Dining Room – Repose Gray By Sherwin Williams
The next color on the tour is called Repose Gray by Sherwin Williams. I did a ton of research on the perfect gray and decided that Repose Gray would be such a beautiful color for my dining room. I use this color with a lot of white accessories, but it would also look beautiful with blues and darker grays as well.
Shiplap Hallway and Nursery – Dove White By Benjamin Moore
So, my first love has to be Alabaster, but if you are looking for a great shiplap white, then I would tell you to go with Dove White by Benjamin Moore. Honestly, the colors are very similar, and I probably couldn't even tell the difference between the two. Dove White is just a tad bit whiter than Alabaster. This color looks so beautiful on my shiplap wall! This is another farmhouse style white that you really can't go wrong with.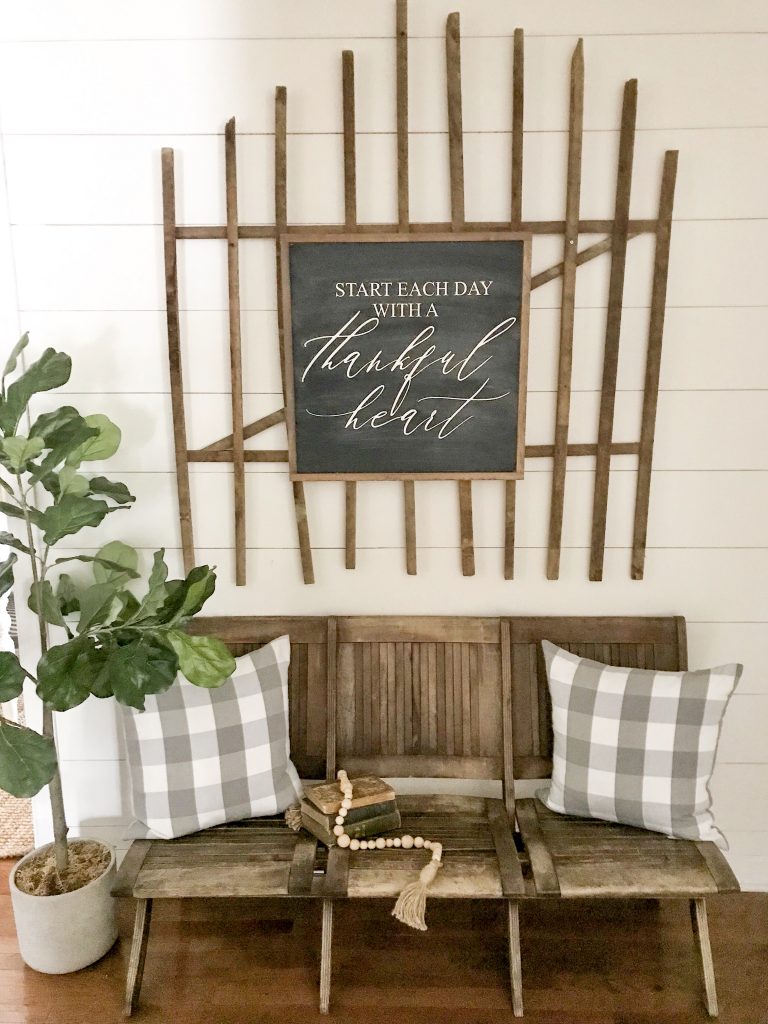 I also went with Dove White in my son's nursery. Since this room used to be an attic and is a little smaller, I wanted it to feel larger by painting the walls white. This color looks so beautiful against his rustic furniture and is a great compliment to his wood accent wall.
Laundry Room – Palladian Blue By Benjamin Moore
I decided to mix up my neutral color scheme a little when I decided to paint my laundry room Palladian Blue by Benjamin Moore. I would describe this color as HAPPY. It is just a fun feel good color, and I need all the good and  happy vibes that I can get when I'm doing laundry. I used lots of farmhouse accessories in here, and the color still looks great.
Master Bathroom – Magnetic Gray By Sherwin Williams
The last farmhouse style color that I used in my master bathroom is called Magnetic Gray by Sherwin Williams. I got this color from the one and only Joanna Gaines. I saw it used on an episode of Fixer Upper and fell in love with the blue-gray color of it. This color reminds me of a spa, so I thought it would go great in my master bathroom.
So that is a sample of a few of my favorite farmhouse style colors. I am going to do a post soon on a larger scale of my favorite neutral colors so stay tuned for that. In the meantime, feel free to let me know if you have any questions about these colors. I hope you all have the best day! Talk to you again soon!!
Pin For Later