One of my favorite projects that we did to our home in 2022 was turn the dining room into a home office. It wasn't very functional for our family before, so we thought a home office would be more practical and be a space that everyone could use. You can see the dining room before HERE and full home office reveal in this post . Since this room connects with our living room, the next step was to create a little privacy for the space using a sliding door. I fell in love with the look of a sliding black glass door and found the perfect one at Rusitica Hardware. I love the idea of a glass door because it allows natural light to enter the room, which would help to create a brighter and more welcoming workspace. Today, I'm so excited to share with you how it looks with my home office!
First, let me start with the new home office and how it turned out. I'm so in love with this new space! It's moody, simple, and just a fun space to get some work done in. You can find more links and details HERE.
Sliding Black Glass Door Details
If you're looking for a sleek and modern way to separate your home office from the rest of your living space, a black and glass sliding door is a great option. Not only does it provide privacy and sound insulation, it also adds a touch of sophistication to your home. I just love the view of the new door from my living room!
I decided to go with the French Quarter Barn Door from Rustica. So in love the grid detail on the doors and how it's the perfect mix of glass and metal.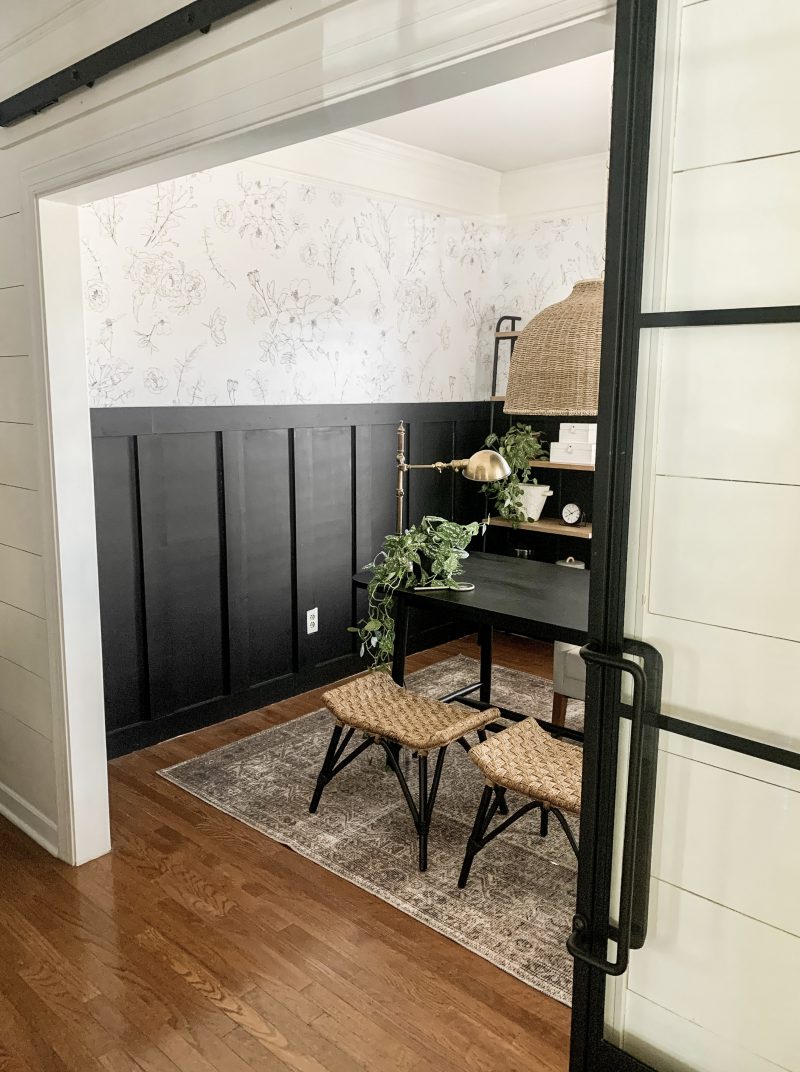 Since it's a sliding door, you have to add a sliding rod and hardware to the top. We also added a plank behind the sliding bar for extra reinforcement since the door is very heavy. We added this shiplap to our hallway a few years ago and that also helped to support the weight of the door.
Sliding doors take up less space than hinged doors, which can be helpful in a small home office where every inch of space matters. In this case, the office is next to a small hallway so any other door option would have taken up too much space. It's so easy to just slide it over when I'm not using it. It's also just so beautiful and adds a ton of character to this small hallway.
And when I need to work and get some privacy, I just slide it closed.
How Does The Door Look From The Inside?
I just love the view from the inside. The glass helps you feel connected to the rest of the house while you work. I also love that I can still see what everyone is up to while having some quiet work time.
Although it's not completely soundproof, the glass sliding door helps reduce noise from the rest of the house, making it easier to focus on work.
Just look how gorgeous the oversized handle is!
I'm just so happy with how the new door turned out! A glass sliding door is a stylish and practical choice for any home office. So, are you ready to get one for your yourself? Below, I'm leaving you with a few tips to hanging your own sliding door.
Tips For Installing Your Sliding Door
Installing a sliding door is a relatively simple process, but it does require some basic carpentry skills and tools. Here is a step-by-step guide to installing a black and glass sliding door:
Measure the opening: Measure the width and height of the opening to determine the size of the door you need. Be sure to leave a few inches of space on either side of the door for the hardware if needed.
Purchase the door: Look for a black and glass sliding door or any other one of your choice at Rusica Hardware that fits your measurements and meets your style preferences.
Install the hardware: Most sliding doors come with a track, roller wheels, and door handles. Follow the directions that Rustica gives you with the door that you choose to install the hardware on the door and the frame.
Hang the door: Lift the door into place and attach it to the hardware on the track. Make sure the door is level and adjust as needed. Like I mentioned earlier, we added a reinforcement board to the the studs for extra security.
Test the door: Open and close the door to make sure it moves smoothly and is properly aligned. If the door sticks or doesn't close properly, adjust the hardware as needed.
Installing a black and glass sliding door is a simple way to update your home office and add a touch of style to your living space. Can't wait to see your new sliding door!
Shop This Space

Pin For Later
Shop This Post