Happy November friends!! I am starting off November with a post that I am so excited to share with you. I'm calling it my farmhouse master bedroom makeover but you have sneek preview when I wrote all about my shiplap bed. I thought it would be fun to start from the beginning and show you where I started and then show you how I transformed the space into my dream bedroom. I think before pictures are so important because they give you an idea of how much potential a space can have. So, before we get started with how my room looks now, I think you should see what our room looked like when we moved in 5 years ago.  Here it is all plain and very golden.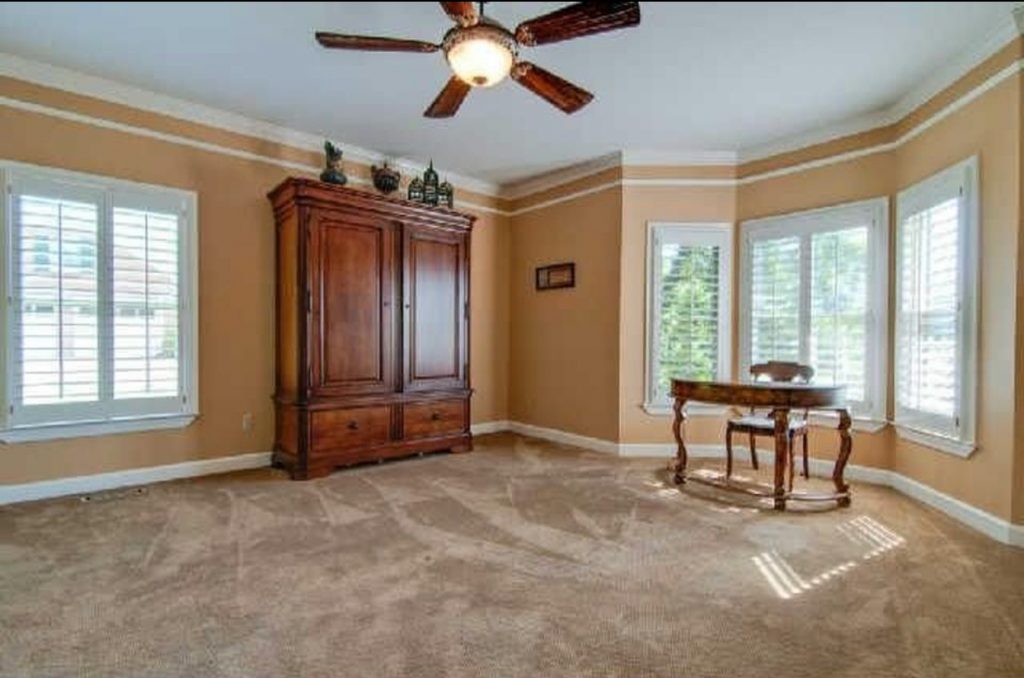 Master Bedroom Before
And this is how it looked until now. After we moved in, I said goodbye to the gold and painted it Garden Wall by Behr. I love this color. We also have this color in our kitchen and get asked about it all the time. Our furniture was dark brown. I had bought it when we lived in our old house so we brought it with us. I always liked the furniture but not really the color. Now, don't get me wrong, I did love this room. It was pretty and even got featured by Homegoods when I first started Instagram which totally MADE MY LIFE. That was my first big feature. After a few years of having my room this way, I was ready for a change. It needed to be brighter and lighter to match my style.
So, let's check out what my room looks like now……
Farmhouse Master Bedroom Makeover After
Here is it!!!
It is SO important that you love your master bedroom. After all, it is your retreat. It's your space to unwind and relax, and I can honestly say that I love my bedroom now. It all started when I painted my room Alabaster White by Sherwin Williams and got this beautiful new shiplap bed. The new white bed motivated me to keep going. I decided in order to brighten up my room, my furniture also needed to be brighter. I got a good and very talented friend of mine to paint my bedroom furniture to match my bed, and oh my goodness, did that make a difference. Actually, a HUGE difference. It turned out so great and was a much more affordable alternative than buying new.
Isn't it so much brighter now??
She also painted and distressed my dresser. I added this beautiful antique inspired mirror and love how perfectly it matched my furniture! I highly recommend getting yourself a full length mirror and make sure it's pretty.
Another space that I love to decorate are these white shelves. I think this little corner looks so cute with a few of my favorite things displayed on them. I love decorating with old books, botanical prints, and simple plants. It doesn't take much to add personality to a space. The simplicity is just what this little corner needed.
In our window area, we turned it into a functional work space. I have been wanting a desk in this area for a while now and so happy we decided to go with it. Now, my husband and I both have a space to work and have the ability to be downstairs together which I love.
Something fun that I decided to do was to add this peel and stick wallpaper behind my bed. This part was a little scary to me because I know myself, and I get tired of things so easy. Sound familiar?? That's the problem with wallpaper in general I think, but this kind of wallpaper was the perfect solution. It added a ton of style to my space and it is peel and stick. That means when I am tired of it, I just take it down. I highly recommend this instead of the old school options. Super easy to put up and so cute!
It is so crazy what a few cans of paint can do to a space. The main impact was the white walls and painted furniture and the rest was in the added details.
I love spending my nights sitting in here and let me tell you, it just feels good to finally love your room. I had so much fun restyling this room and turning it into a bright and relaxing space to spend my time in.  Even my husband loves it, so I know I did a good job.
Well guys, that is it for my farmhouse master bedroom makeover. What do you think? I would love to hear your favorite part and answer your question on this space. As always, thanks for stopping by!!
Shop My Room

Pin For Later