Hello friends and happy SPRING! I don't know about you, but I am so excited to welcome some warmer weather around here. To me, that means open windows, spring cleaning, and even a little redecorating. While thinking about what I wanted to do to my living room, I decided it would be fun to add a bit of color for spring. I found this beautiful vintage inspired printed living room rug and knew that was the winner. I love how the subtle blues and greens looked with my botanical prints and greenery. Today, I am so excited to share with you a quick spring living room tour along with all the details on my new printed area rug.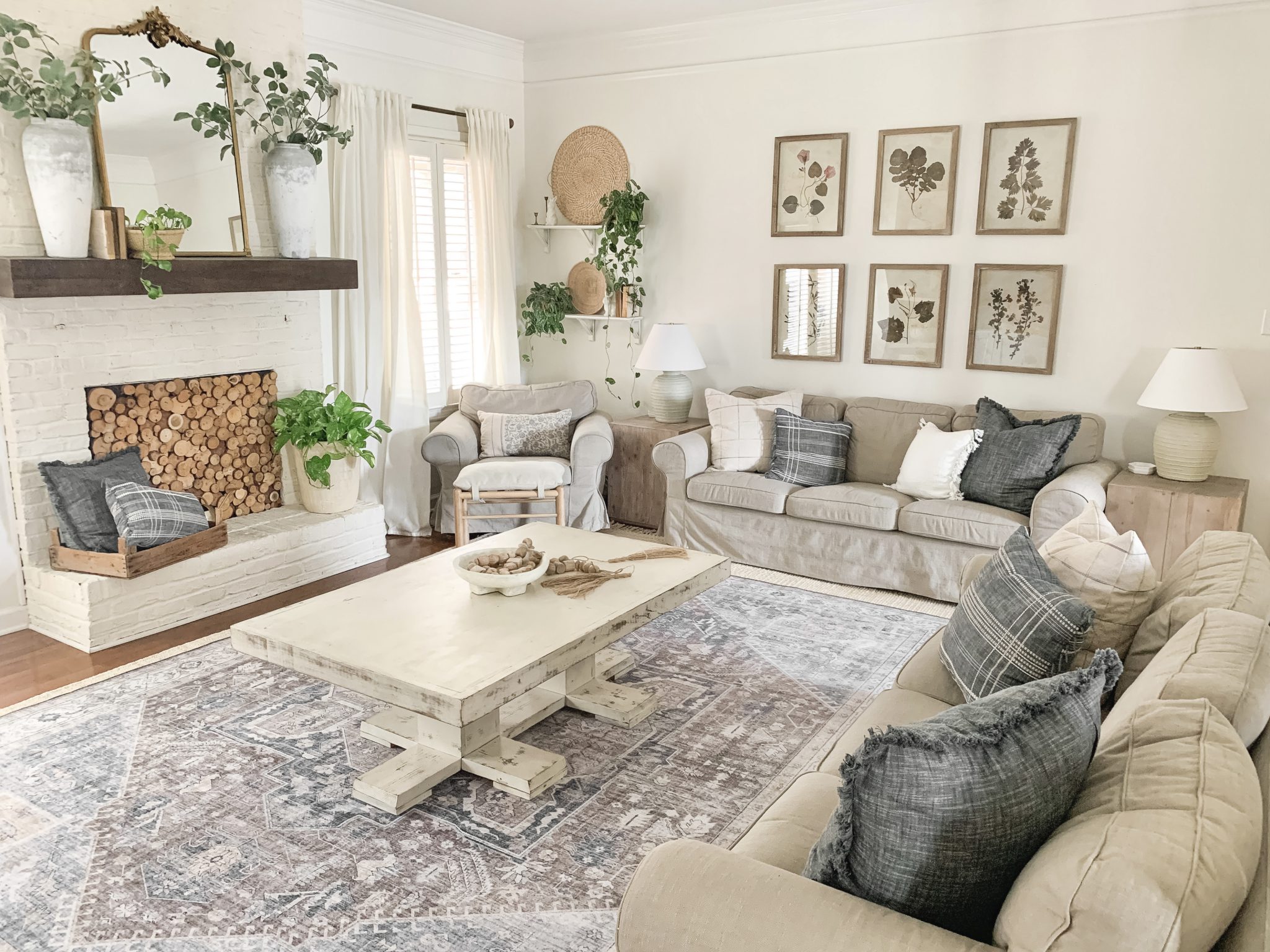 This set of botanical prints were the theme of my spring living room refresh. I have had them up for a little while, but wanted to find a rug that really brought out the mossy colors of the leaves. This rug new printed rug did just that. It had almost the exact color in it, and I loved the vintage inspired feel it brought to the space.
Printed Rug Details
The new rug is called the Chappaqua Area Rug, and this is the 9′ x 12′. This rug has all the check marks when it came to spring colors. It has the perfect blend of greens, creams, and blues to add that pop of color that I was looking for. This is my second printed rug that I have in my home. If you remember, I added this one to my bonus room and loved it so much that I wanted another one. Besides how beautiful the rug is, I love printed rugs because they are easy to care for, especially with small children and pets.
The best part is that this rug comes in 5 other colors. So, even if this rug doesn't match your decor, you have plenty to choose from. I will link the rugs here so you can check them out; Yarrambat Area Rug, Blaze Area Rug, Pontlliw Area Rug, Corio Area Rug, and the Selbyville Area Rug. *Remember to use code NEST60 at checkout for 60% off.
My favorite part of my spring living room just might be this set of shelves tucked away in the corner. I love this set of shelves because they are perfect for displaying my favorite vines and other knick knacks that I love. I found these little bunnies in the dollar spot at Target and love how simple and cute they are!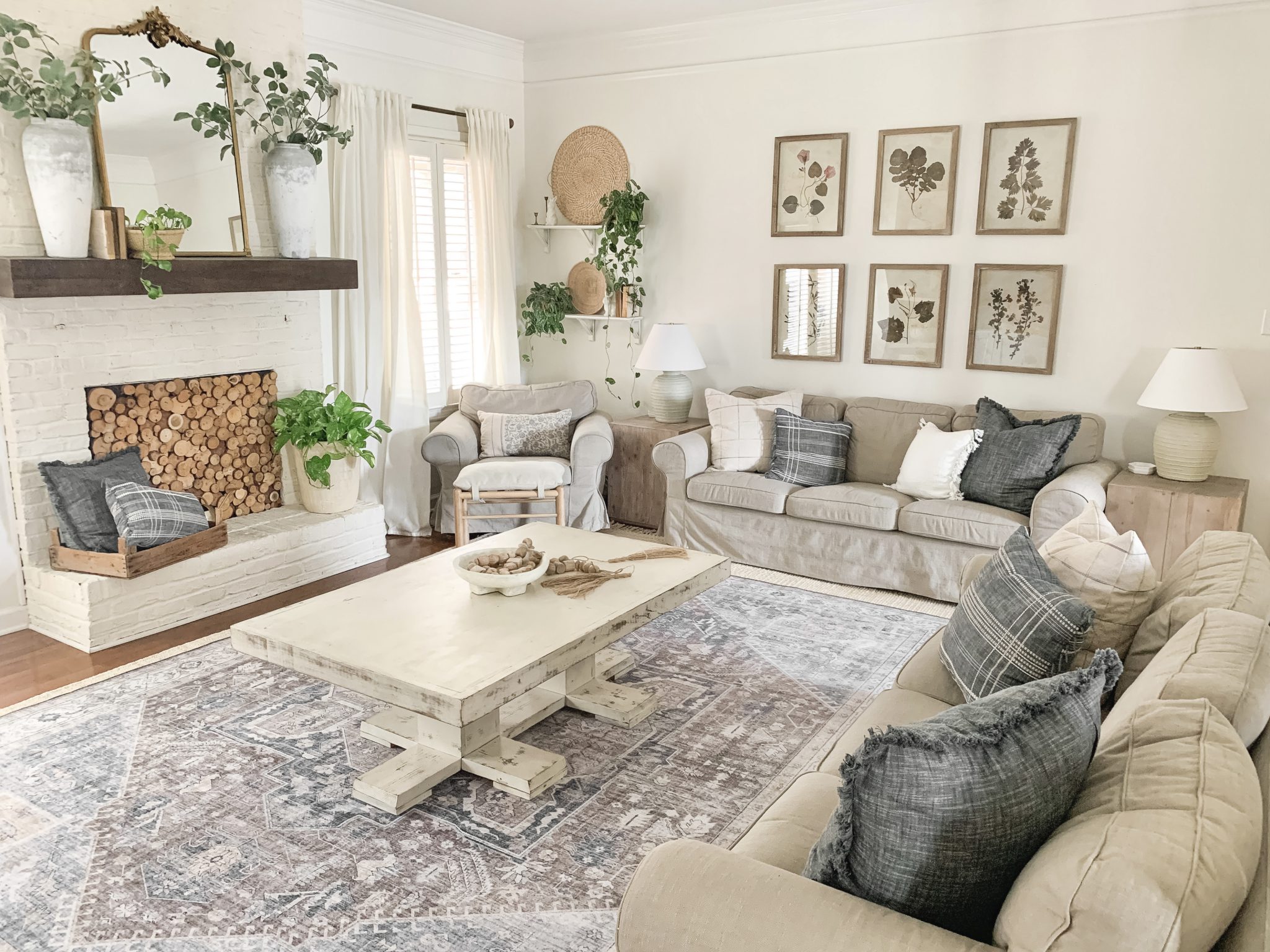 I hoped you enjoyed my living room spring tour. Although the refresh was simple, I just love how the pops of color completely changed this look of this space. Thanks so much for visiting today, and be sure to look for more spring inspo coming your way soon!
Shop This Post

Pin For Later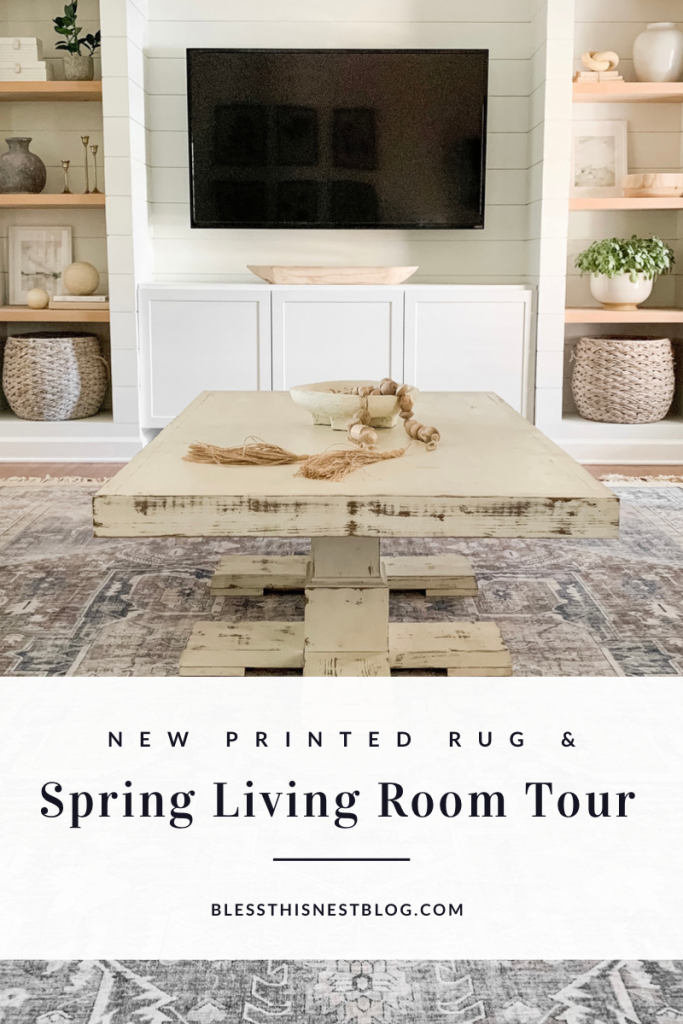 Shop This Post