Hello friends and happy Saturday!! Today, I'm so excited to share with you some fun news that I have waited almost a year to share with you! I'm actually still pinching myself. I had the amazing opportunity to be featured and interviewed in the spring edition of American Farmhouse Style Magazine. I was so honored to be a part of inspiring and sharing my work in this amazing magazine. I'll be sharing the 10 page feature on the blog today, but I hope you will head out to the store and get one for yourself!
Let me start with saying that it's a dream to walk into a store and see my words and creation in print. I never want sharing opportunities like this to come across as bragging, but I do believe in being proud of yourself. I quit teaching 5 years ago to pursue my dream of starting a blog and sharing my love for decor. Fast forward 5 years later and this is the fourth and biggest magazine feature that I have been a part of. If you take anything away from this post, let it be to believe in your talent and don't give up until you accomplish it.
Here is the cover in case you want to pick one up at the store. The magazine featured my entryway, living room, kitchen eating area, and dining room along with a few DIY's that I will make sure to link.
Spring Living Room
The first space that was featured was my living room. In the article, I shared my love for mixing my flea market and antique finds with newer pieces to create a calming and cohesive look.
My spring mantel ideas and DIY wood fireplace cover were also included. You can find the tutorial on how I made it in the link above.
My greenery was also a focal point in most of the spaces that was shared which makes me so happy. My hope that this acts as inspiration for the readers to consider adding real houseplants to a space. Spring is the perfect time to add some fresh greens. I'll link my easy houseplants for beginners guide here so you can see which plants are in the magazine.
Spring Kitchen Eating Area
My kitchen eating area was another space that was shared in the article. My favorite part of this area is the mix of wood tones, whites, and greenery. You can see more details on this space and how I make these DIY wood shelves in the link.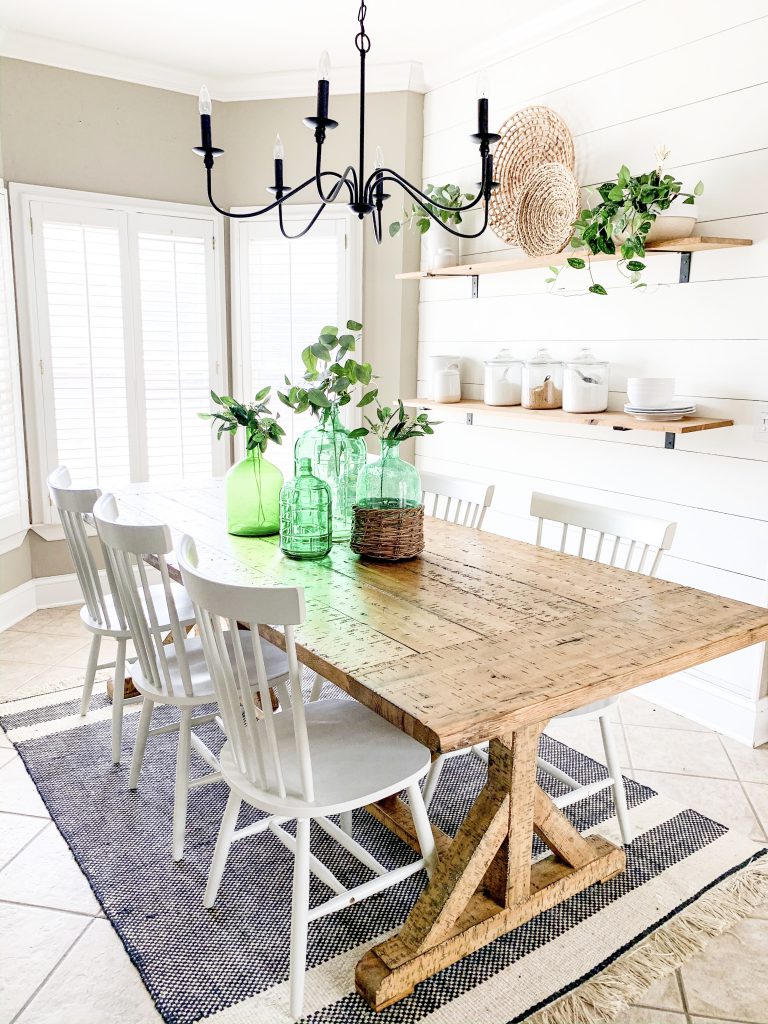 Spring Dining Room
My dining room is a mix of of new and older pieces. I found this old hutch at a barn sale and knew I had to have it. I love how it displays my collection of ironstone and I added some plants on the shelves as well. You can see more details on this space in my dining room home tour.
Another DIY that was shared was this cute burlap carrot garland. I added it to this old mantel and love how this space turned out. You can see the carrot garland tutorial here. This DIY was so fun and perfect for simple Easter decor.
Spring Living Room and Entryway
My entryway was the last space that was shared in the article. I layered this space with arched windows and a spring sign and love how it looks paired with more greenery. See, I told you my greenery was the focal point of the spaces. You can see all the detail on this space in the link.
So sweet friends, that wraps up my magazine feature and spring home tour. I hope that you can sit down with this magazine and pick up a little inspiration for your own home for spring. Thanks so much for sharing in my excitement. Without you and your support, I would not be able to share my home with you. Thank you for being here and continuing to show me love! I appreciate you more than you know.
Shop This Post

Pin For Later
Shop This Post